People have been asking us if we have tried "frite alors!" .. We have heard the question for about a hundred times ... We've crossed the place many times but never had the chance to try it until a few days ago. We had to find out what was so special about it.
An original Belgian recipe and Montreal's unique know-how bring fries back to their glory days! Based on this clever combination, the first Frites Alors! opened on May 27th 1991 in Montreal on Park Avenue. This eclectic restaurant, influenced by a blend of European and North American cultures, has attracted loyal and regular clients for close to twenty years. Reasonable prices for quality food and customer-friendly staff have been the basic ingredients to its success. The original open kitchen concept at the heart of the restaurant and relaxed atmosphere are also key elements that consistently attract new patrons. Frite Alors! - Belgian-Fries At Their Best! The young and hip staff, mostly made of university or local Montreal artists, contributes to a unique atmosphere. Many have tried to imitate us, but few have managed to. Frite Alors! truly reflects today's modern and cosmopolitan society.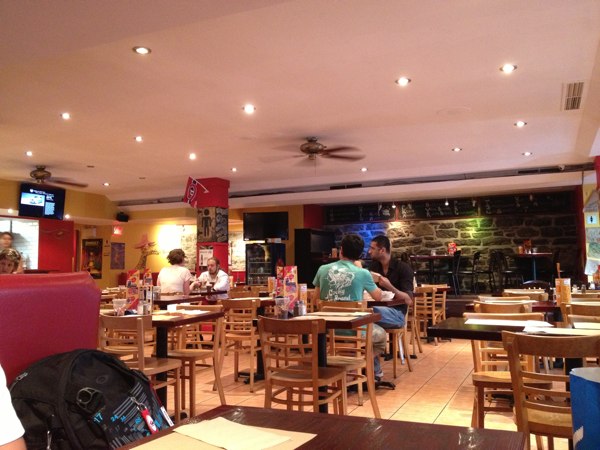 To start with... The ambiance wasn't that welcoming, there wasn't any waiter or waitress at the door to greet you and assign a place for you .. We chose our table ... The waitress came afterwards to clean it... it felt unwelcoming to find an empty restaurant and an unclean table when we were among the first customers at lunch time. Later on, our order was taken. The waitress was nice and smiling helping us decide what to choose. Good thing they had some coloring pens on the table because it took about 20 minutes to get our order ready
Our order:
A plate of poutine to share: La Vladimir (it was one of the good poutines we have eaten in montreal)
Le Hambourgeois (Beef, Gruyere cheese, mayo, Dijon, onions, pickles, lettuce and tomatoes)
Buccaneer Hamburger(Smoked meat patty, Gruyere cheese, bacon, American sauce, lettuce and tomatoes)
Le Bêêêrger (Beef, goat cheese, bacon, mayo, lettuce and tomatoes)
There was a long wait but it was worth it... The food was delicious, meat was juicy, bun was soft,and bacon was crunchy... The negative point about food is that the accompanying salad didn't look fresh although it was tasty.
We loved it and would recommend it for our friends.