It's called Gavi and it is today one of the trendiest Italian restaurants in Beirut. Brought to us by the owners of Kampai, Gavi is an upscaled Italian that welcomes you in the gardens of the Kampai building. Down the elevator, is a big restaurant, a rectangular space, with a large terrace overlooking the gardens.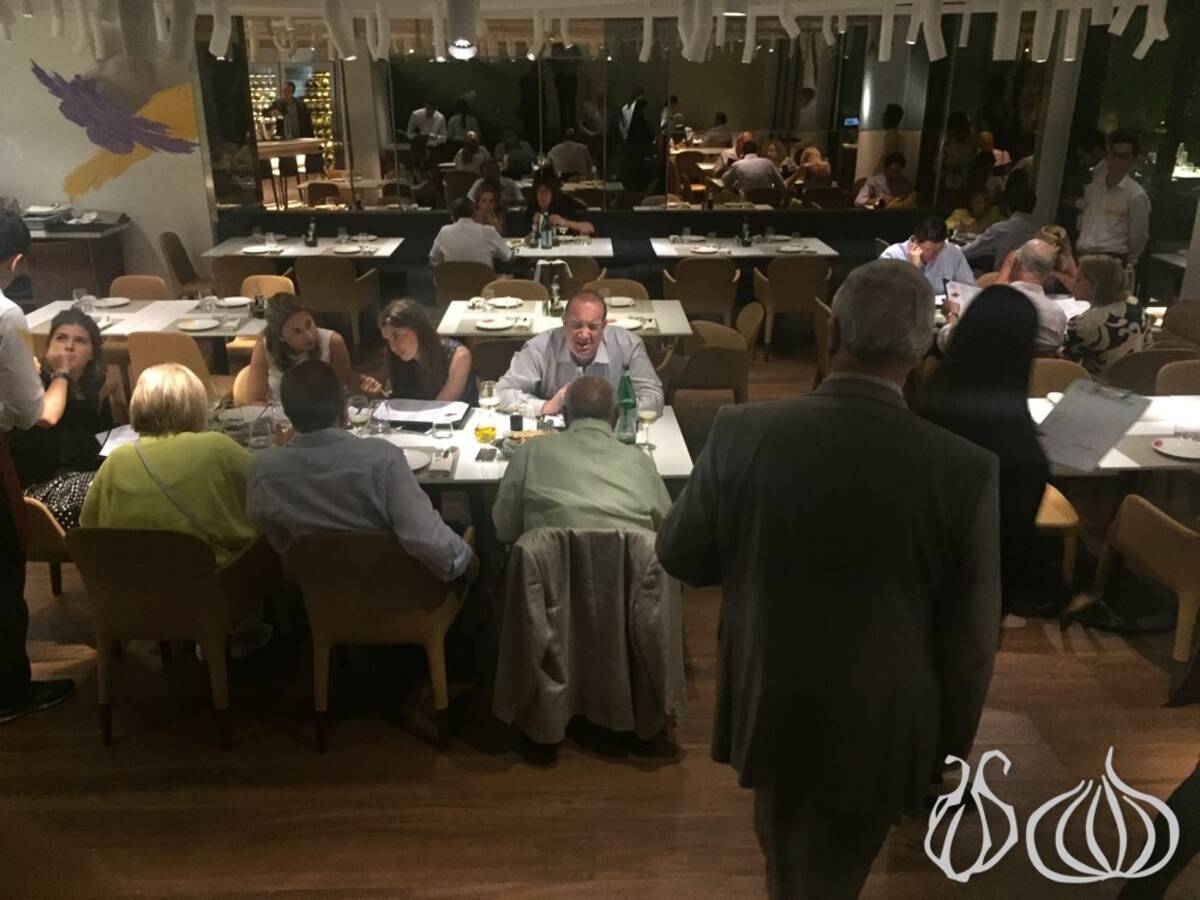 This Italian restaurant welcomes you into a clear setup, a design space created of purity and freshness. A white ceiling where hundreds of cylindrical lights hang, overlooking a set of square and tables made of pure white acrylic surrounded by beige leather chairs.
A bar occupies the left side and a series of mirrors make the place look twice the size. With that, with all those noble materials, is a floor covered with wood and splashes of color. Those splashes of fresh color are the signature, seen on the ceiling and walls as well as the menu. Beautiful!
We were seated outside, a calm music played in the background in this half circular space filled with outdoor chairs and seats. The music comes from the green garden behind with a view of the surrounding buildings. Those tables are decorated with placemats, balsamic vinegar and olive oil, as well as salt and pepper. Next to your plate is a glass of water as well as the cutlery, which is wrapped in a napkin.
Dinner started with a basket of bread. Warm olive oil, dried tomato focaccia and toasted bread.
The menu:
Antipasti
Insalate
Paste
Della terra
Pizze
Risotti
Contorni
Dal mare
Dolce
The drinks were brought while we chose the main courses. The staff is fresh and smiley. The first impression is good; I was eagerly waiting to start eating.
Good to know:
All the pastas can be served gluten-free.
The pizza uses the finest flour, proofed for 72 hours, available in gluten-free or normal.
Sohat glass bottles are used
San Pellegrino or Perrier, both are available.
Outside is a special table.
Higher tables occupy the left side of the restaurant.
Dinner was served:
Melanzane alla eggplant Parmegiana Gavi: Exquisite it is. A three-layered eggplant of cheese and eggplant toasted and heated to perfection with tomato juice to add the sourness and sweetness. Amazing: Lightly crunchy eggplant covered with roast Parmesan cheese a bit melted, a bit crunchy, a strong, intense taste and a toasted top. The way the plate is presented and the flavors it offers are all really unique. Two thumbs up.
The Burratta cheese ball with cherry tomatoes and olive oil: A melting heart of Burratta, decorated with black salt and laying majestically on a bed of quarter cut cherry tomatoes and a generous portion of olive oil. Moist and melting like butter, a cold heart and some condiments, this plate is superb.
Milanese con foglia d'oro with gold leaf 24K, dedicated Gualtiero Marchesi: On a square plate, another, glass, square plate, comes a portion of risotto, a yellow mountain decorated with a gold leaf. A slightly over-cooked, but still al dente, risotto mixed in a creamy and condensed way and offering a premium taste. An enjoyable saltiness, a peppery after note, a light lemony touch and a saffron boost acts as the cherry on top. I honestly would have preferred it more watery and with a less firm texture, with the saffron appearing in the mix, nevertheless that's a unique and good plate. The golden leaf is a discovery. I'd recommend it to my friends.
Fileto di Menzo, angus beef filet: A large white plate, the meat in the middle, a portion of potato purée on the side, demi-glace sauce on the other and colorful salt to decorate the plate. Super tender, soft and full of taste, amazingly well cooked meat. The potato purée has something to it, but would have been better with some olive oil added to it.
I had a bite of pizza which I liked, despite the over dose of garlic in the tomato sauce. Too much! But the dough is thin, the borders are crunchy and the filling is tasty and generous. I'll write a proper review about them on another visit if I manage to have a sauce without garlic.
Desserts:
Dome Caramel: A half ball of caramel mousse on a layer of biscuit. A rich, creamy and intense caramel mousse that I simply adored. Great innovation! Next to that is an ice cream scoop on a bed of crunchy pistachio.
Flourless cake: Flourless, chewy, intense in flavor, dark and not sweet, but the end note is dull. It needed more body, in my opinion.
Ice cream: I tried the sorbet, the flavor is there, but the taste is too sweet for my tooth. Good technique but simply too sugary.
The good:
Abbas, our waiter today is one hell of a professional and welcoming person. Thank you for your care, politeness and attention.
The food is as good as it should be.
The minuses:
The place is overcrowded, maybe overbooked and the staff seems overwhelmed. They run around while orders take some time to arrive. I'm not questioning their professionalism and welcoming, which is up to the restaurant's standard, but I believe the place should take fewer bookings – to give the place some space to breathe…
I enjoyed my dinner and will do it again.