Giordano's has been acclaimed Chicago's best pizza by the Chicago Magazine, The Today Show, Huff Post, CBS Chicago, the New York Times, Chicago Tribune, and more, and now NoGarlicNoOnions has joined in the acclaim.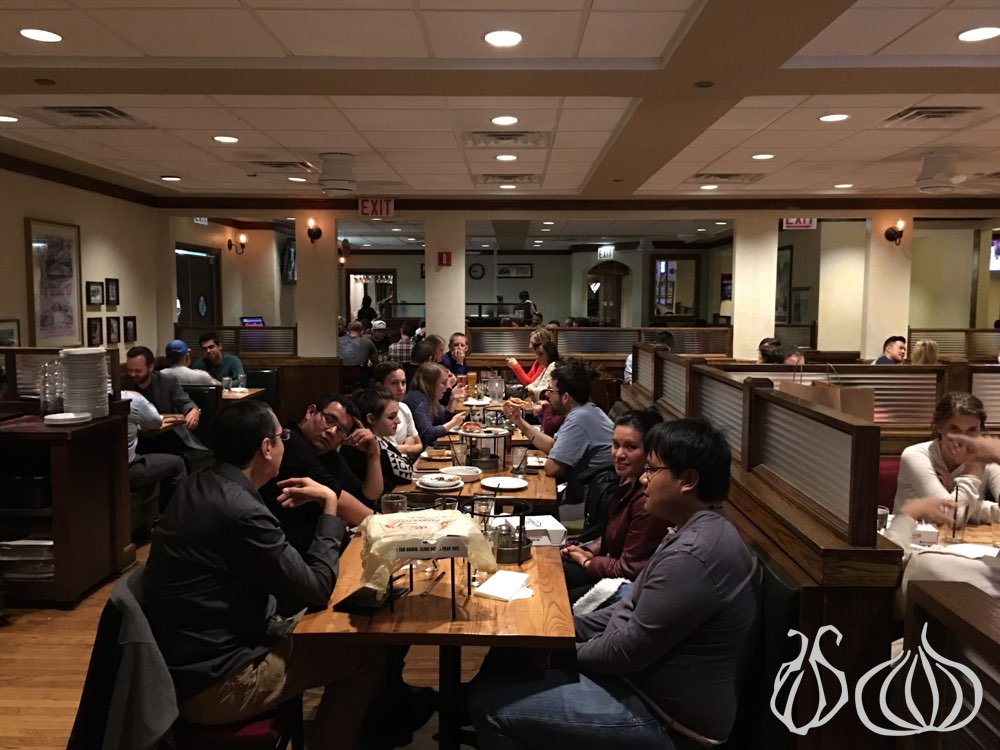 Since everyone recommends it, I had to visit it as soon as I landed in the city. Ribs and pulled pork for lunch followed by a pizza dinner. Located in the Prudential Plaza, this diner with hundreds of chairs always has a 45-minute waiting time for the pizza. We ordered two of those Chicago-style thick pizzas and waited.
Choose between the main dining area or the bar and it all depends on availability. Sports on TVs gathers people around and tonight it was a baseball match. No music and a well lit place, at Giordano's people come to eat.
On the menu:
A set of starters
Salads
The famous stuffed pizza
The thin crust pizza
Pizza without gluten
Sandwiches
Fresh Italian
The beef-zza
Let's eat:
A large plate with five chicken tenders and two sauces. A plate that looked empty and tenders that looked dull and not too crispy. Taste wise, they were dull and weren't crispy, they felt like broasted chicken. Juicy they are, but I expected something different.
The salad could be different. A huge onion, a chunk of feta cheese, lettuce, tomatoes and bell pepper. Not worth ordering.
When it's too hot and eaten with a fork, the pizza looses all its charm. Wait a couple minutes and grab it with your hand.
The chicken pizza: It looks gorgeous and tastes great. A bacon-topped pizza at around two centimeters thick, filled with cheese and chicken chunks mixed with balsamic onions. No tomato, but a barbecue sauce. A melting cheese, crispy ingredients, sweet flavors, interesting textures but I find the dough too hard to chew. It's more of an open-faced sandwich than a pizza.
The Chicago classic is to die for: Three layers of pepperoni generously covering the bottom, mushrooms, onions and green pepper blend together in some melting cheese and are topped with a rich, full-bodied juicy tomato sauce that's lightly acidic and not sweet. Lovely tomato quality, excellent cheese, a tender dough and those ingredients that melt without being too prominent. A lovely two-centimeter thick pizza you'll fall in love with. Now I understand why it's world renowned.
The minuses:
Service is slow and not too professional.
Waiters are not friendly enough.
Waiting time is pathetic.
The pluses:
Pizzas are served on a carton board that absorbs the additions unneeded sauce.
Generously filled, the pizzas are fulfilling.
Delicious they are!
Giordano's is a must visit for the world's renowned Chicago pizza as soon as you land in the capital.