Remember Micelli's, the family I visited last year to enjoy a marvelous homemade Pizza by Zizo, her son Rami and the happy family. They invited me home, we met in their kitchen but today they have opened their own place. It's called Micelli's as for the family Moussalli, a cozy place on Jal el Dib internal road.
Micelli's: a one door shop in Mallah center, a red neon light "Pizza Bistro & Bar", lounge music and warm lights. Behind the glass facade, a hidden gem has a bar to the left and five tables occupying the small square space. Rugged wooden tables, neat and clean surrounded by metallic chairs of three colors; red, grey and white. Black placemats and white plates while we waited to be served.
I loved the coziness of the space, kind of homey, handled by the family. They welcome you, they great you and take the order before going up to the kitchen and making sure everything is prepared adequately.
The menu has a funny touch to it. It's printed on two sides, one black and one with inverted colors to be easily read by all generations. Porkoi Pa, the odd one, the Fab Four, the sun island, Monsieur Croq and the one with caramelized onions, funny name with great offerings.
In this restaurant, it's where you'll feel good and happy. It's not your conventional place, a space for enjoyment and real traditional homey food. The bar has a selection of local and international beers as well as a fine choice of whiskies and single malts handpicked by Rami himself.
Good to know before we start:
The prices are reasonable for the quality and size of each pizza.
Micelli's uses only a homemade tomato sauce.
Those pizzas are not Italian nor American. They have a touch of their own.
The dough is firm and crunchy, topped with cheese that doesn't escape from the pizza as you grab a slice.
The edges of the pizza taste of grilled cheese, which adds a fine additional flavor.
Dinner starts with a bowl of toasted bread and Lurpak butter.
I enjoyed my dinner so much:
The MAK Daddy salad (mango, avocado and Kiwi), a salad with carrots, walnuts and Roma lettuce. Mango cut in cubes add sweetness, kiwi adds freshness and the lettuce used is only from its heart making of this salad a colorful and flavorful one. A crunch and pure pleasure.
Bresaola, white cheese, walnuts and fig jam. Four simple rolls of bresaola but an amazing taste. Premium quality, an equilibrium of flavors, a good texture; I'll order it again.
Now for the pizzas:
It's your unconventional pizza. It's not Italian, it's not American, it's not street food... It's simply Micelli's. A tender dough that's not chewy and not crunchy, fluffy and fresh topped with homemade ingredients. A tomato sauce that's light and fairly acidic, those caramelized onions make of the pizza a sweet one, the odd one with its loaded Brie cheese, mozzarella and cheddar simply rocks! Finishing the molten heart, the borders add a light and enjoyable crunch.
The odd one: tomato sauce, mozzarella, cheddar, Apple sauce chunks, Brie, basil and oregano. A load of cheese, this strong taste of Brie, the tomato sauce comes light in the background while the apple chunks add a touch of finesse.
Porkoi Pa: hickory smoked BBQ sauce, smoked bacon, mozzarella, green pepper, olives, pepperoni, soujok, basil and oregano. A light and enjoyable sweetness, a rich full bodied taste of BBQ sauce and the freshness of basil. The thinly sliced transparent bacons are amazing, not chewy and easy to cut with your teeth. They full bodied rich with flavors.
Sun island: the best seller, the favorite of their customers, an expert me not to be missed as they say. Slices of the best bresaola around, pesto sauce, mango chutney, mozzarella, Parmesan and mango slices. Enjoyable, very enjoyable.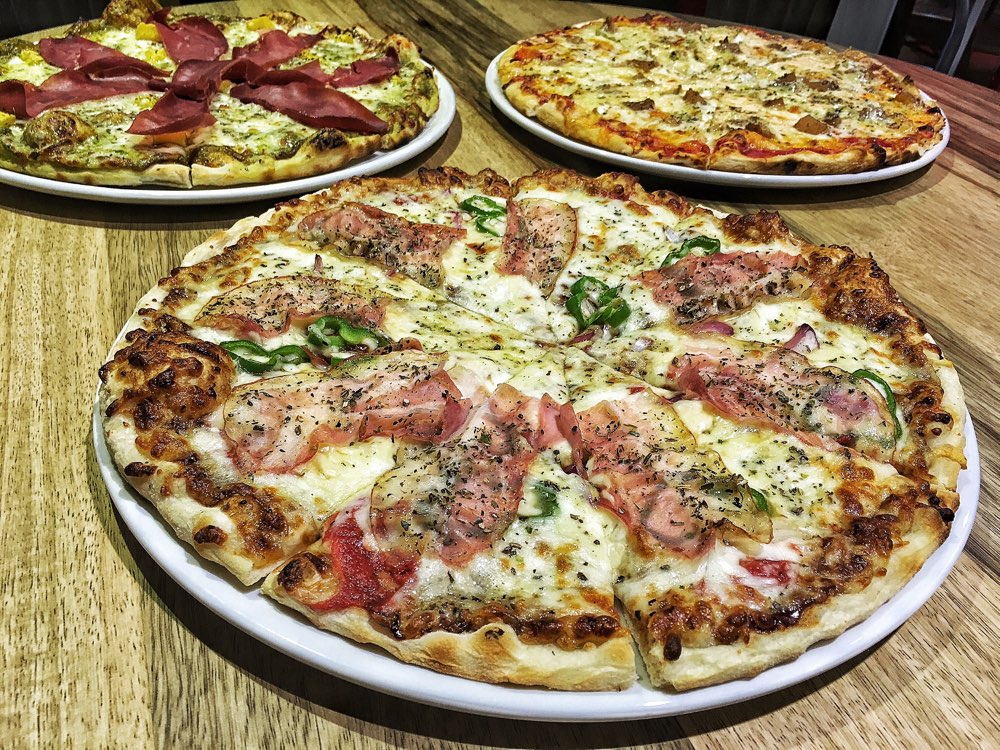 I've rarely eaten so much, but I honestly couldn't stop. What makes those pizzas so special is the freshness and quality of the ingredients, as well as the special dough, which deserves a line; I loved it! Imagine this unique dough that's just fantastic. It's not thick like a fluffy American pizza, not thin like a moist Italian pizza, but a dough that's a blend of Lebanese ingredients with an international touch. I liked the crispness of the borders, the fluffiness of the heart, the stickiness of the top, the firmness of the bottom... When you think you're done, a toasted, grilled flavor erupts and puts a smile on your face. I just love it.
I'll have to be really clear about it... Micelli's is an experience, more of a journey. Sit with Rami, discuss the vibes, enjoy the pizzas, listen to the music, have a drink and plan your next visit.
Three pizzas, one with a gourmet feel, one with a sweet punch and one with equilibrated flavors enjoyable by anyone.
Dessert: bravo!
The lemon cheese cake is about a thin baked tart with a super crunchy bottom and topped with lemon cheese filling. Strong intense tanginess, this kind of taste that's addictive and leaves a long pleasant aftertaste around the palate.
The Nutella pizza to end. The same Diem dough topped with Nutella and covered with a sprinkle of crushed almonds. As simple as Nutella enjoyment.
Zizo's pizza is now Micelli's, the same homey preparations now prepared for you. Come for dine-in, before ordering home. I'll be back for the Fab Four or the last dragon to name few.