I like this place, and after tonight's visit I like it more - more so the food. I believe that with some minor changes, Goutons Voir can become the best French restaurant in the Metn region.
The place is simple and clear. Some like it while others don't. But I personally think it's exactly what you need to enjoy a pleasant dinner without any sophistication. Simple walls with high ceiling, a few candles lit here and there, a bar and square wooden tables with a touch of color from the placemats.
The first impression: Welcoming staff, a simple menu with English titles and toasted bread served with olive oil and balsamic vinegar...
"Goutons Voir" is a French place, I am not fond of mixing languages in a menu to be honest... but at least the whole menu details is in French
Toasting the bread looks like the bread is old and heated. The Italian olive oil is good and can better be enjoyed with fresh bread
Although friendly, the waiters clothing style does not fit the place. A shocking first impression, I'll develop down below
Time for drinks: Pepsi! This applies to almost all restaurants in Lebanon - please consider what the guests want and not just how to make some profit. We all know that it becomes more profitable when you are an exclusive Pepsi provider. But seriously this has to stop! I was inviting my friends from France. Francois looks at me confused and angry while pointing at the waiter: "Am I supposed to drink what he decides or what I chose to? I want a Coke Zero not a Diet Pepsi." I laughed and told him: "My friend, welcome to Lebanon!" The menu:
First
Second (On the grill)
Third
Wines (Lebanon, France, Italy)
A tasty dinner with delicious food:
Lemon risotto with asparagus and grilled calamari covered with frisee lettuce. A rich and concentrated lemon taste accompanies you during your meal. A perfect plate which I really enjoyed, 36,000LL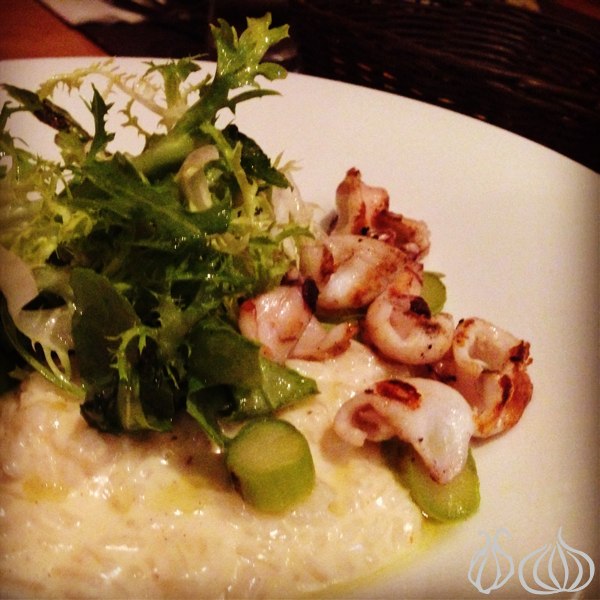 Lentil salad with tomato, balsamic vinegar, Lollo Rosso lettuce and salmon cut in small slices. An amazing creation and a perfectly seasoned salad. I enjoyed the lentils, adequately cooked while blending perfectly with the salmon, 24,500LL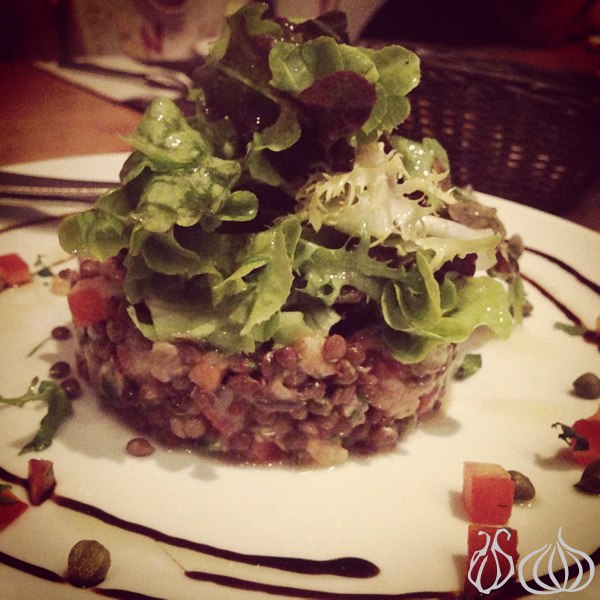 Quinoa salad, three shrimps on top mixed with small mango cubes. A mix of Lollo Verde and Lollo Rosso lettuce, all perfectly seasoned. I am not a quinoa fan but this salad is unique. Yummy! 24,000LL
Bufala mozzarella salad and grilled asparagus: I would personally change the bufala's brand. Too commercial, too hard and too dry. On another hand the asparagus are crunchy fresh 27,000LL
Steak Frites is impeccable: soft and tender meat. Perfectly cooked fries. Delicious sauce, and a plate I enjoyed with a smile 33,000LL
Linguine aux crevettes: aldente and delicious. A rich pasta plate that deserves its price, 24,000LL
Entrecote Black Angus: Unique! Great meat and delicious sauce, 45,500LL
One deception: The Burger:
Burger: a big No, a huge NO
Condensed French bread with a thick outer shell, feels and tastes old
The bread choice has to be reconsidered. This is not a burger bread. So unpleasant to chew
A thick, non juicy, fatty and crunching fat meat
The meat expands like rubber
The meat size is smaller than the bread
Burnt from the outside and dry from the inside
Even though 200g, the meat looks cheap
Where is my coleslaw salad? Burger = Fries + Coleslaw salad
The little details I liked:
Thank you for finally updating the menu
The manager handling the restaurant is professional and welcoming
The plates are generous not only beautifully presented
The ceiling is covered with absorbent materials eliminating all the echoes
There is space between the tables - a relaxing feel
Four different placemats decorate the tables : Violet, green, red, brown
The things to change or improve:
Use more lights around the restaurant

The waiters wardrobe and style need changing, with all my respect to them, their funky look, hair style, Birkenstock slippers, Converse and cool attitude does not fit the place. I enjoyed their service, smiles and welcoming attitude but something was not right. In a place like this, you would imagine more mature looking personnel.
Remove the burger off the menu
When a burger plate comes 20 minutes after everyone has finished their meal, it should be offered free of charge. No?
I enjoyed Goutons Voir tonight... Will come back.