I wanted to go back to Nonna, a pizza place I discovered almost a year ago down in Achrafieh. Thankfully they are now closer to home as they recently started serving their thin, generous and flavorful pizzas with crunchy borders in Dbayeh. Nonna didn't open a restaurant on its own but serves its pizza at Goutons Voir down in Junction 5, on the Dbayeh highway.
Goutons Voir
has now installed a pizza oven that's both wood and electricity fired at the same time, the latest in Italian technology innovation.
You can now enjoy the full French menu of Goutons Voir along side a choice of 18 pizzas.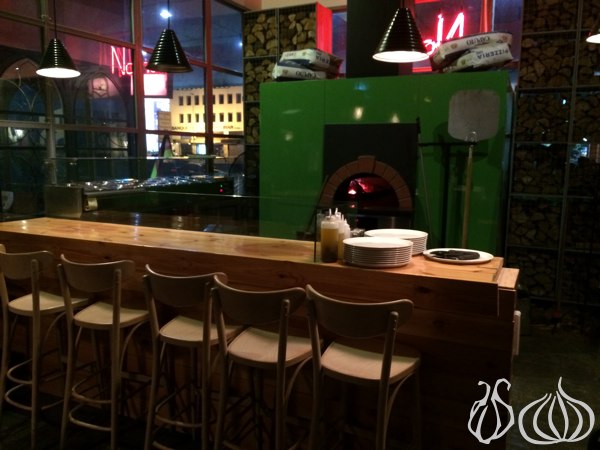 The architectural simplicity:
A simple yet innovative mix of materials: Wood, metal, glass and concrete all blend together to create a relaxing ambiance you'll enjoy
Puzzle-shaped real wood flooring
White walls and high ceiling relax your eyes
The main bar fills the corner. The seven individual lights that pend down from the ceiling add a funky touch to the place
Behind the barman, you'll find a wooden box with some fine wines
A variety of thick wood tables and marble topped ones placed on the sides can host up to fifty guests
The ceiling is covered with special noise reductive material cancelling all echoes - I like the idea
Six candle chandeliers next to the kitchen door add a fine touch to the simple architecture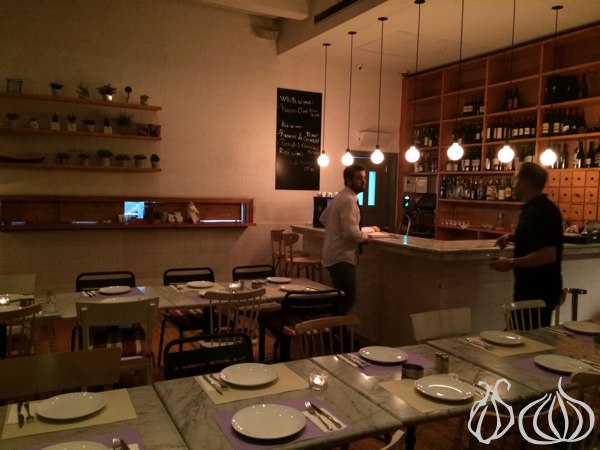 Good to know:
Two of the wines chosen are in collaboration with Skoun. If ordered, a certain percentage goes to helping the association
Red Dot: These pizzas can be served with a hole in the middle where some rocket salad is placed
Dinner started with black olives and crispy warm bread. We also enjoyed some fresh grilled calamari and their popular quinoa salad... I was then ready for some pizza.
Enjoying Nonna's Pizzas:
All pizzas at Nonna are unique and stand out among all other pizzas in town. Thin yet firm dough, crispy crunchy on the sides with a subtle burning flavor...Topped with generous with flavorful ingredients, their large sized pizzas are mouthwatering, colorful and fulfilling. Grab a slice and enjoy eating with your hands.
The Tartufo: (olive mash, mozzarella, bufala, truffle oil, cherry tomatoes, basil). Served with basil leaves, tomatoes and cheese, this pizza is mouthwatering journey. Its strong smell and intense flavor will activate all your senses. A one-of-a-kind pizza indeed.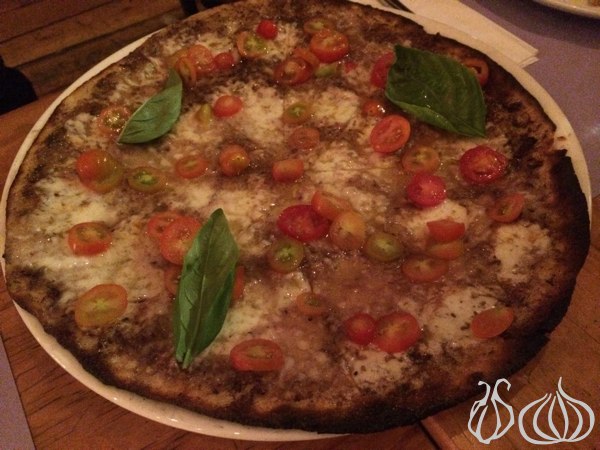 The Diavola pizza: (Tomato sauce, mozzarella, spicy salami). This is one of my favorite blends. I usually order it at most Italian restaurants. An equilibrium of flavors while the spices prepare to hit. Yum!
Classica: (tomato sauce, mozzarella, mushrooms, ham, olives, oregano, basil). This pizza was as good as it should be. Fresh, crunchy on the sides and juicy in the middle...
While the above pizzas were ordered to be shared, I asked for the calzone to enjoy by myself and I'm happy I did so. The Calzone Classica, which was a special that day, was exceptional - A closed thin and enjoyable light dough filled with tasty ingredients: cheese, oregano, mushrooms and black olives. The tomato sauce was served on the side; cut a piece, dip it in the sauce and enjoy a piece of Italy on a plate.
I enjoyed dinner much more than I did last year in Beirut. Many improvements have been made to the pizzas.
Now for the desserts... Appreciated by many and known to be good:
Pain Perdu: I've been touring around the country this past month looking for the best pain perdu and 10 orders later, I can fairly say that Goutons Voir's is good. Served in two blocks like Prune, the pain perdu's juicy heart is good, milky, adequately buttery and tasty. The caramel sauce adds certain sweetness, but it's not enough. A bit more sweetness is needed and it would be better if the borders were burnt less.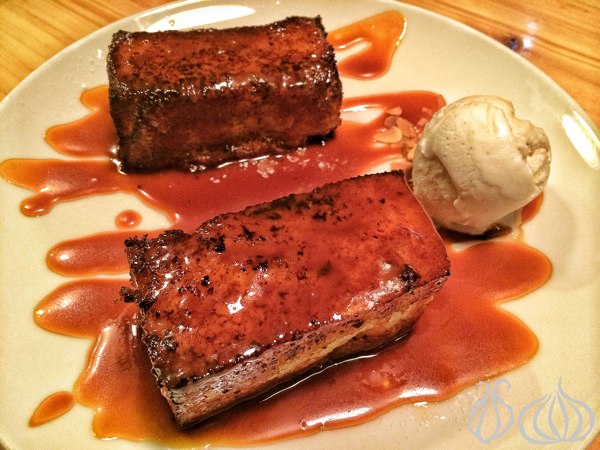 Nutella pizza: exactly like I left it on my last visit, the Nutella pizza needs a lot of improvement. Rolling the bread makes it too condensed. Every bite feels like you're eating a French baguette. The Nutella inside, which has been cooked, gives off a stronger sweetness and with that the sugar powder... Just imagine. We ordered extra Nutella on the side which made it enjoyable to eat. French baguette feel, dipped in Nutella became interesting. How about a nice roll of dark chocolate with Grand Marnier spirit served with caramelized bananas and sliced strawberries on the side? Why not try using less bread and adding more chocolate? The potential of creating a superb dessert is just around the corner... in my opinion.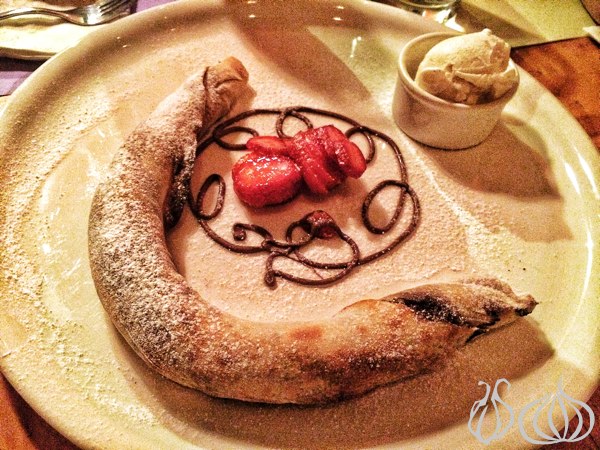 The details I liked:
Staff is welcoming and the manager very professional
Glass water bottles are used: I love that
Not only are the plates beautifully presented, they are generous
There is space between the tables giving off a relaxing feel
Four different colors of placemats decorate the tables: Violet, green, red, brown
If you're looking to enjoy some fine pizza around the Dbayeh area, then head down to and enjoy Nonna's pizza at Goutons Voir, located within Junction 5 Dbayeh. You can also enjoy some French bites where both are ready to welcome you for lunch or dinner.