Yes, indeed, I just found it: The worst burger I have had to date. Where? At the Publicis Drugstore, Champs Elysees, Paris. This place was on my to do list during my recent visit to the French capital, considering that the menu has been prepared with the collaboration of "Fast and Furious Burgers" who I really appreciate. I was sure to enjoy one of the best burgers, but the opposite was quiet true. Unfortunately, we just had a bite of the burger, paid 135€ and left hungry. I think the pictures will not be enough to describe my experience...
It was a Sunday and the brasserie offers a brunch formula, but we opted for lunch 'a la carte'. We wanted to order on our own to enjoy what I had imagined to be the best burger in town.
But let me describe the reality of the "best burger" I had imagined: A dry bun that's bigger than average, containing a miniscule piece of meat that's even dryer than the bread. A slice of tomato covers the burger meat. It's bigger and thicker than the meat itself. Too bulky! Just a hint of cocktail sauce is felt and simple dryness.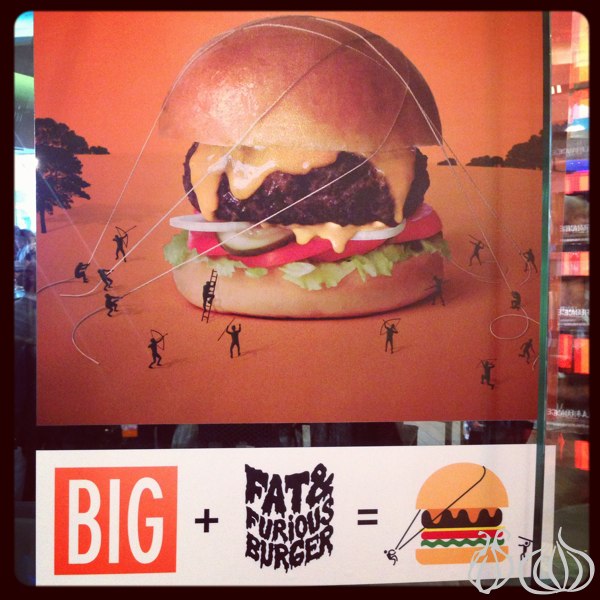 The place:
Enter Publicis and take the first left to access the restaurant
A low white ceiling with a wooden parquet floor
Black square and round tables fill in the space
An outside terrace with its closed seating area and a view to the busy street of Champs Elysées
A bar in the middle serves drinks and wines decorated with red light over it
The menu:
Le Brunch
Les Entrees
Les Viandes
Les Poissons
Le Fromage
Snacking by Drugstore
Les Desserts
Les Glaces
I loved the idea that fast and furious burgers helped produce the menu. So I ordered their latest creation... and it was the biggest mistake I ever did.
We ordered:
Caesar Salad Gambas: A bowl of fresh greenery of which sucrine and French lettuce decorated with Parmesan chips, covered with six hot pieces of shrimps. Three slices of sucrine, cherry tomatoes and croutons served with sauce on the side. I honestly didn't understand what's 'Caesar' about it especially that the dressing is not that of a Caesar. I liked the gambas and parmesan chips. This salad costs 26euros. Too expensive for what it is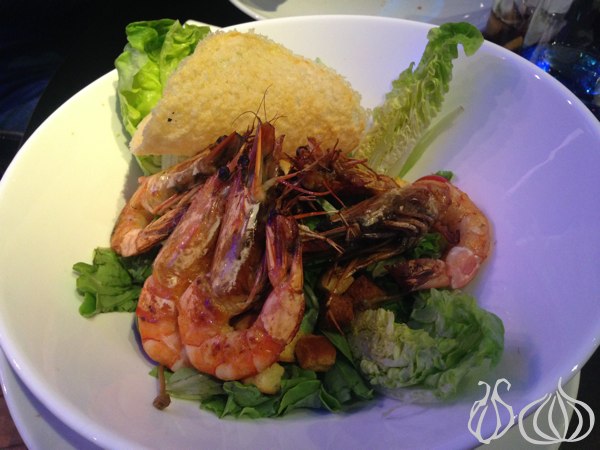 Let me introduce you to one of the worst burgers I've ever had in my life... The BIG Burger. Sorry, I mean the worst: A thick piece of dry bread, covering a tiny but thick piece of meat that's filled with crunching fat. Even though dry, it's greasy and oily. All you eat is a cold bun, that's hard on top and soggy at the bottom, with some meat "when" available that's covered with a piece of thick crunching unpleasant tomato. Try grabbing the burger, it is literally stuck on the plate...
The blue burger had more spinach than meat. Watery, juicy, soggy and falling into tiny bits, it feels more like spinach stew and rice. Disgusting! (the pictures talk for themselves). Not more than a single bite that I was shy to spit out. Horrible!
The Chicken Club: is this food? The bread enters your stomach like concrete. What a shame. They call this a club sandwich. Four pieces of thick dried chewy sliced bread filled with layers of dry chicken, thick crunchy tomatoes and lettuce. Chewy and sticky, this sandwich is not worth filling your stomach with.
The minuses:
Stingy: Two pieces of bread for three persons. Later, after the a member of the staff saw me taking pictures and notes, a third bun was sent on another plate. lol.
Waiters took their sweet time getting our orders. Unprofessional and unattentive
Very strong smell of grilled food takes over the restaurant
The music is too loud. Guaranteed recipe for a headache
When lunch was over, the hostess picking up the plates asked us if everything was alright. I replied by telling her that I had the worst burger ever. Just a few minutes afterwards, the total bill reached our table with no apologies, no complementary desserts or coffee. We paid 135euros and left to have lunch at Mc Donald's.
I'll stay away from this place... Too expensive and disgusting food is the least I can say.