Before starting this review, I want to point out something 'sweetly' important. I would like to remind people that we have a number of good pastry shops in Lebanon that can easily compete with those in key cities around the world where pastry is mastered.
Soon, I will be publishing the list of the Top 10 Pastry Shops in Lebanon and I am sure you will agree with me that La Mie Dorée must be one of them.
La Mie Dorée opened more than 30 years ago, catering fine delicatessen pieces of pastry a few know how to master. They have been known for their signature cakes; Chocolate Caramel tart, La Vie En Rose, Le Petit Philippe, Emotion and many others. Each is prepared with love and passion and more importantly maintaining the same taste since day one. We had a dinner party at home this weekend and my wife and I ordered three of their famous cakes: Baba au Rhum, Succès au Chocolat and La Vie En Rose. Like always, they were all exquisitely delicious. The Baba au Rhum is fresh, generous, decorated with seasonal fruits and whipped cream with little mini cake balls on the sides to make the experience even more enjoyable. An adequate quantity of Rhum, a perfect softness and most important of all is a mastered sweetness.
The Succès cake is thick, hard and crunchy making it enjoyable to taste. One of the best in town, even though I am not a fan of its buttery milk chocolate robe.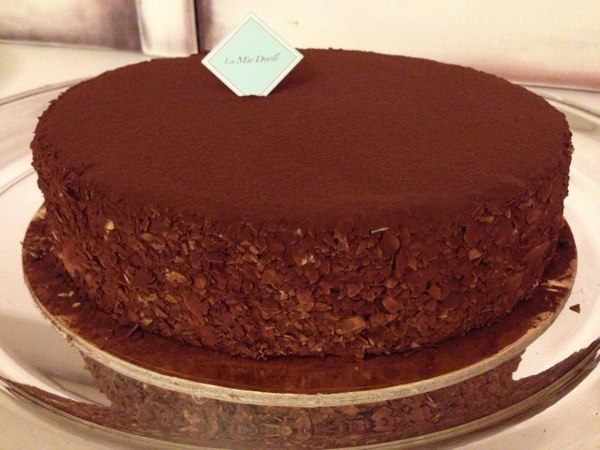 La Vie En Rose is simply unique. With every bite is a different story, every ingredient transports you to the land of wonders. Every bite creates a sparkling effect on your tongue before feeling the different layers of red fruits, juicy cake and rose. This is a must try. You'll understand what I mean after the first bite. Ask for the coulis de framboises with it!
La Mie Dorée uses a unique dark chocolate in most of their cakes. My favorite is their Chocolate Caramel Tart. A heavenly sin.
Today, passing by the capital, I decided to take a coffee break at their (pastry shop/cafe/restaurant) in ABC Achrafieh where fine cooked plates and pastries are served twelve hours a day.
The place:
Surrounded by beauty brands like Estée Lauder, Chanel, Armani and others
Their famous light green colour, reflects a French bakery style
A long classy glass vitrine displays the beautiful pieces of cake like sablets, baba au rhum, apple tarts, macaroons, éclairs, mousse to name a few
A fridge contains a couple of ready made cakes for take away, including tarts, English cakes, strawberry cake, alcazar, chocolate praline...
Old English style chandeliers decorate the walls
Dark wooden tables and chairs decorated with pink and violet light fabrics
A relaxing open space that has become a meeting point for the elder generation
The menu sections:
Les Salades
Les Sandwiches
Les Plats Chauds
Les Entrées
Les Soupes
Les Desserts
Les Glaces
Les Boissons Froides
Les Boissons Chaudes
Les Viennoiseries
Les Cafés Froids
Le Bar
Les Eaux Minérales
We ordered two fresh juices. Their banana-strawberry juice and their minted lemonade on crushed ice. They were both very tasty accompanied with chocolate sablé that activates all my senses at once. I like this place, although the waiters are a bit slow. In such a fine pastry shop, waiters should be trained better, smile more, and move around like ballet dancers.
I sat on a table that was covered with chocolate before he remembered to come clean it up.
Trying La Mie Doré, Pâte A Choux among others, my journey to discovering more pastry shops is on going. With every review, I hope you will understand the difference between fine pastry shops that offer quality compared to the 'average' others who sell sweetened edible sponges. We should be proud of what we have and the high standard pastry shops in Lebanon that can easily be compared to France or Austria, where pastry is a mastered culture.