A couple of weeks ago, while attending an event with my friend Amy, she asks me: "Who is in your opinion the best catering company in Lebanon?" It took me a while to answer while I realized that I've been to hundreds of events, know dozens of caterers but in fact, can't give a solid answer for who is the best in Lebanon?
My favorites, and I think many will agree with me, include Cat & Mouth, Faqra Catering and Nicolas Audi are some of the few catering companies that offer good service, unique creativity... Catering to big events and weddings, these companies are great and expensive...
So the question now is who is good, professional, tasty and fresh at the same time affordable? Preparing for the baptism of my little one, we decided to invite the family to a brunch at Saint Louis church, Bab Edriss Beirut. My wife and I have always believed in La Mie Doree - more commonly known for its pastry, we asked them to cater event.
Two managers, two chefs and four waiters accompanying amazingly tasty food made our event a success.
On the menu: Les Boissons:
Carafes De Jus De Fruits Frais Sur Glaçons: Kiwis, Orange, Fraises, Ananas
Nescafé, Lait
Café Américain, Thés Et Infusions
Boissons Gazeuses
Les Stations:
Œufs: Brouillés Et Durs, Bacon, Saumon Fumé
Crêpes Salées: Jambon, Emmenthal
Saj: Manakiches Au Thym Et Au Fromage
Les Mini Sandwiches:
Navettes Brie, Raisin
Briochines Au Thon
Sur Le Buffet:
Bœuf Wellington Farci De Champignons
Kassler Sur Salade De Pommes De Terre Tiède
Bruschettas Et Roulades Au Thym: Labné, Tapenade D'olives
Plateau De Fromages Aux Fruits Secs: Cheddar, Emmenthal, Chèvre Entier
Salade D'herbes Au Halloumi Et Pignons: Thym Vert, Oregano, Roquette, Moutarde Verte, Pourpier
Plaque De Tarte Fine Aux 3 Tomates, Feta, Oregano
Tarte Alsacienne
Muesli Aux Fruits, Yaourt
Panier De Pains Variés: Fougasses Au Thym, Mini Faluches Nature, P.P Aux Olives, P.P Aux Noix
Les Desserts:
Le Gâteau À 3 Étages
Feuilletés En Bandes: Fraises/Crème Double, Coulis De Fraises – Façon Bruno
Mini Crêpes Au Chocolat
Bonbons Glacés: Chocolat, Vanille, Praliné
Panier De Mini Viennoiseries: Croissants Nature, Donuts
Pains Tressés Mini, Brioches À La Cannelle
Kouglof
On a hot and sunny spring day, we enjoyed sumptuous food catered by La Mie Doree. All I did was walk around to take pictures while hearing guests talking out loud about the decoration, quality, freshness and taste. I heard the expression "yumm" and "mmm" more than once.
The buffet had four different sections: The drinks area, the main buffet, two chefs cooking eggs and crepes and the Saj area. What caught my attention are the two huge glass bottles of freshly squeezed juice cocktails. Perfect for the setup, occasion and weather. So getting back to Amy's question, La Mie Doree is a good choice to cater your events.
I've tasted and adored everything specially:
Bœuf wellington Farci de Champignons: A traditional English preparation of beef tenderloin coated with pâté and duxelles, which is then wrapped in puff pastry and baked. A whole tenderloin wrapped and baked, and then sliced for serving. An awesome plate
Œufs: Brouillés et Durs, Bacon, Saumon Fumé: Fresh, light and tasty
Plaque de Tarte fine aux 3 Tomates, Feta, Oregano: Just look at this square pizza that sells for itself. It's an addictive thing.
Mini Crêpes au Chocolat: Simply mouthwatering, those little tiny fingers are addictive
Feuilletés en Bandes: Fraises/Crème double, coulis de Fraises – façon Bruno: Waw! That was my favorite. Crunchy, tasty and light, this piece of cake looks and tastes great. Eating it under the sun and feeling its freshness even makes you fall in love with it
To celebrate the Baptism, a three layered cake was waiting to be cut. Each of the layers has the same quality and taste La Mie Doree always provides. I have detailed about this in my last article. The Chocolate, Orange chocolate and Succès blanc cakes amazed everyone.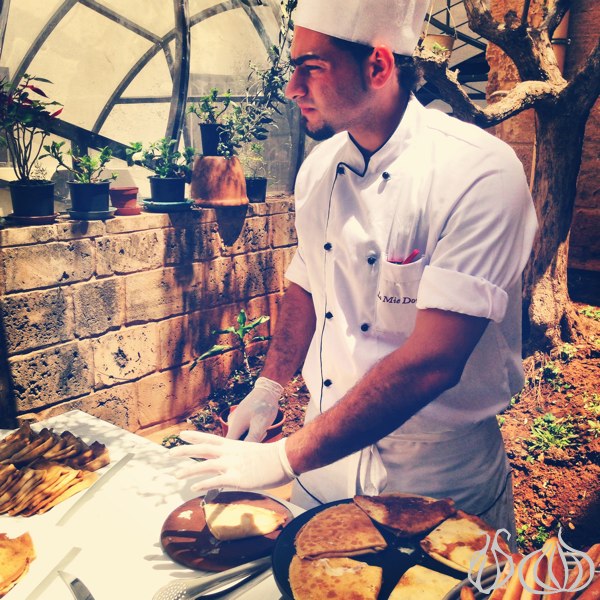 This review may not be of a restaurant but after enjoying their service and professionalism so much, I couldn't but want to relay the message to everyone - good quality and good service, in a country where the trend seems to be "go for cheaper quality to serve large groups of people at low prices."
I'll be waiting to try more of their creations at any of Lebanon's finest gatherings. Meanwhile, I'll just enjoy these mouthwatering pictures.