La Veranda is located in the region of Bois des Arcades where many supposedly fine restaurants are located. Considered to be one of the good places in town, was the first place I tried during my visit to Algeria. Upon arrival, my thoughts were: "Am I at an after hour night club or a restaurant?" The closed door, red lights... Knock, knock, knock. We banged on the door and waited for someone to open...
Inside, a dark violet space, badly lit indeed looks more of a nightclub than a restaurant. Loud music, smoke all over the place, a bar and neon lights. I felt the world turning upside down: "How are we going to eat in such a polluted space?" We thankfully moved to the terrace were we were seated. Definitely sit outside if you're going to La Veranda. We sat on some metallic chairs covered with a layer of white cushion. They are so uncomfortable. The whole night I felt pain while sitting on these chairs. Ok, I changed my mind: Neither inside, nor outside. A bad first impression with a series of bad events that followed one after the other... throughout the night. We waited at least 30 minutes before the waiter, who was tired and looked like hell, started preparing the table. He then asked about the order. Even though we were given menus, he grabbed his notepad and said looking down: "We still have two portions of fish, two portions of salmon, one portion of meat". Euh what! It's only 10pm and the kitchen is already out of stock? I felt like I was in a bakery without bread. Do people come here to eat or what?
The menu sections:
Entrees Froides

Entrees Chaudes
Volaille et Gibier
Viandes
Poissons
Desserts
I tried tonight:
Fleur de Saumon: Beetroot sauce, sliced cucumbers, olive oil. Thick salmon pieces presented in a bowl filled with sauce. The presentation is good but the dish is too salty
Swordfish: I closed my eyes and thought I was eating chicken. An over-dried piece of unseasoned sword fish that simply tasted like cheap chicken breast. The side rice is over cooked
Grilled Shrimps: The tiniest pieces of shrimps I've ever seen served on a naked plate. No salad and no side orders.
Avocado Salad with Shrimps: Pure mayonnaise in a a plate containing two pieces of shrimps: A failure
The meat is super well done and chewy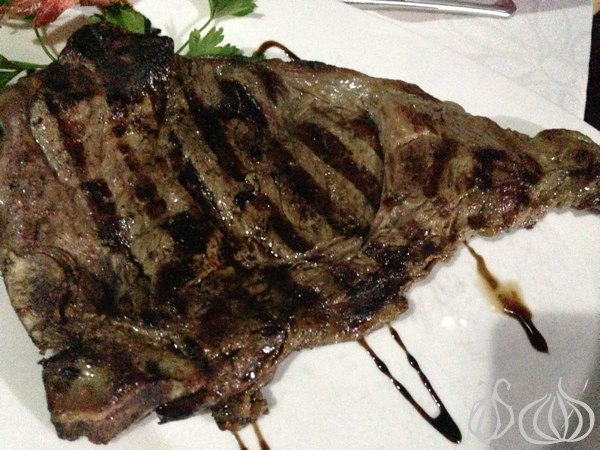 Even though we started eating, no drinks were proposed. Not even water until we asked for a bottle of Rosé wine. I was handed my appetizer plate from the other side of the table and had to take it from the waiter and place it on my empty plate. Yes I had two plates in front of me one on top of the other all night long. When the main dish was ready, two persons were served and the others waited for an additional 15 minutes before joining the others for dinner. Professional indeed.
The good:
All tables are covered with white table clothes
The best tonight was the wine considering that it's not produced in-house: Fleur d'Aboukir, Rosé, Algerian wine
The bad:
Table setup is made without rules. We helped setup the table like we were at a picnic
The waiters carried the cups from the tip just where your lips would touch. Unhealthy
The menu is full of spelling mistakes. I counted 17
Stickers added on the menu to change the prices. Horrible!
The seats are unacceptably uncomfortable
Dirty plates of olives, beer root and meshwiyeh with French bread. The French bread served was definitely from another table since it was eaten, and has been left in a plastic bag since last week. It chews more than a bubble gum
Waiter knows nothing about wine service. He filled the glasses up to the top like water
It was my first dining experience in Algeria. A bad one... A place fully booked, where people seem to enjoy such bad quality of food and service. Shocking! $35 paid per person not worth a single penny, if you ask me.