It has been a year already since my last visit to Le Petit Gris. One of the first restaurants to start the French Bistros trend in Lebanon, Le Petit Gris welcomes guests into a casual fifty square meters place with only 45 chairs. Located in a very quiet neighborhood far away from the dancing tunes of the upper part of Gemmayze Street, this place is truly an authentic French bistro that serves delicious food 'a la Francaise' without any pretension.
I have enjoyed Le Petit Gris so much every time that going again recently was exciting. Thankfully the experience was not any less perfect. Located along the tiny street of the Sacre-Coeur School, this bistro boasts a simple architectural set up that is somehow beautifully complex.
A metallic and grey ambiance remind you of the name
The flooring is covered with old original Lebanese tiles from the "Ahwet Ezez"
The walls are hand painted and covered with wine bottles on both sides
A nicely designed grey bar
Black wooden chairs fill in the space surrounding light wooden tables
Logos of famous French wines are printed in the middle of the tables
Facing the entrance, a blackboard displays the day's specials
Was it named after the color or after the snail, which is their specialty? (Le petit-gris est un des noms européens de l'escargot Helix asperse. Helix aspersa, known by the common name garden snail, is a species of land snail, a pulmonategastropod that is one of the best-known of all terrestrial mollusks.) Maybe both…
The menu is very simple divided into six different sections:
Entrees
Meat
Specialties
Fish
Soups
Gourmandises
"Planche de suggestions" that changes on a weekly basis
The experience started with fresh light-green and crunchy cucumbers seasoned with lemon juice and salt. These are not any cucumbers but real organic ones that look and taste differently. A good first impression that will prepare you for good things to come.
Dinner was served:
Cheeseburger LPG (Oignons caramelizes, bacon grille, roquette, salad verte, frites maison)
Served in a brioche bun, The 180g meat sits perfectly around the added ingredients. Sponginess, juiciness and crunchiness of the bun by Paul Bakery hosts a thick and adequately cooked, non-red meat with an ultimate juiciness inside. After feeling the crunchiness of the bacon slices a sweet aftertaste of the caramelized onions is all what you need to make this plate a gourmet one. The fries cut in small little pieces are great, served with lollo rosso lettuce.
Tartare de Boeuf (coupe minute, salad verte, frites maison)
Even though I'm not a big fan of beef tartare, this one is really good served with green lettuce salad and French fries. The freshness of the ingredients is clear.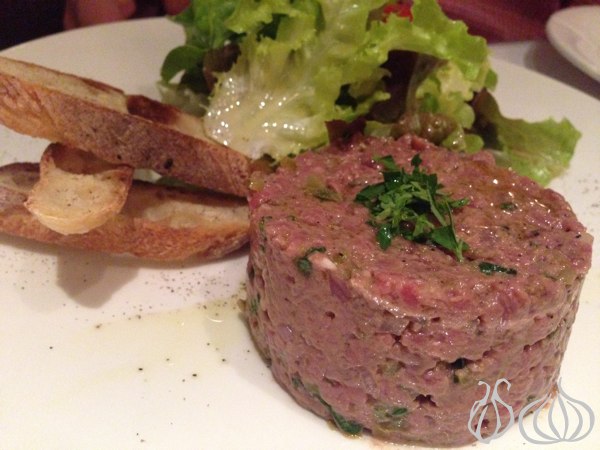 Soupe Carotte Coco
(veloute de carottes, lait de coco, coriandre fraiche) Sorry, I forgot to take a picture of this one. A clear light orange color where a mix of flavors and aromas are richly combined to create a soup you definitely have to try: Coconut milk, coriander and carrots. It looks and feels like pumpkin soup but is really delicious especially with the peppery after taste you feel after every sip. This soup is served with three buttered crunchy bread sticks. Winter is here, don't miss it.
Crabe frais facon waldorf (Crabe frais, julienne de celery rave, pomme Granny Smith, avocat, vinaigrette mayo moutarde)
Imagine the softness of fresh crab and their lemon dressing coupled with the crunchiness and sweetness of green apples, all salted and covered with olive oil. That's really yum! A mature soft avocado on the side adds the needed finesse. This is a plate I loved.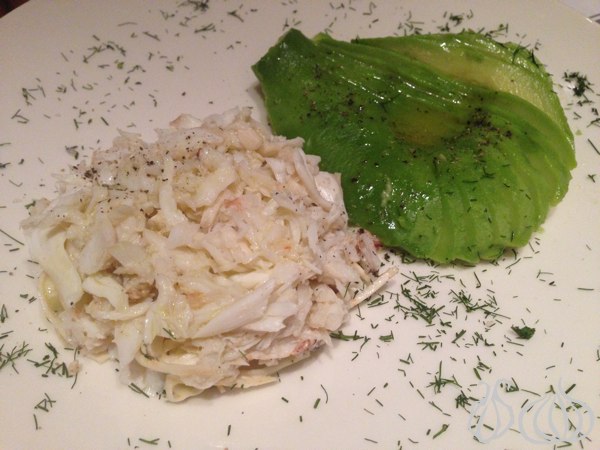 Oeuf Cocotte Falcon Mamie Manette (oeuf bio, creme de champignons au mascarpone, ciboulette, huile de noisette)
An organic egg poached inside a mix of different mushrooms with mascarpone and hazelnut oil, all blended. You have the egg flavor with a warm mushroom taste. The mascarpone cheese doesn't appear but adds some consistency, and the egg yolk at the end makes you want to lick your lips. Dig in to the very bottom for the cooked eggs, which gets marinated on its way up. Amazing taste.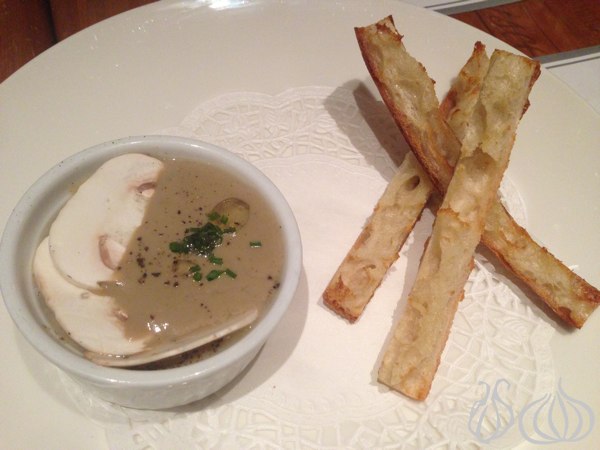 Mini scallops prepared with style and simplicity. Coriander, chives and lemon juice. Decorated with a basil leaf on top, this plate is to die for. Soft and tender the scallops melt under your teeth like butter. Wow! What a fine premium taste!
Raw fish: Carpaccio de Dorade
The raw fish you see below was caught just a few hours earlier and brought to the kitchen. When seeing a black nylon bag climb up the stairs, I couldn't but follow it for some pictures. Freshly prepared in minutes, we enjoyed one of the finest sea bream ever, simply seasoned with dill, pepper and salt
Loup de mer: In the same bag was a sea perch that was prepared differently with shallots, dill, lemon zest, green onions, chives and coriander. An indescribable mouthwatering feeling! I wish you all can taste those special preparations depending on availability
Today's dinner was special as it was coupled with different wines. Each plate had a matching choice:
Henri Boillot, Blanc de Blancs, Extra Brut, Cremant de Bourgogne
Bourgogne, Appelation Bourgogne Controlee, Bourgogne, Christian Faurois 2008
Chassagne-Montrachet, Henri Boillot, 2007
Lacoste Borie, Pauillac, 2009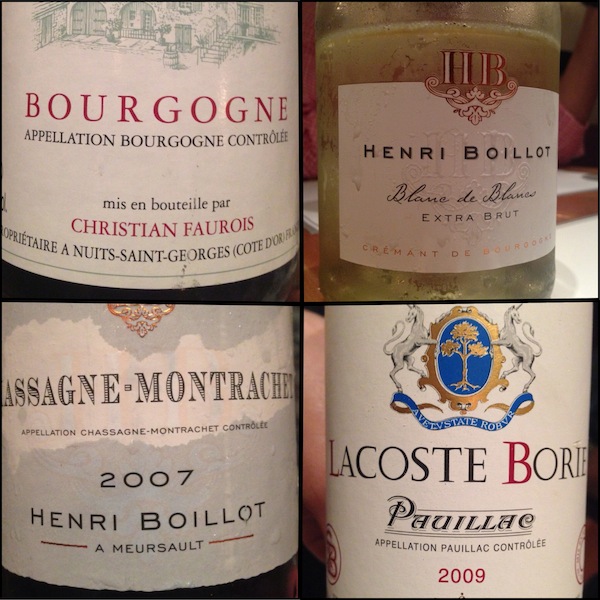 Dinner wouldn't be complete without some fine desserts:
Mille Feuille: A unique piece of Mille Feuille with its rich puff pastry, filled with pastry cream and thin slices of mango. Mouthwatering and extravagantly tasty.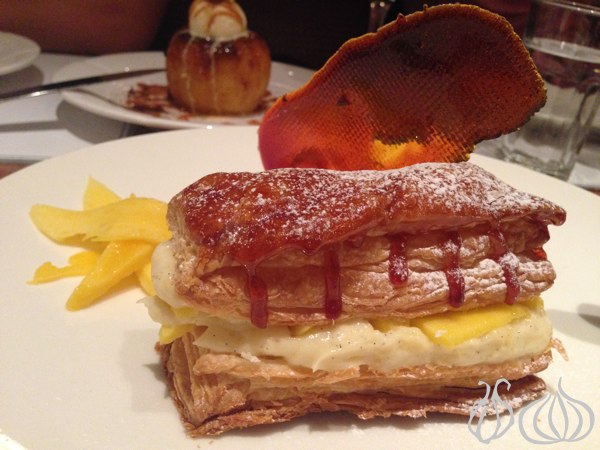 Pomme Caramelisee: A round apple cooked in butter and sugar in the oven then burnt like creme brûlée and served with a vanilla ice cream ball on top. The impressive thing is that the apple is cleaned from its seeds. Sweet and slightly crunchy, I enjoyed the sugar and cinnamon flavors...
Psychologically you won't feel guilty, you'll actually feel good knowing that you're eating a fruit.
Wine matched with the dessert:
Ice-wine, VQA Niagara Peninsula, Canada, Vidal 2008
The major items are organic since they use

Biomass organic products

:
The Company sells, under the Biomass brand name, a variety of organic products ranging from Fruits & Vegetables, Herbs, Eggs, Bread, Dairy Products and Processed Goods.
As for the service, their waiters try the very best to impress. Everything is done gently and calmly with the supervision of one of the owners always there to make sure perfection is reached.
More was yet to come.
A revisited "Coupe colonel".
What is normally a sorbet scoop in a vodka bath has been revisited the Lebanese style using
Afandello
and grapefruit sorbet.
After experience such a unique dinner, how can Le Petit Gris not be my favorite?
Let me know if you feel the same.