Time passes so quickly that I almost forgot about officially launching 'Lebanon's Street Food Market' on the streets of Downtown last year. Souk el Akel has come a long way, with events happening every Thursday in Beirut as well as the many pop-ups that have revived villages and cities around our beautiful country.
Souk el Akel is Lebanon's Street Food Market, reviving the old streets of downtown Beirut while gathering locals and international visitors around food and only food, local and imported creations which take the food we know to another level. Souk el Akel introduced many specialties we had never had before like our natural fruity ice pops, the crunchy stuffed churros, the Cuban sandwich, revisited Mexican flavors, Nigerian skewers, Nutella waffles, mixed crepe cakes, imported sausages, grilled falafel cups and much more.
Souk el Akel today is a family of 80 or so food concepts, a group of passionate food aficionados ready to show their knowhow on a weekly basis with a big smile on their face. Let me share with you some numbers before going on. More than 30 events took place in Beirut, every Thursday, gathering thousands of visitors, around 100,000. More than 150,000 portions of food have been sold to date without factoring in special events, which each drew around 35,000 visitors. This souk is home to new businesses, new concepts, new ideas and dozens of families making a living from Souk el Akel.
For the occasion, I'd love to share with you my favorite creations, the ones I've been eating again and again on a weekly basis.
Allow me to start with a dessert because this one made me scream repeatedly. Joyce's pain perdu is to die for. A clean and clear square bread not soaked in milk and juices, it is so tender that it melts even quicker than the butter its panfried in. The bread is served on a bed of homemade chocolate, caramel, chocolate bars and whipped cream. This is something you have to try before you die.
Now let's talk about the rest: Souk el Akel's finest.
The WTF burger is "the" burger and its name says it all. A pure patty of beef grilled to perfection leaving its heart red and moist topped with cheese and crunchy chips with a raspberry sauce taking the sandwich to gourmet levels. The WTF is Riad's finest, Meats&Bread has been reinventing meat, making it affordable and accessible at the Souk.
I never imagined eating a Cuban sandwich in Lebanon until I met Michel. Michel is the creator of The Cubanos sandwich, a revisited pork sandwich the way Lebanese like it. Our man sells out every other week, clearly showing how much people like it. Heavily buttered, the panini is toasted ready to host the mix of pork cubes, his signature green sauce, cheese and mustard. I'm a fan!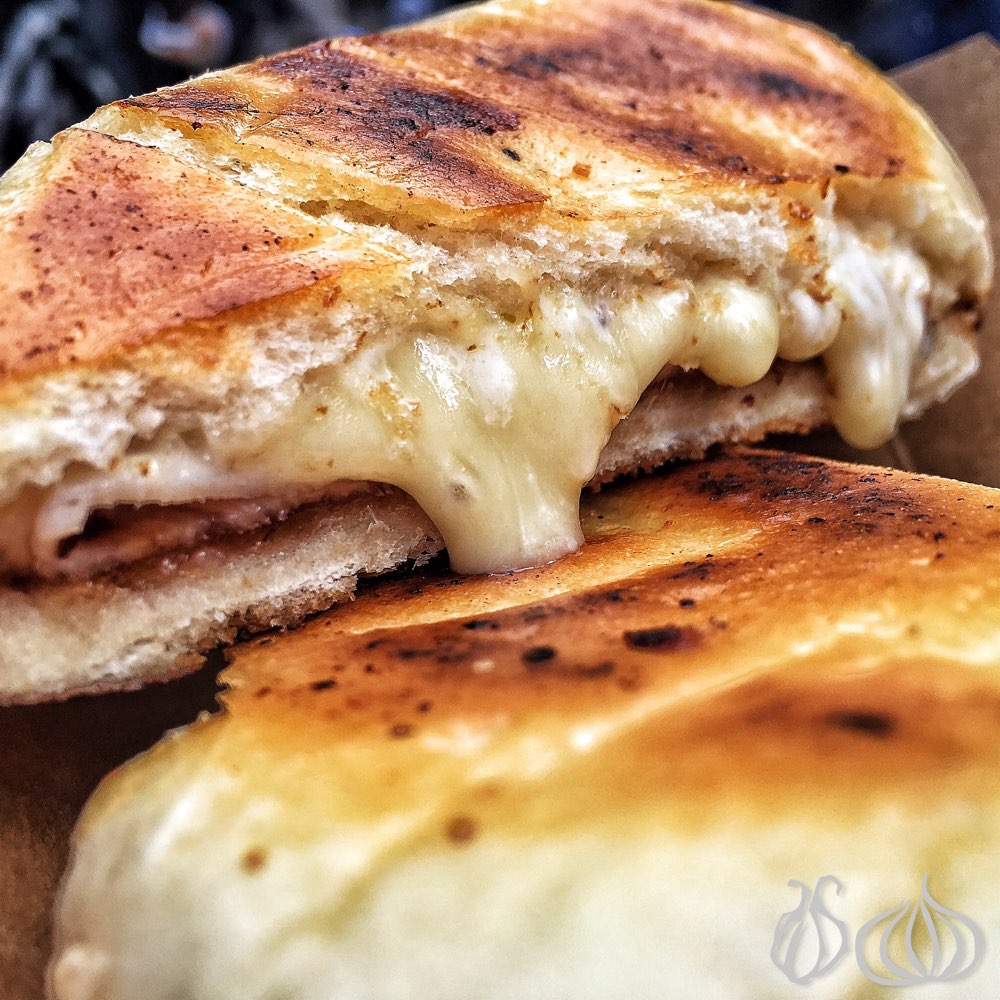 You will wonder how French fries made it on the list. They are fries, but not any fries, Seto's yellow, super tender and lightly crispy fries are enjoyed to the last piece. They're a treat so many enjoy. I love them as is, no sauce needed but if you insist, let it be mayonnaise.
Imagine a tender bun, a juicy chicken, a crispy batter and a spicy sauce leaving rich and intense after notes you will remember for a long time. Three brothers have made it to the souk, hand in hand, working in harmony to serve one burger; The Buffalo Chicken Burger. It's about the details, adding mayo on both sides of the bun as well as lettuce, frying the chunk of chicken and dipping it completely in the famous sauce. It's so yummy, real street food and worth the calories.
Not a popular plate but one of my personal favorites is hummus. Yes, simply hummus at the souk or topped with marinated veal chunks. Semsom, the Lebanese diner, has introduced hummus with sesame and Zaatar to the souk, serving it with veal on top. Their hummus is probably one of the best in town, smooth, tender, lemony, equilibrated and balanced ready to be devoured with a spoon. The bowl is served with veal chunks, that super tender meat you just have to try. Eat healthy, eat Lebanese, eat hummus.
El Mexicano or Fernando, Edith's husband is the king behind the grill. Raised in Los Angeles, he's chosen Lebanon to cook in and show his knowhow. Large sized burritos filled with cheese, capsicum and chicken or the quesadillas with pulled pork, the colorful enchiladas or their homemade tortillas. The sandwiches are made without sauce, which is served on the side. I like the family and its offering. It's my kind of Mexican food not the TexMex version of it we know.
When I was a kid I remember filling my fridge with popsicles and nibbling on them as if I was a chimp ... now I discovered Popcity. Ali has introduced to the country fresh fruits popsicles made with real fruits and real ingredients using natural elements. No preservatives or colorant make it in the recipes. The dark chocolate is light, the fruits are ice-free, the lemon is so rich, the blood orange is a dream and the best seller, the recommendation would be the lychee. Popcity's lychee has chunks of fruit in it that will make you want to come back to the souk every Thursday.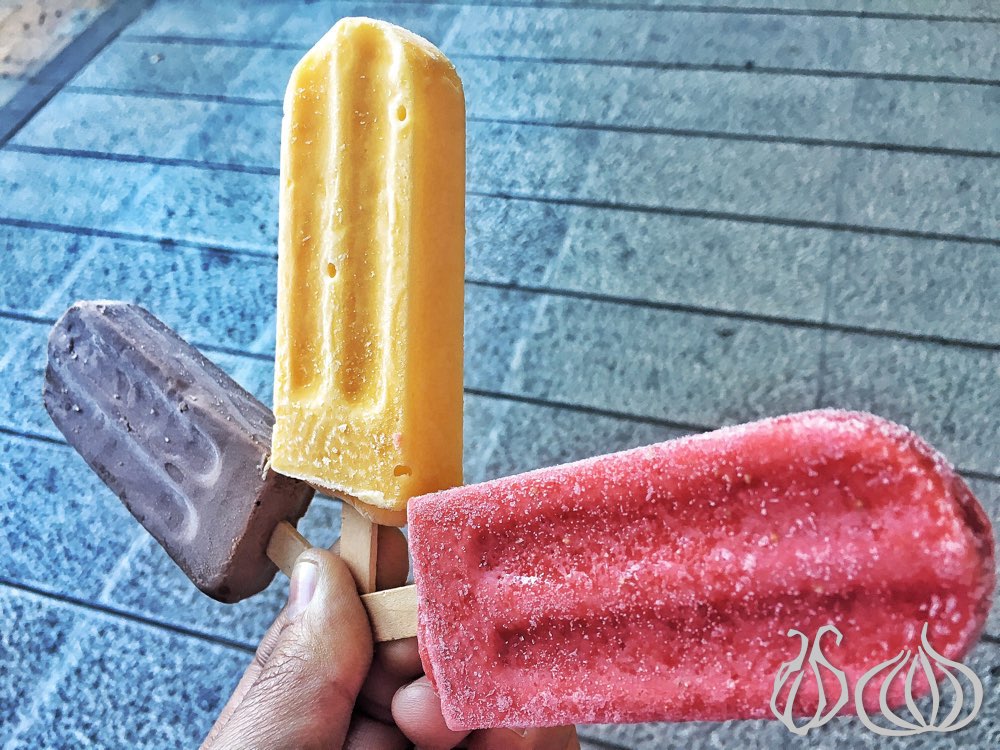 Lamb on the spit, or in easier terms "Kharouf", has finally made it to our weekly events. This special treat we used to have at weddings is now accessible with touches of modernity. Sharbel is the master, he cuts and blends and squeezes and rolls with a continuous smile on his face. It's not only about the show, but about the lamb's taste, it's tenderness and complicated sauces will guarantee to amaze you. It is a recommendation.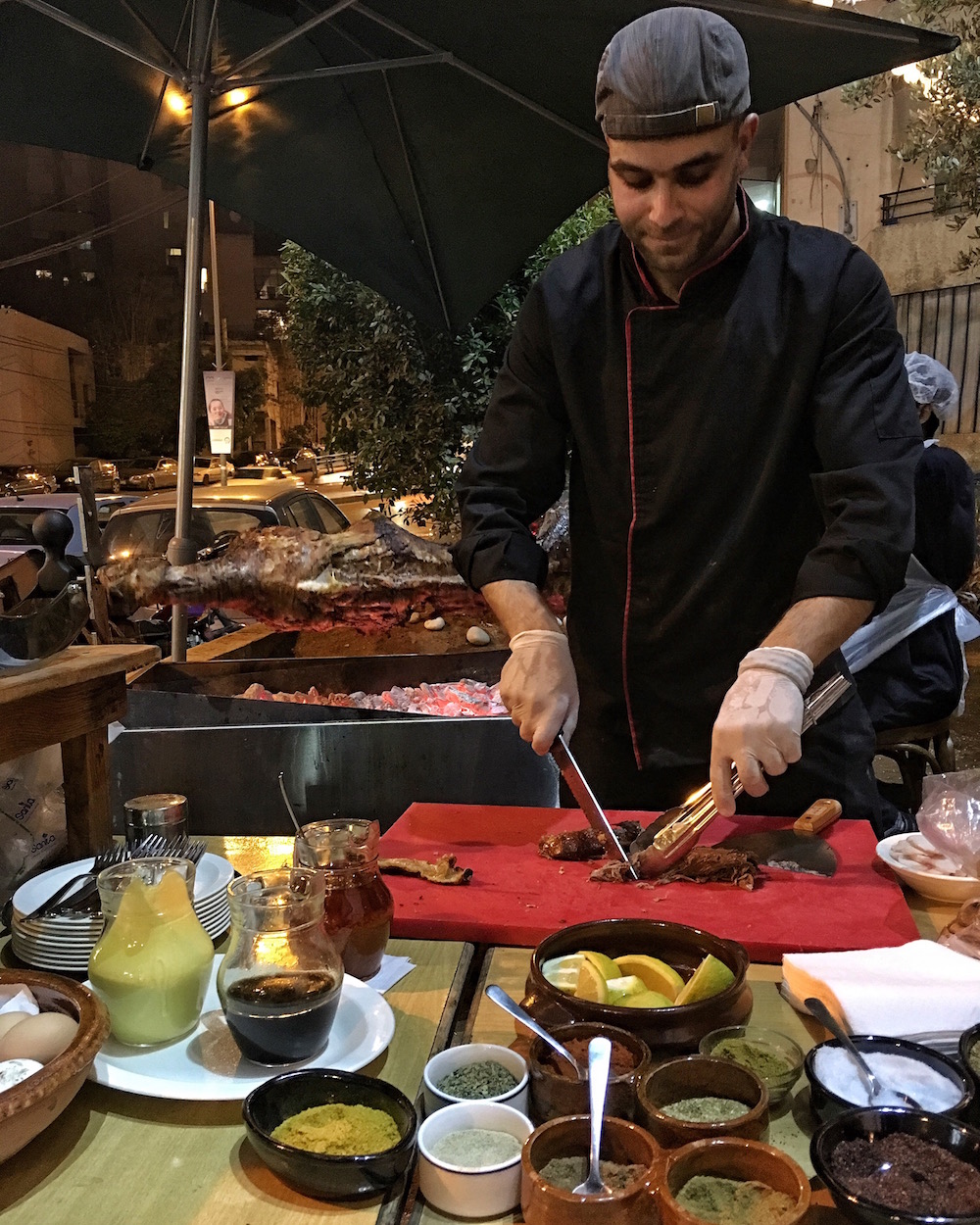 Samak Bizri or, fried fish sandwich, is something I crave. Richly and generously loaded, the light bread hosts a crunchy mix of fish mixed with lemon and tarator sauce. Who said samak bizri is a fine dining specialty only enjoyed at restaurants? Available on a street level, it's an unconventional item you'll want to try.
Sushi, not just any Sushi, a Sushi Burrito developed exclusively for Souk el Akel. Who wants to use chopsticks on the street when you can have the same feeling in a sandwich? Four times the size of a maki, filled to bursting is Souk el Akel's Sushi Burrito. Rice, salmon, crisps, avocado, mayo and much more wrapped in a nori leaf to go. It was and still is the country's revolution, the talk of the town.
Steak, yes, steak on the street, some fine Angus beef quality, carefully grilled and marinated to amaze. Steak Bar is part of a family. The Burger Bar, The Potato Bar with more yet to come. A group of passionate cooks prepare some fine cuts of meat and delicious burgers with loaded jacket potatoes to please every taste.
The MJ's burger is a big thing. Beef, barbecue sauce, BBQ onion relish, grilled red bell pepper and grilled eggplant with an in-house cream cheese blend. To start with, it's a different burger. It's a burger with innovative ingredients, like the bell pepper or the grilled eggplant. It's a burger that doesn't need any additions. It has the juiciness and the sauce it needs to be great. The fluffy bun, the hint of spiciness, the roast peppers and the eggplant all add the finesse one expects from a burger.


Now for the real deal! A big sandwich with an hundred flavors to say the least… a journey! It's Smokey's Club Sandwich: The hunger buster sandwich of layered smoked chicken and smoked pulled pork in three slices of toast with fried egg, Tennessee sauce, lettuce, tomato and pickles. Oh my Lord! Oh my God! A wow, redefined amazement, an awesome sandwich the likes of which I have never had in my life! Three layers of tender bread stuffed with endless juicy ingredients, a fried egg that makes all the difference, chicken and pulled pork all together to make you drool. I smiled, I laughed, I was enchanted. Strongly recommended!
When you think dessert, you can't but consider Cakes&Bites' extravagant molten chocolate brownie. Sometimes, I just ask myself if it is actually real. Molten, rich, intense, hearty chocolate that melts under your teeth like butter. Oh my God what a feeling! It's one of those things one should try at least once before you die.
If there is one drink that blends well with all that food, it would be Colonel's Red Irish. The beer we were not taught to appreciate, a beer without corn or rice, richly filled with hops, offers red fruits aromas in a full bodied beer that fills the mouth in every sip. I've been drinking three glasses every Thursday for as long as I can remember and believe me it's your perfect drink with all the food above.
It's Souk el Akel, It's Lebanon's Street Food Market, it's where food is taken to another level, it's where new culinary ideas come to life… and it happens on a regular basis in downtown Beirut.