Live Organic is a one-stop shop where one can do all organic food and lifestyle related shopping. It's a haven for people looking to enjoy some breakfast or want to get some work done while sipping through a healthy beverage and enjoying a selection freshly baked products.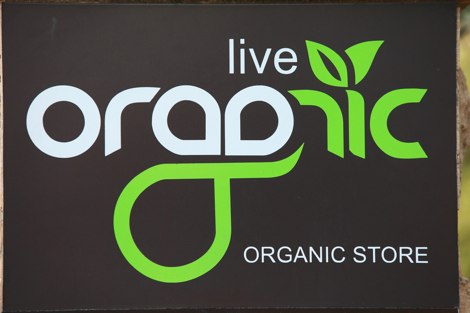 Certified organic by Istituto Mediterraneo di Certificazione (IMC) with the Hazard Analysis Critical Control Point (HACCP) stamp of approval, Live Organic is a perfect example of today's forward-thinking world where we need to protect the environment we live in as well as protect ourselves for synthetic pesticides and chemical fertilizers and the likes...
Organic Store, located on Naccashe Road, welcomes you with its big green sign. Going and up and down that road, the space attracts anyone passing on that road. The location is great, with a huge glass windows that allow natural light to come into the store that's all freshly decorated... As you walk in, you will notice how organized the place is... signs everywhere. Live Organic is split between a bakery and coffee shop and a showroom that is divided into sections including candy and bars, a baby section, an Italian corner...
Its wide selection of quality products imported from Europe & the Americas, as well as local produce: from organic live produce, organic Meat & Fish, organic bakery, organic grocery, organic dairy products, organic beverages, eco-household products, and cruelty-free & organic personal care products, in addition to educational materials & organic cookbooks, with a coffee shop to enjoy organic beverages and bites. Live Organic is a new shop, cafe and restaurant in Naccach, Antelias committed to building a sustainable future and a healthier life for us, our children, & the Earth.