I've been hearing a lot about Lux since it first opened but never had the chance to visit before. Meeting for a business lunch, it was the best of opportunities to discover this place inside out and enjoy its many details with the calmness of the day. Nestled in the heart of Beirut, facing the Beirut seaport, Lux welcomes you for lunch and dinner all week in its fine and relaxing ambiance where luxury is mixed with modernism and design.
Reach a terrace before accessing the long rectangular shaped place where a bar takes over in the middle. A long line of burgundy leather and black metal stools face it. I was invited to sit on the left side of the restaurant with a complete view on the long alley taking all the time needed to appreciate all the details that constitute this restaurant.
Enjoying fine and relaxing jazz music the rich odour of the black olives and thyme potatoes started caressing my nostrils. A plate of krafts cubes covered with thyme leaves, matured black olives and balsamic vinegar landed on the table with a carafe of water while I waited for my host.
The place in few lines:
You are welcomed by a large metallic design piece pending from the ceiling. A signboard on which is written LUX
A general greyish ambiance takes over with a floor covered with grey tiles and walls half painted in grey
A burgundy brownish feel ads a touch of color with the leather chairs and stools used
To the left are four rectangular tables facing a long bench while to the right a series of high tables with their high stools can host up to 12 guests. More upfront two stairs take to the upper section where burgundy is replaced by light brown
The inner section has yellow painted walls with fresh and colorful posters
Light wooden tables fill in the space
The door and windows built of metal are also painted in grey
Facing the entrance is a long bar covered in metallic panels, facing a mirror reflecting the many bottles hiding it
Up the stairs are the washrooms
The tables are preset covered win a white plate, a fork and knife as well as a wine and water glass
The waiters are all wearing black shoes, black pants a white shirt and a black gilet
What caught my attention are the three different colored walls: green, yellow and red adding a touch of color to this grayish pure design
The menu:
21 items with no sections separating them
Six choices of desserts
The lunch formula with a choice of 15 items (starter, main dish, dessert, drink, coffee) 66,000L.L
Saturday brunch (free range eggs, Omelets, steak burger, bagels, toasts and pancakes, fresh juice, brunch cocktails, coffee and tea)
Try it out, Lux's Lemonade specially produced by Jad, the bartender: A subtly sweet, adequately acidic, fresh and full of taste lemonade served with a slice of lemon and mint leaf.
We had for lunch:
Organic greens salad 22,000L.L: Crunching and mashing those vegetables is simply music to your ears. A fine selection of the freshest greens picked from their local garden and mixed with mustard leaved, radish, grapefruit, caramelized beetroot, lettuce, carrots, pomegranate and kumquat. An extraordinary mix reminding you that fresh food still exists. As simply as it should be, it's a must to start your lunch
Grilled octopus with broad beans salad 28,500L.L: Recommended by many, this octopus salad will make you want to come back for more. Fresh, crunchy and full of taste, every bite has a taste of the sea combined to a grilling aftertaste that ends the experience putting a smile on your face. Next to that, soft and tender natural beans melt under your teeth smoothly. There is not much to describe about this plate but what's great is that food at Lux is perfect for its simplicity.
White fish carpaccio with tomato cucumber couli 33,000L.L:

On a cucumber and tomato puree are layers of thin sliced local white fish carpaccio seasoned with lemon and olive oil and perfectly seasoned with salt and pepper. So rich and full of taste, every bite combining the tomatoes acidity, the cucumber aroma and the fine fish taste is unique of its kind
Fish tajine with tomato confit and grilled bread 28,500L.L: A revisited version of the known Tajine, served with a slice of pain de campagne, grilled tomato confit and a mix of tajine with grilled pine nuts that has a unique taste without the strong tahina flavor that usually irritates your palate. A great one indeed; A piece of bread, cover it with tajine, decorate it with a tomato and enjoy.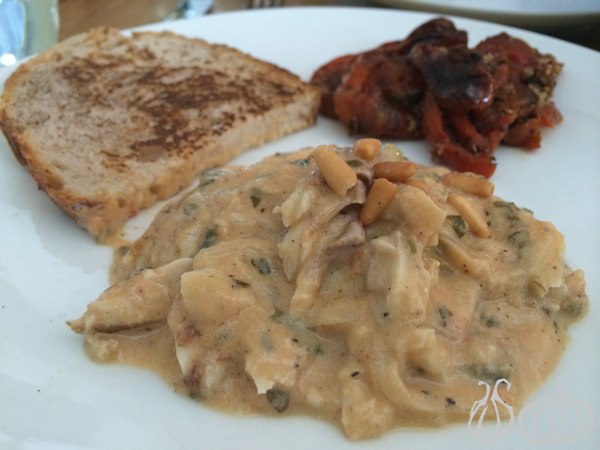 Wilted spinach and greens with rocket and lemon 18,500L.L:

A strong and interesting odor activates your senses before the taste buds take over. Fresh crunchy spinach perfectly mixed with a strong lemony sauce that's so juicy and so enjoyable. A perfect texture and a great dish I recommend
The food at Lux was really great, really fresh, really unique making me want to come again for more of their innovative organic creations. I'll come back for dinner where they say the ambiance is not to be missed.
For dessert, we had the lemon angel food cake which reminded me of the one sold at Oslo which I think is the same. A light, thick and spongy cake covered with lemon cream and beautiful to look at specially for its pure white color.
What You Need to Know:
Lunch from 12:00 pm - 15:00 pm
Dinner from 20:00 pm - 23:00 pm
Brunch Saturdays from 11:00 am - 15:00 pm
Sway to the tunes of their resident DJ's till late night on Wednesdays & Saturdays.
Must Try: grilled octopus with broad beans salad, black angus tenderloin carpaccio, grilled spicy beef slices or just ask for our special of the day.
For great vibes, head over to the bar and order a pink grapefruit fizz, lemon grass fizz or one of the special drink of the day.
Enjoying a good service, great food and a pleasant ambiance, Lux is a place I might revisit soon.