Everywhere you go, you find Italian and French restaurants, pizzas parlors, burger joints, Lebanese restaurants but have you stopped to think of the richness of Armenian food? More and more, Armenian food is gaining popularity in Lebanon. I know that its always been popular, but what I mean is that more and more upscale restaurants are opening serving Armenian's rich cuisine - and not just the famous spots in the Burj Hammoud area, for example. Mayyas, Mayrig, Onno and lately Batchig are a few of names to highlight here. Armenian food is tasty and filled with passionate flavors worth trying...
Mayrig, tucked away in Beirut's popular Gemayzeh is an Armenian restaurant that adapts the popular classics of Armenian cuisine, while generously borrowing from Lebanese and other Mediterranean influences, in order to feast guests on a dazzling array of flavors.
Mayrig uses spicy ingredients and dewy-fresh harvests from the entire region, delicately hand-crafted creations, and a charming setting that still evokes Beirut's glory days. Somehow, what you get is even more sublime than the sum of its parts…not surprising for a restaurant which still believes in serving food, and welcomes, very warm. Look around and enjoy dozens of interesting design items all mixed together to decorate this old Lebanese house that has been refurbished into a classy restaurant a decade ago.
The story started in July of 2003 when cousins, Aline and Serge decided to share with the world their mothers unique cuisines:
"My mum is a great cook that used to prepare delicious food for us and our friends who came over to taste her special creations. Everyone always asked us why don't we open a restaurant" Serge tells me. On a calm Sunday and while having lunch with the family, Serge and Aline decided to open a restaurant. The upcoming Tuesday they had a meeting with the location owner, liked the place, signed the contract and woke up to the fact that the idea of opening a restaurant is close to become a reality.
"Standing in the middle of this old Lebanese house, I wished I can make of it my house... A restaurant which would become my second home, serving Lebanon my mum's specialities that she learned from our grandmother"
A menu developed calmly and slowly... A passion that became reality:
"On the menu, we decided to put a picture of our grandmother, the person behind all the items available on the menu. Before the opening, our mothers started training the chefs until we hired a Lebanese chef that has been with us for the last seven years handling the central kitchen, Mayrig and this year Batchig."
Mayrig: "Le mot mayrig est synonyme de "petite maman". Nee au début du siècle dernier, Manouchag notre grand-mère est contrainte de quitter son pays natal avec comme unique bagage les recettes de cuisine secrètement transminses par sa mère. Nichee parmis les citronniers et les néfliers, sa demeure a Ain El Mreisseh abrita les plus grands dejeuners dominicaux ou toute la famille, les voisins et les amis se retrouvaient."
The place's little details:
Reach a closed terrace with its glass ceiling and bar facing the entrance
An inner space with a high ceiling, divided in two by three arcades
An old lebanese house refurbished to perfection
An old marble floor adds a touch of authenticity
A large sofa covers the facing wall from left to right
A colored soufflé glass chandelier pending from the ceiling covered in wood
Three rooms and a terrace having walls covered with stones
Wood tables with metallic copper squares in their middle
Chairs decorated with green, violet and beige fabrics
A soft musical background plays continuously
The rooms are like Lebanese saloons with mosaic flooring
On the menu's first page you can read:
"Droit du coeur de l'Arménie, des recettes qui ont voyage avec nous. Mayrig se propose de vous faire partager de délicieux plats et desserts Armeniens concotes avec amour par nos cuisinieres d'apres un savoir-faire transmis de mere en fille depuis des générations. Mayrig, un coin de chez nous dans votre assiette."
The menu sections:
Salads
Cold entrees
Hot entrees
Main dishes
Desserts
Drinks
We ordered:
Biberov Hats (bread chili)
Zeitov Dolma: A selection of Zucchini eggplant, red pepper and onion stuffed with olive oil
Selection Salad (zaitoun, lentil, itch, eggplant, fresh oregano, Armenian salad)
Vospov Keufteh: Lentil Kebbe that looks like moujaddara but is white in color. It's yummy
Tchi-Keufteh: Raw kebbe Armenian style
Mayrig Keufteh: Potato kebbe
Hommos Basterma: Hommos topped with Armenian smoked beef. A typical mix of the Lebanese and Armenian cultures in a dish. Tasty smooth hommos where in every bite, a slight crunch of the cooked basterma is felt, adding a touch of finesse to this sumptuous dish
Sempoughi Keufteh: Kebbe stuffed with eggplant garlic and pomegranate molasses: Tasty hummus with crunchy grilled basterma filling in the middle. This dish a really good one
Mhammara: Hot red pepper and walnut sauce. It's good but too spicy for my taste
Printsov Keufteh (rice kebbe) nice, soft and tender
Sou Beureg: Layered pastry with three cheeses. This is my favourite Armenian dish
Fishnah Kebab: Grilled kebab topped with wild sour cherries
Desserts: A Mouthwatering experience:
Banirov maamoul (hot cheese maamoul) Awesome! just add sugar syrup and enjoy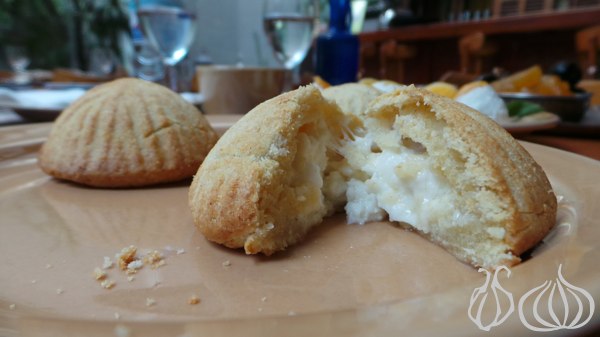 Anouchi Dessagner (Compote & Jams)
Sare Bourma (Armenian style walnut pakhleva) Delicious! But, before trying them, forget about Lebanese baklava. Crunchy and sweet, filled with nuts and cinnamon, these cookies are very tasty
Kaymakleh (Ashta stuffed apricots) This is unique
Sorbets (Meghli, Halawe, rose loukoum, ashta liyyeh) You have to try the Halawe ice cream even though it's a bit too sweet for my taste
Everything was just outstandingly delicious
What I liked:
The metallic serving plates
The nice architecture and decoration
The beautiful presentation of the plates
The food is tasty, rich and diverse
I enjoyed my time so much that I would surely visit again in the upcoming weeks. Try it for yourself and share your experience with us...