If you want to try some delicious Armenian food served in a nice restaurant in Lebanon, the choices are limited and include: Al Mayass, Mayrig, Batchig, Onno, Varouj among a few others. I went for Al Mayass this time. Nested in the heart of Achrafieh, on the way up from Tabaris is Al Mayass, this Armenian restaurant has been a reference for good Armenian food since 1996.
An old homey-like place with a small entrance where at the end of a long corridor is a restaurant constituting two rooms and an upper floor. A reddish ambiance under a wooden panel ceiling in an Armenian/Oriental setup that's cozy. You are definitely relaxed, especially with the soft music playing in the background.
An important thing to mention here: Al Mayass was established with Mr. Chant Alexanderian, who started the restaurant by cooking the food himself with the help of his son. He didn't realize that the place would gain so much success, after which he felt the need to expand by training several chefs into making the same dishes he does... In no time, Al Mayass prospered further and became one of the busiest places in Beirut and the arab world.
The place is simple:
Two distinct rooms, one has the bar and the other includes two long benches and a couple of square tables
Choose to sit on one of the two levels. The first floor with its two rooms is cosier but has a very low ceiling
An arcade separates the two dining areas
Glass flowers decorate the space in between
Burgundy colors are all around the place
Glass object pend down from the ceiling
A stripe of ceramic follows all the walls
The low ceiling feels a bit claustrophobic
The bar welcomes you, decorated with dozens of bottles
We ordered:
Hummus with Soujok: Topped with fried Armenian sausage cubes
Basterma Al Mayyas: Armenian pastrami canapé topped with fried quail eggs
Armenian Salad: Tomato, onion, cucumber, lettuce
Mouhammara: Spicy read pepper spread crushed with crushed walnut
Su-Beurek: Multiple layer pastry puff filled with cheese and oven baked
Beurek Cheese: Fried cheese rolls
Beurek Meat: Fried meat rolls
Manti: Meat filled pasta dough in yogurt, sprinkled with summak
Kabab with Karaz (Fishna) in sweet and sour cherry sauce
Manti are dumplings popular in the Armenian cuisine, closely related to the East Asian buuz, baozi, jiaozi, mantou, and mandu, and to the Nepali momo. Manti dumplings typically consist of a spiced meat mixture, usually lamb or ground beef, in a dough wrapper, either boiled or steamed. 'Manti' indicates either singular or plural.
The food:
Armenian Salad: Fresh and well seasoned. The vegetables are cut in small cubes and thin slices. It's an Armenian version of fattouch without the toasted bread
Basterma Al Mayass: Soft and slightly heated bread topped with a basterma slice and a beautiful egg on top. The mix of basterma and eggs together is superb. I fell in love with it. Put it in one single bite and feel the flow of the warm egg yolk and the stickiness of the basterma that is even softer than smoked Parma ham. The picture says it all
Mouhammara: Wow! Sweet, soft and tasty with a light crunch sealing the majestic experience. Some pine nuts on top add the finesse it needs. This is a dish not to miss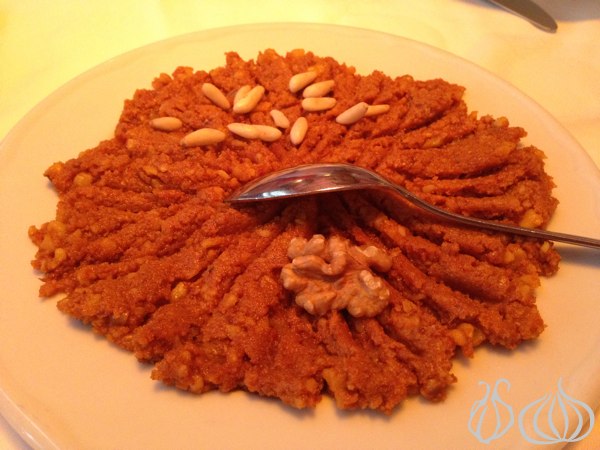 Cheese Beurek: This has nothing special. Lacks flavor, salt and taste. Even though the dough is not oily, crunchy and very well done, the filling is not what I expected
Meat Beurek: It's different than sambousik. Its spices are good but the after taste is a bit heavy. You cannot but notice the crunchiness and non oiliness of this unique dough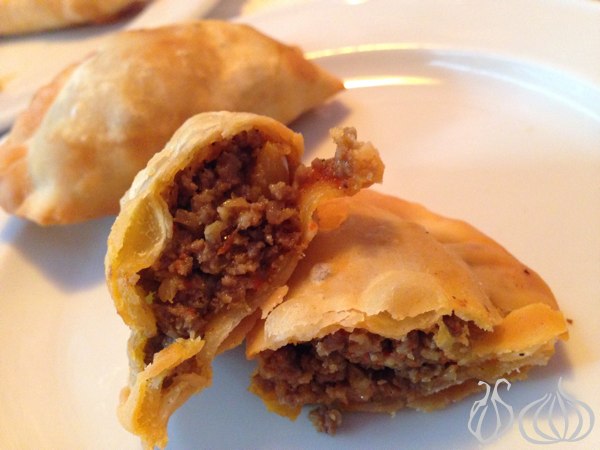 Hummus Soujok: The feeling of the little cubes melting under your teeth to dissipate all the spices, mixed to the simple hummus make them unique. It's an upscale version of the hummus with meat known in Lebanon
Manti: Served in a clay pot, all you have to do is cover it with Laban and enjoy. The meat pieces crunch perfectly. Summak is light and doesn't have a strong flavor
Subeurek: One of my favorites to date. Expect to eat something heavy but really delicious. Imagine a salty baklava containing melted cheese. This is my favourite Armenian dish followed by the Mante.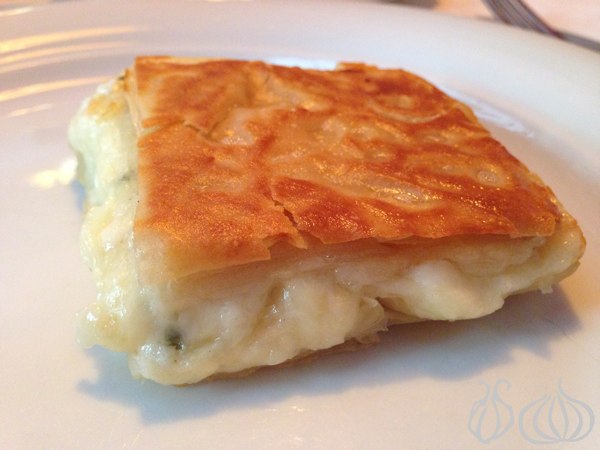 Kabab Karaz: Beautiful to see and delicious up until you swallow. The meat is too fatty and the sauce is too sweet. Is that a dessert? I asked myself! This plate is a NO for me.
Asmaliyeh Mayass: 10/10: Crunchy and fresh asmaliyeh, covered with white sugar candy and sugar syrup on top. Crunchiness, sweetness and passion all in one. This is a one-of-a kind dessert. Close your eyes and enjoy the music tunes created by the different ingredients crumbling under your teeth. Sorry but I'm not finding enough words to describe it… It's simply heavinly
Food is just superb!
If you are not hungry, just pass by to eat the Asmalliyeh: A dessert unique of its kind!
The minuses:
More smiles are needed in here
The cherry kabab is too sweet and too heavy and should be reconsidered
The dessert choices should be developed more. One and only decent dessert is not enough
We finished lunch and couldn't but plunge further into the Mhammara. That was my favorite today and I will come back just for it. The food was excising. Each and every plate is enjoyed even before the first bite. The rich aromas dissipating from the plates are wonderful. Colorful and rich, the food today was unique. Pure rich unsophisticated Armenian cuisine the real authentic way, Al Mayass is one of my favourite Armenian restaurants in town.