I felt good the minute I walked in... neat and clean and using the finest materials, Mr.Brown is a blend of industrial and contemporary design where wood and leather unite. I loved the wooden floor, the light brown sofas, the walls covered with bricks while others are left in their bare concrete state... the black metal grills, the bar and light colored wooden chairs. The space feels good and relaxing. Look up, look everywhere, interesting writings decorate the space. Enjoy your cigarette on their only outdoor table by the busy Achrafieh road, the inner space is smoke-free.
Enjoying tunes from the eighties and nineties, I sat to indulge in an early lunch.
The menu has it all... burgers, appetizers, sandwiches, salads, starters, sides, pizzas, pasta, platters, meats... they even have a light section followed by some mouth watering desserts.
We ordered:
Fries and cheddar cheese with sour cream
Mozzarella sticks served with a cocktail dip
Submarine; ham, salami, cheese, lettuce, cucumbers, tomatoes, pickles, olives and mint mayo sauce
Premium burger, with lettuce, pickles, tomatoes, deep fried mozzarella and cocktail sauce
Juicy grilled beef fillet steak served with corn, coleslaw salad, French fries and special sauce
Lunch is served:
Mozzarella sticks: five sticks of melting mozzarella embraced by a thick envelop of fried batter - a bit too thick! They're more like biscuits and in need of more cheese filling!
The fries covered with cheddar cheese are a great way to start your meal. Yellow fries cooked to perfection and topped with melting cheese. Non oily, enjoyable cheese and good quality fries with sour cream on the side.
The burger looks good... a soft bun, juicy tomato, and cocktail sauce to add a touch of sweetness, a fresh crunchy lettuce and a patty which feels more like a kafta! Incredibly compacted meat, thinly shredded and heavily peppered. The patty feels like kafta without parsley. I expected something more of a patty with crumbles of meat, big bits that crumble under the teeth enjoyably. The one Mr.Brown uses is more of a purée of beef hardened after grilling. It's exactly like Classic and the commercial diners do but not Mr.Brown!
Submarine in a baguette sandwich. Shredded lettuce and cucumbers for the crunch and freshness, extremely salty olives, ham, salami and cheese. All good except that excess of saltiness that should be taken a look at by the chefs.
Three thinly cut slices of meat, tender as they should be but lacking juiciness. I asked for it to be medium rare not medium well. Next to it comes a portion of corn and another of coleslaw which needs a bit more sauce and flavor. The fries are crunchy and well cooked. I expected one or a maximum of two chunks of meat and way thicker and way more juicy.
A meal is not complete without dessert... let's have a crepe! A beautiful dish, a dozen colors, a mountain of an enjoyable combination; nuts, pineapples, bananas and strawberries on a bed of crepe! A fruit salad if I may say with a drizzle of chocolate... but the crepe... layers of thick and chewy mix that is not pleasant under the teeth. And by the way why is it cut into tiny squares? Who said a crepe should be cut or bothered to ask if I personally wanted it to be cut? I expected the crepe to be thinner, lighter, softer, smoother and prepared a la minute.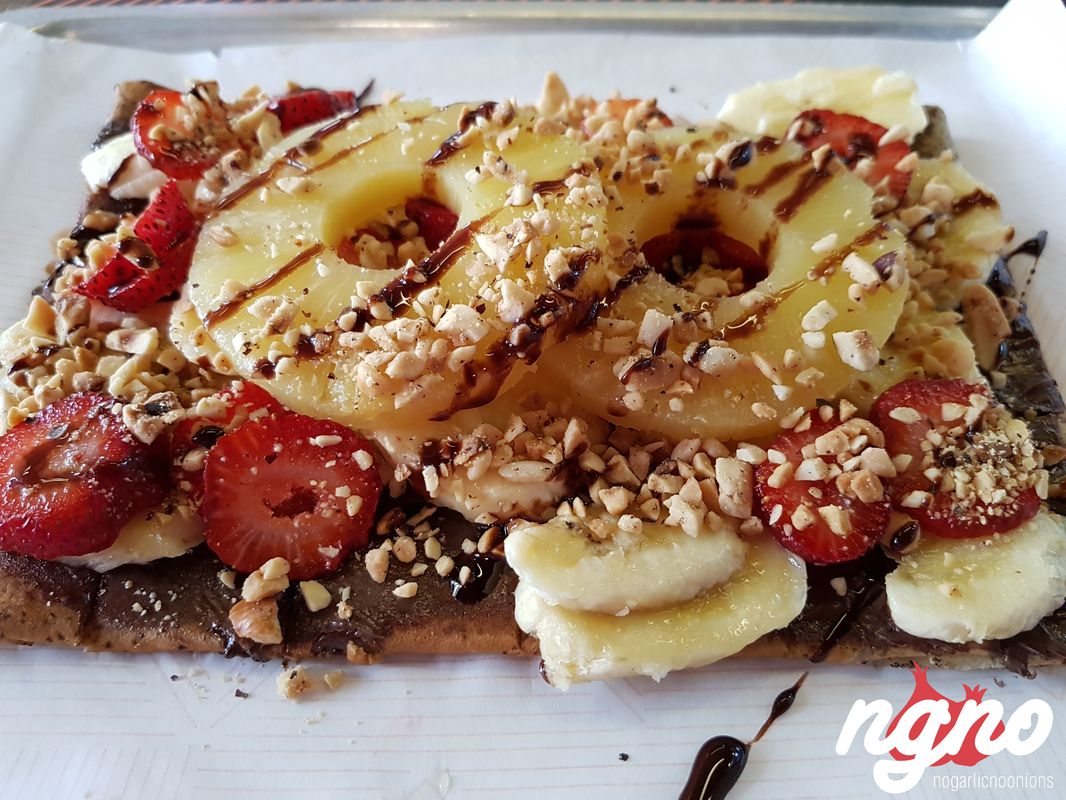 The food is as good as a normal diner would serve it... I personally expected more flavor, more love poured in every dish, and more attention to detail. I expected Mr.Brown to be a better version of the other diners in town. The quality of ingredients is clearly good, the presentation and service is something I'll remember, but the food could be taken to a higher level - at least in my opinion.