The experience I lived today is truly next to none. Mum&I, is a unique restaurant that opened in March 2012 - coinciding with the launching of NoGarlicNoOnions - offering Beirut's culinary connoisseurs with the finest homemade food. The owner, Samia Massoud, who learned a handful of recipes from her mum, opened a restaurant by pure chance. She wanted to call it something which relates to both her mum and herself. This was how the story of Mum (Samia's mum) & I (Samia) started... On the sixth day of March 2012, Mum&I served its first customers who left happy and through word of mouth, Samia's cooking was well praised all around the country.
"My mum taught me how to cook, recipes infrared in the family traditions which I started to take advantage of by cooking from home for long consecutive years. I never once thought of opening a restaurant until I bumped into this location which made my heart bounce," Samia tells me.
A place, left unattended for years looked nothing like a restaurant. But when I saw it, I couldn't resist the temptation and decided to grow my home catering business to a restaurant where food is prepared the same authentic homey way. A mirror, an open kitchen and few tables became a dream come true in a short period of time."
One rule primes, and that is "cleanliness" which I had the chance to see for myself inside Samia's little heaven. A kitchen cleaner that of a surgery room. Every casserole and every utensil is perfectly cleaned and placed at its place. A beehive, where bees follow the order of their queen in a synchronized way, all covered from head to toe.
Facing Mathaf and behind the Volvo showroom you'll see a small neon sign next to black and white fabrics protecting the restaurant from sun. Reach a terrace outside a square with glass and black metal facades.
Samia, "I", welcomes you into her home. A blackboard outside, displays the menu which will prepare you for one of the greatest culinary experiences you will be encountering the next couple of hours.
The place described:
Two large doors facing the National Museum
An outdoor terrace
Metallic facades painted in black welcomes the right amount of light
The floor is covered with green old Lebanese tiles with a single alley of colorful tiles
High ceiling with for pending lights
Two fridges, one filled with a large choice of soft drinks (Pepsi, Coca-Cola, Almaza, 961beer, Perrier and San Pellegrino) and the other contains some desserts (meghle, mouhallabiya and amareddine)
The facing wall, covered with a large mirror reflects the outside road which makes the place look twice as big
Under the mirror, a long sofa of all the place's colors concentrated in one design piece
Square wooden tables surrounded with Lebanese style chairs covered with leather seating. The restaurant's logo is imprinted in each chair
At the right, the kitchen appears behind the clear glass with a buffet displaying the desserts, a glass bucket and three wine bottles
In the kitchen, homemade pickles, cleanliness and a beehive of more than ten persons all working in a synchronized way to serve today's demanding clientele. I had the chance to have a quick tour inside which finished with a smile... If only all restaurants' kitchens in Lebanon are as clean and good looking as Mum&I's is.
Lunch started with a plate of radishes and another of green olives...
Today's menu:
Mloukhie 28,000L.L

Daoud Bacha 22,000L.L
Kebbe Arnabie 28,000L.L
Bazella w Riz 22,000L.L
Batenjen Raheb 13,000L.L
Salatet Loubie w Batata 12,000L.L
Lahme bi Ajin 4,000L.L
Salatet Banadoura Harra 8,000L.L
Foul Mdammas 12,000L.L
Fattouch 8,000L.L
Tabboule 8,000L.L
Hommos 8,000L.L
Mtabbal 8,000L.L
Soujok 15,000L.L
Makanek 15,000L.L
Drinks:
Orange Juice

Lemonade
Sharab el Wared
Sharab el Tout
Jelleb
N2ou3
Beers (961 and Almaza)
Soft drinks (Pepsi or Coke)
The food is succulent:
Soujok: Cut in slices and marinated with lemon and pomegranate molasses. Soft and tender, melts like butter with a perfect seasoning. I can honestly say that I haven't had such tasty and tender Soujok before, not even in Burj Hammoud. They are unique!
Spicy Tomato salad: Onions and green pepper salad. Just look at how beautiful the photo is. Simple yet succulent. Tomatoes, onions and green pepper. Lovely!
Makanek. Awesome! Soft with no crunchy skin. This is the first time I taste something that good. And the sauce is what's needed to make the experience continue even longer
Eggplant Salad: A lemon dressing, with soft eggplant, tomatoes, parsley and served in a flower shape. Simply yummy!
Green Beans and Potato Salad: Crunchy long beans and soft cube of potatoes in lemon sauce. A mix of different consistencies and strong aromas. Incredible!
Lahme Beajine: Crunchy on the sides, thin, richly filled, no garlic, with a slight spicy aftertaste. Ouf! Premium meat, an awesome dough, that perfect crunchiness. Indescribable!
Kebbe: This is something that should be written in our history books. Dried raisins, pomegranate, meat and peanuts. Can you imagine? Indescribable and out of this world. Lightly sweet, crunchy with an after spicy taste. Really unique
Arnabieh: That's yummy. A generous plate, filled with arnabiye and rice. Very well done, the real homey way.
Daoud Bacha: Tomato, pine seeds, meat balls and rice. Super yummy... As good as my grandmother's which was the best.
Mouloukhieh: Served with toasted bread, chicken breast and vinegar dressing. Fresh, green and tasty
Berghol w Banadoura. Served with cumin.
Desserts: As tasty as the main dishes
Mango Cheese Cake: Three layers in perfect proportions. This cheese cake is not sweet and not creamy - covered with a layer of mango jelly, all over a crunchy piece of biscuit. I loved it
Carrot Cake: A real carrot flavor, crunchy nuts, spongy and juicy feel. An amazing taste after swallowing, caresses your tongue and throat. That's a cake I dream of eating every morning.
Meghle: Yes, the best meghle I had to date. Extraordinary!
Mouhallabiya: After tasting Mum&I's Mouhallabiya, I can clearly say that is my second best after Fouad's which is my favourite.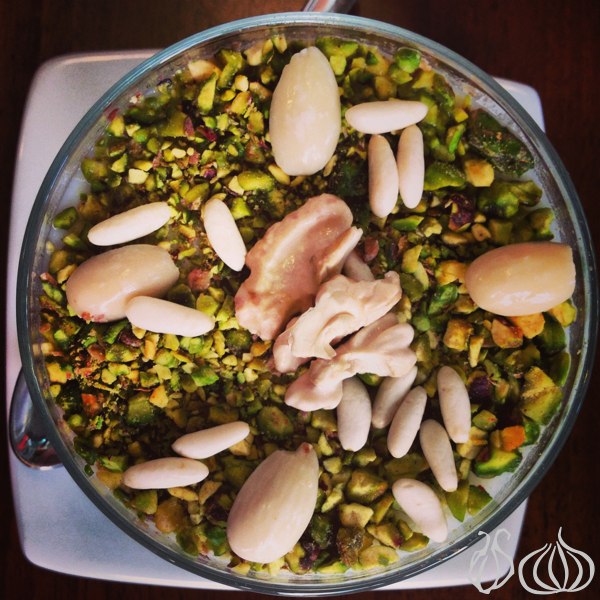 Chocolate Tart: Great. Dark chocolate cream covering a crunchy biscuit. Yum!
The things I love:
A calm place with no echoes
No music is required to create any kind of entertainment
Nice crowd of people who come almost daily come to eat something tasty
A casual and perfectly lit place
What a place, what a pleasant experience among smiley and polite clientele, awesome food, a great host and much much more...
After lunch, I looked at my wife and said: "This place is impressive, I couldn't find a single negative detail. I am impressed." And I mean it. Today, I was magically hypnotized.