Everyone who has ever come to Texas can tell you that Texas is more than just a state. It is a unique region that offers a rich culture, amazing cuisine, and breathtaking landscapes. Food in Texas is extremely important, and it is a symbol of the state. It is a mixture of slowly-cooked meat and Mexican flavors, and if you are coming to Texas, you need to try them all. So loosen your belt buckle and follow our newcomer's guide to Texan cuisine.
Chili is a must
Originated in San Antonio in the 1890s, chili is an official state dish today. A bowl of Texas red, hotter than hell dish is made of hot peppers and meat. Chili should be thick, meaty, and spicy, and real Texas chili is made of beef, not beans. However, plenty of people like pinto beans in their chili. This bowl of red is a feast for the senses, and it can be served with fresh or pickled jalapenos, raw onions, or crumbled soda crackers. This humble bowl of steaming bean-free stew is the ultimate in cowboy comforts and when you come to Texas you must try it.
Barbeque that you have never eaten before
Along with chili, Texan barbeque has the honor of being a state dish. Texan barbeque was influenced by the cooking technique called barbacoa, which evolved in the Caribbean. It is a technique of slowly cooking meat, usually beef brisket and ribs, in pits over mesquite wood. Texan barbeque is almost wholly focused on beef, and it's an amazing food experience you can't miss. They will serve you a plate of briskets or ribs with a heap of spicy barbeque sauce and a side dish, such as potato salad or pinto beans.
Tex-Mex has an honorary place in our guide to Texan cuisine
Neither Mexican nor Texan, Tex-Mex is, as its name suggests, a mixture of simple dishes. Texans love this authentic Tex-Mex cooking just as much as chili or barbeque. You can't find a good Tex-Mex anywhere else except in Texas.
Tex-Mex is a concept you will fall in love with - it is greasy, filling, tasty, and cheap, a step above addictive junk food. Tex-Mex is made of corn or flour tortillas, lots of white and yellow cheese, chili, hot sauce, rice, and refried beans. This unique dish can be spiced up with Tabasco sauce or jalapeno peppers, which many young Texans adore.
Queso – Texans can't live without it
If you ask a homesick Texan to name what he misses the most, you will hear queso. Chili con queso or simply queso is found in Tex-Mex restaurants, and it is a thick, creamy bowl of cheese dip that is typically served as an appetizer. This runny yellow dip for tortilla chips is made with melted cheese, cream, and chili peppers. Queso should not be confused with "cheese dip", which is just melted cheese without peppers. When you try chili con queso for the first time, it will make you think of settling down if you are yet to move here.
Hamburgers - yes, Texans invented them
The story goes that Fletcher Davis of Athens, Texas served the first burger in his restaurant in the 1880s. Back then, they served the burger with fried ground beef patties with mustard and onion between two slices of bread. However, Texans have perfected the burger even more. When you come to Texas you must try a burger in a famous fast-food chain named Whataburger. The burger here is fantastic and they are famous for its signature spicy ketchup. As a newcomer, you must try this burger.
Pecan Pie is official state pie
Texas is one of four major pecan-growing states, and every house in Texan has pecan pies in the oven almost constantly during the holiday season. Pecan pie is Texas' official state dessert and most pecan pies recipes include salt and vanilla as flavorings. Other popular additions to the recipe are chocolate and bourbon whiskey, and pecan pie is often served with vanilla ice cream or whipped cream.
Caption: A pecan pie is official state dessert you must try
Alt. tag: A pecan pie served with vanilla ice cream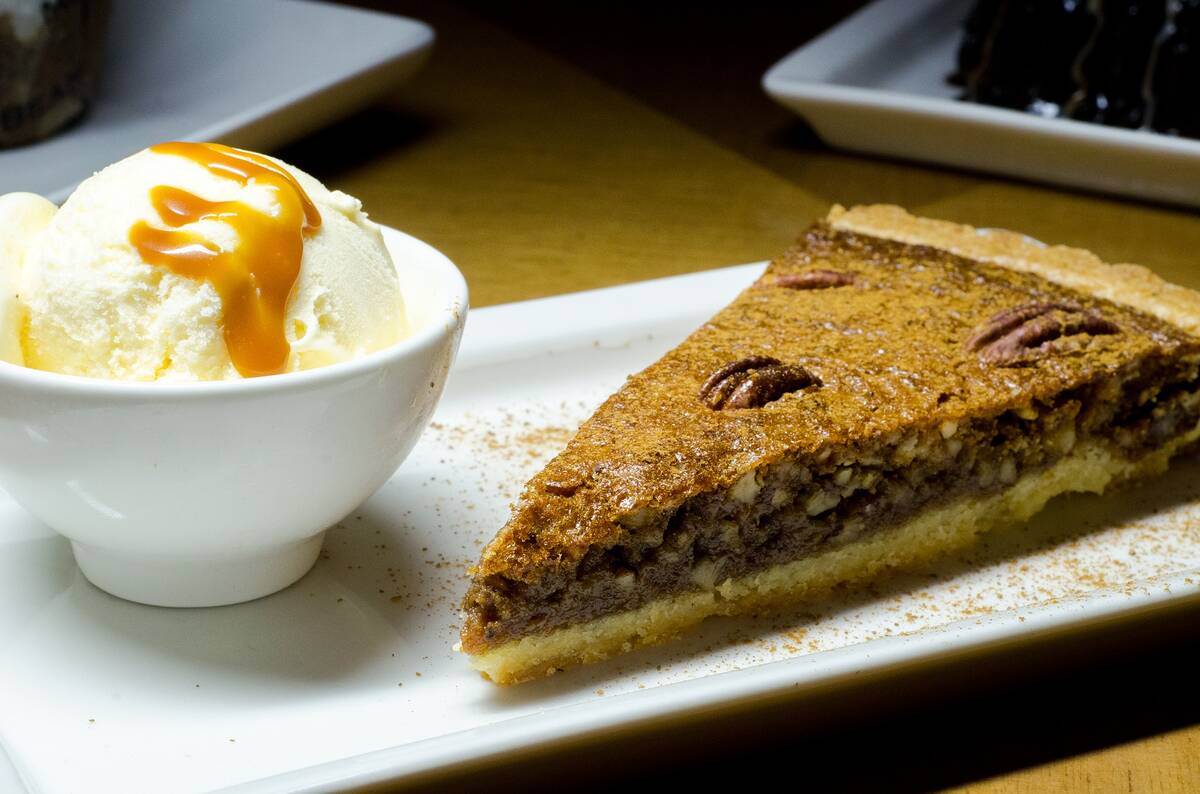 Frozen margarita should be on your list
Frozen margarita was introduced by Mariano Martinez in Dallas in 1971, but now it is a drink popular all over the country. The original machine which Mariano used to make the first frozen margarita resides at the Smithsonian National Museum of American History. While in Texas, you can try basic or classic margarita, which is made of tequila, lime juice, and triple sec, or you can try some with watermelon and cucumber which are delicious.
Dr. Pepper - Texas' answer to Coca-Cola
The name "Dr. Pepper" was used for the first time in 1885, and it was made in Dublin, Texas. The formula for Dr. Pepper is a secret, and allegedly the recipe is kept as two halves in safe deposit boxes in two separate Dallas banks. Dr. Pepper is a kind of beverage that Texans reach for instead of water, and it deserves its place in our guide to Texan cuisine.
When you come to the Lone Star State, you will realize that eating here is exceptional. Texan food is homegrown food, but it is multicultural at the same time. After reading our newcomer's guide to Texan cuisine, take a trip through the Lone Star State and try some of the classic dishes including cowboy chili, pecan pie, and plenty of barbeques. Anyone who cares about food should be eating in Texas because this state offers a great eating experience.
Image Credit: Carnivore Style