I was told that Panino Giusto has some good food cooking in the kitchen. Not knowing what to expect we went for dinner tonight. Minimalistic decor, white walls, old wooden tables and chairs in need of a change and green ceramic tiles playing a decorative role around the restaurant.
You don't need to reserve at Panino Giusto, a small restaurant with many branches around Milano. The menu is printed on foldable card offering a selection of starters, plates, salads, panini Milanese, prosciutto crudo, bresaola, mortadella, chicken and three plates prepared by a two star Michelin chef called Claudio Sadler. Every item is cured and aged like the Parma ham, aged 24 months, speck aged 9 months and even the ham is cured. You can also read where each ingredient is bought from.
On the menu you can learn how the "Panino" is a masterpiece prepared to amaze after you bite into it. Finally we had a menu in English. It seems the specialty is around fine sandwiches stuffed with cold cuts and cheeses car refills crafted in-house.
The starred panini:
Bra: Raw meat from Bra, boiled quail's egg, goat cheese from Langhe, Piedmont pepper and anchovy sauce, lamb's lettuce.
Tra I Due: Bread made from wheat and burnt corn flour with natural yeast, cured meat from Bresaola, stracciatella di burrata from the Peglia region, cream of taggiasca olives, pumpkin flowers.
Madras: Oven roasted breast of turkey hen, madras curry flavors, mayonnaise, songino lettuce, tomato, toasted almonds and venece rice popcorn.
So again, trying to understand the concept, the restaurant is more of a sandwicheria, but the setup doesn't show it. It looks more like a local trattoria. Anyway, let's taste and see.
I ordered the three Michelin sandwiches and the potato purée made of 27 month aged parmigiano reggiano.
Beautifully presented, the sandwiches are generous and make your mouth water. They are served on porcelain plates and covered with a napkin.
Dinner was excellent, the sandwiches are succulent. The raw meat is superb, stuffed in a very tender bread with delicious goat cheese. The smoked turkey slices with their curry sauce and fresh vegetables are memorable. The bresaola sandwich is surely the best I ever had. The bread is exceptional and the quality of the meat is testament to a started chef. Bravo chef. The bread itself is way better than any I've had in Italy and even France.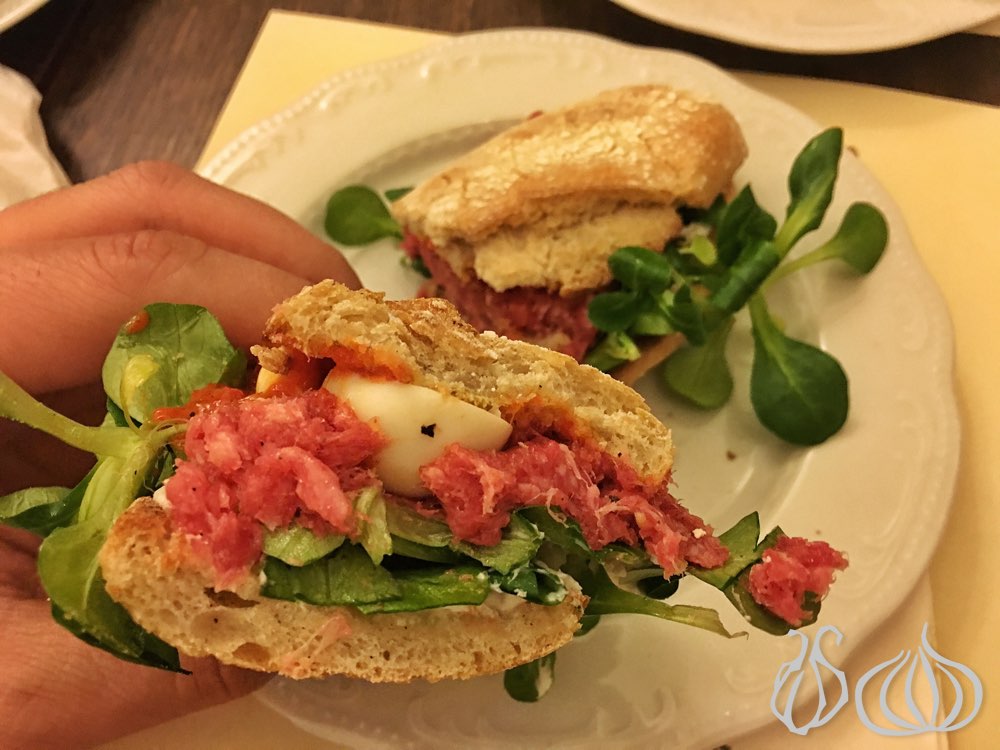 Don't miss this purée. Would you ever imagine a fresh homemade potato purée with aged cheese? The texture, the aromas and after notes are like nothing I've ever tasted.
Now for the tiramisu, the non alcoholic tiramisu, five layers of cream and soaked tender dough, topped with cocoa powder. So juicy and so fresh, the simple homemade recipe made me understand why this cake from Italy is popular the world over. Make sure to leave some space for it.
I never expected to eat sandwiches that good. This place is exceptional and has some of the best paninis and sandwiches Milan has to offer. Pay on your way out and leave knowing that you'll come back again soon.
My favorite panini in Milan is from Panino Giusto for sure.