I have to tell you a story, the story of two friends and their newly launched concept... Today, Eileen Khatchadourian, a dedicated NGNO fan tagged me on a picture by Pizza_Cups. To tell you the truth, this was one of the few times where I really felt the need to dig deeper. I was intrigued by the picture, the name, the logo which all looked professional and I just had to know more... Pizza Cups is a new concept in town, very new as they officially started yesterday - delivering to your door steps a large variety of Pizzas in the shape of a cup. Small bites that come in a large variety of 12 salty choices and 3 sweet ones, you will be impressed and so will your guests when you invite them over.
After reaching their webpage which redirected me to their Facebook page, I got a phone number and here, I found myself talking to Wassim, one of the partners. Asking Wassim a hundred questions about the concept, he was happy to answer each and every one, enlightening me about the concept and the idea behind it. Then, I couldn't but order everything they have on the menu to discover what's hidden in these small cups. It was 6pm, dinner is in few hours and Wassim accepted the challenge to deliver the full requested order of 6 dozens. It is important to mention here that orders should be made at least 48 hours in advance.
The concept in few lines:
Two years ago, the mother of Khajag, a fine cook started working on a cooking book until Wassim, a friend of the family decided to join ventures with her son into a project, new in this country
A simple idea was to venture into a new kind of cupcakes that can be turned into Pizzas
After extensive researches, trials and errors, the Pizza Cups company was born
Pizza Cups are real Pizzas with a thin dough that can be ordered for parties and events, enjoy the real taste of Pizza in two or three bites
The main aim was to cater as many people as possible, offering them a large variety of choices and ingredients at the same time where pork, beef, turkey, vegetables and sweets are all found in one of the 12 choices of salty pizzas
To complete the experience, 3 sweet pizzas can make your dinner in style
Pizza Cups are homemade products, produced at home and delivered by the owners themselves. Love and passion felt in every bite
Pizza Cups are great for parties, events and group gatherings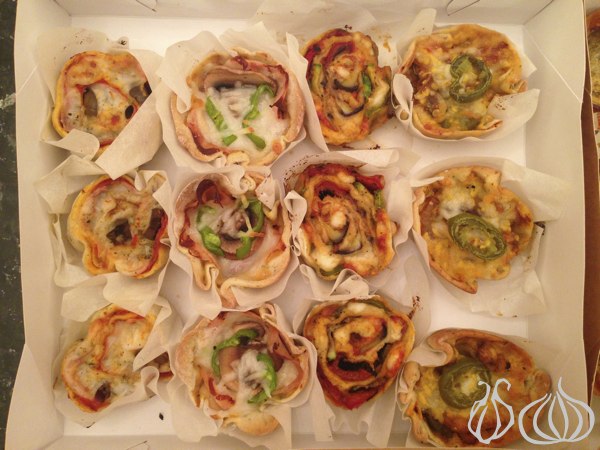 Good to know before you order:
Pizza Cups are not a last minute dinner, they should be ordered at least 48 hours in advance
The family kitchen is in Rabweh, Metn. Cups are received warm as each is baked to be delivered. You need to heat them three minute in an oven
Salty: crust or whole wheat
Sweet: Cinnamon crust
6 vegetarian and 6 meat (normal or whole wheat)
Pork and beef, turkey, ham… All options
Prices are between 20,000L.L and 30,000L.L a dozen. Sweet pizzas are between 20,000L.L and 25,000L.L
Homemade from scratch, Pizza Cups are a new local invention, created and not copied from anywhere in the world, managed and owned by Wassim el Haddad, Khalag, Meguerdich and Salpi Apelian. Searching for a new homemade catering idea, while staying away from cookies, Lebanese cuisine and fried cheese rolls, Pizza Cups was conceptualized.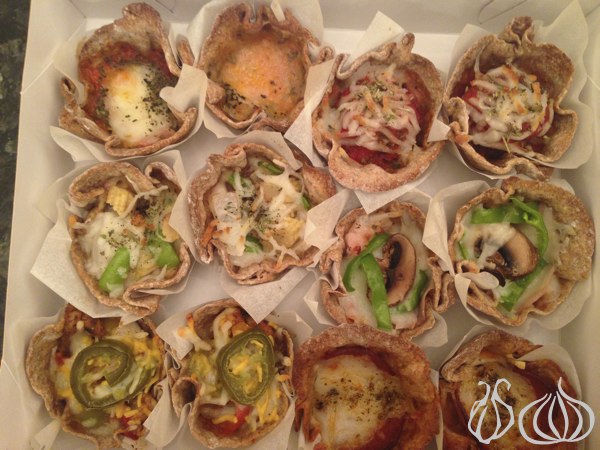 The little details I loved:
You won't believe the professionalism behind this concept. The pictures reflect every flavor and their minimalist logo is just what the brand needs
Goods are delivered in recycled carton boxes each branded with a nice sticker mentioning the different choices inside
Stickers, carefully designed for the salty and sweet pizzas with boxes to mark the content
Two simple colors, light orange and black where simplicity reveals the professionalism
With the boxes, a welcome letter is sent: A premiere... "Hello Anthony, we are delighted to share our Pizza Cups with you, and would love it if you can help us spread the word! "
Let's eat now: The Menu
Margheritta (Fresh mozzarella, dried basil, tomato sauce)
Pepperoni (Pepperoni, mozzarella, tomato sauce)
Turkey (Turkey, mozzarella, green belle pepper, fresh mushrooms and special tomato sauce)
Vegetarian (Green bell pepper, fresh mushrooms, baby corn, onions, mozzarella, tomato sauce)
Four Cheese (Gorgonzola, Parmesan, brie, mozzarella, oregano, tomato sauce)
Ham & Cheese rolls (ham, black olives, mozzarella, tomato sauce)
Soujouk (Armenian sausage, mozzarella, tomato sauce)
Grilled Veggie rolls (Eggplant, zucchini, red and green bell pepper, black peppers, garlic, halloumi cheese, tomato sauce)
Mexican (Red, green and yellow bell pepper, fresh mushrooms, onions, Mexican spices, chilly tomato sauce)
Chicken pesto (Grilled chicken, roasted pine nuts, Parmesan, mozzarella, pesto sauce)
Meatball (Mozzarella stuffed meatball, mozzarella, tomato)
Spinach & Caramelised onions (Spinach, white sauce, caramelised onions)
Caramelised nuts (Almond, cashew nuts, hazelnut, walnut, vanilla caramel)
Cheese cake (Lemon cream cheese with your choice of strawberry, cherry or blueberry jam)
Nutella & Banana ( Nutella spread, banana chunks)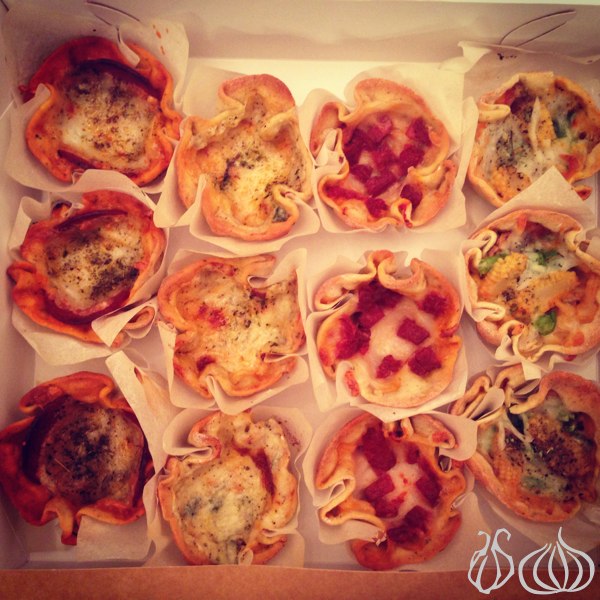 The verdict:
These pizzas are breathtaking
You don't feel the bread as its thickness is not more than 1 to 2 millimeters
Crunchy on the sides and soft on the inside, the dough is just great
Richly filled in the middle, the pieces are worth more than 2,000L.L. The ingredients are really premium
All pizzas look colorful and beautiful to see and serve to your guests. The pictures say it all
The brown wheat bread is superb. I even preferred it to the normal white one
Served in cooking paper, the pizza are easy to grab
The paper does not stick to the pizza and is easily thrown away
My favorite is the spinach and caramelized onions: It is simply extraordinary
The grilled veggies pizza is different from others as it is rolled like cinnamon rolls
The Mexican is very rich and filled with flavors
The meat ball with its mozzarella filling is a fine creation
Turkey is coupled with fresh mushrooms and tasty tomato mix. Yes, fresh not canned
The desserts:
The desserts dough is different than that used in the normal pizza. A cinnamon dough makes them a unique creation
A super crunchy dough, crack under your teeth while the rich filling melts like butter, activating all your taste buds
I liked the professional know how of covering the banana with a hint of lemon to keep it fresh while preventing it from turning black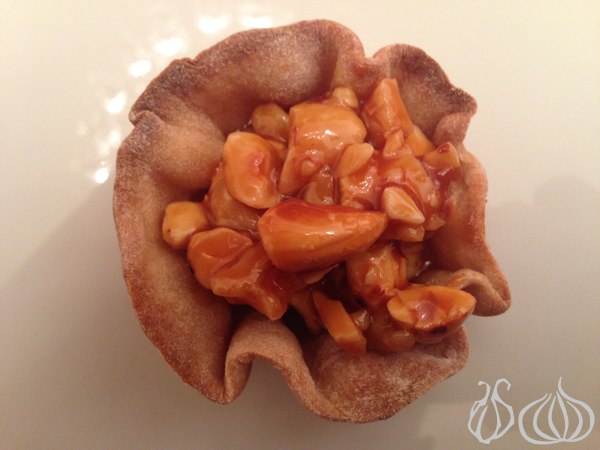 I really, really recommend you try Pizza Cups. You will give them a round of applause, the guys and Khajag's mother, for their unique innovative creation baked with care and dedication, coupled with unique professionalism that Lebanon misses. If you want to taste some, don't hesitate to call them tomorrow.
Pizza Cups +961 79 188 831