A visit to Paris is not complete without visiting Lafayette Gourmet. Walking into this food haven all your worries and stress are wiped out of your mind. Every time I go there, I try one of their restaurants. The last time was the burger place... This time I felt like having some good pasta... And the experience was definitely fine...
Salumeria is located in the heart of Lafayette Gourmet where few high tables surround a fridge of Italian delicacies. Look around, you'll see a display of cold cuts, some wine bottles as well as a manual cutting machine to freshly prepare the orders.
A corner for taste and tradition inside one of the most prestigious and famous showcases of luxury and fashion in the world: This is how the Italian delicatessen, Salumeria Rosi Parmacotto, presents itself, located on the first floor of the Galeries Lafayette at Boulevard Haussmann, Paris.
Following the formula which made it famous in New York and Parma, Salumeria Rosi Parmacotto intends to recreate the traditional charm and flavor of the typical Parmese charcuterie in Paris as well, proposing a concept composed by two parts: one area will deal with selling of products with a rich assortment of Italian cured meats alongside other foods from the Italian culinary tradition. Whilst another area will be specifically for eating inside, where the clients, surrounded by a warm and exclusive atmosphere, can taste a selection of cured meats and cheeses, tasty first courses and traditional sweets accompanied by a wine selection which is rigorously Italian. Parmacotto, leading company in Italy for the production of cold cuts, guarantees the rich selection of cured meats thus pursuing the objective of improving and promoting the wine and food culture and "regional flavors" of Italian products abroad. In this gourmet's paradise, Salumeria Rosi Parmacotto offers a selection of the best cold cuts and salamis found in the Italian charcuterie tradition, presented in seasonal combinations and accompanied by the most well-known Italian cheeses. Tasty offerings of Italian pasta and tempting desserts complete the menu.
The menu:
Starters
Meat
Fish
Pasta
Cheese
Dessert
Drinks
Wines
Ice cream
While ordering, we were offered a basket of bread. Fresh bread and toasted fingers served in a wooden container. So tasty that we finished the first one in a glimpse of a second. We were offered another one without having to ask.
We ordered a and enjoyed:
Before plunging into the pastas, we ordered a mixed vegetables platter that was simply awesome. This is an appetizer to order the next time you're here. Soaked in olive oil and a lemon dressing, the pickled vegetables are perfectly seasoned with a hint of spice. Black olives, Green olives, Mushrooms, Eggplant, Red pepper, Zucchini, Sundried tomato, Tomatoes, Pepper, Artichoke and Onions all in one single platter.
After that we had the special of the day: Linguini in cheese sauce with turkey cubes, served with sundried tomatoes, rockets and white cream. The turkey is tender and enjoyable, the pasta al dente and even though filled with cream its very interesting and tasty
Clams Pasta: A generous portion of clams, sundried tomatoes, olive oil, white wine and basil. A refined taste with a prominent olive oil and basil flavor that is interesting. Salted to perfection and soaked in olive oil, the pasta were cooked slightly harder to enjoy the Italian way: Excellent indeed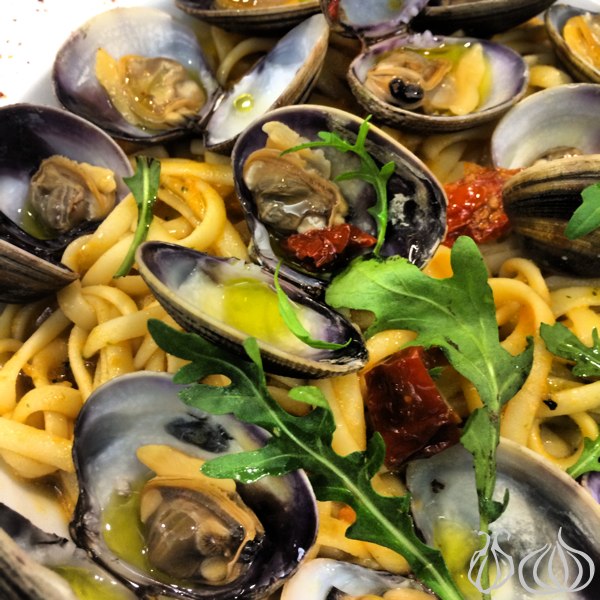 Tiramisu: This popular Italian dessert is just superb: two layers of cake and two layers of cream in a cup. Slightly juicy and moist with a subtle amaretto flavor
Amaretti Biscotti: These biscuits deserve an article on their own. I discovered them first time onboard Alitalia, a couple of years ago, and they are still my favorite to date. I search for them whenever I travel. Served with coffee, they are just tasty...
Tasty food, generous portions, nice ambiance but unfortunately the service is not up to par. This is the only minus experience as it is handled by people who lack professionalism. Before leaving, I bought a jar of tomato jam and continued my discoveries around.