While walking the isles of The Garden Show, a large colorful stand caught my attention. My favorite drink, San Pellegrino, is now sold in different flavors. A beautiful can covered with aluminum foil and imprinted with fresh colors, I couldn't but stop for a tasting.
The Sparkling Fruit Beverages' cans bear marks of the same visual identity and with their Eco-cap - the separate foil coverlid which acts as a dust cover - are 100% recyclable. Remove the cap, open up the can and enjoy. A fresh sparkling beverage with a background taste of lemon, orange or blood orange, the choice is up to you. The balance between delicate bubbles and flavor gives them an unmistakable taste. With their strong, genuine feel, these drinks belong in a lively atmosphere, imbued with a passionate Italian mood. The radiance of Italian citrus fruits, the sweetness and deliciousness of their juice and their fragrance formed a solid base for the creation of these great drinks, full of the aroma and flavor of freshly squeezed fruit juice.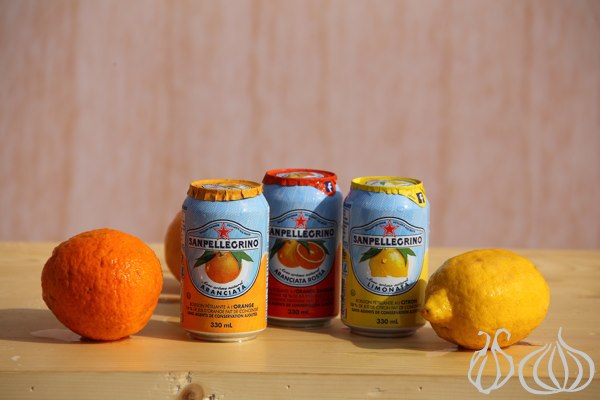 The label reflects the naturalness of the product. It's a fresh, trendy container featuring the image of a citrus fruit while bearing a strong resemblance to the
S.Pellegrino brand label
, with its famous belle époque charm and flair, cyan color and (most importantly) central red star. With their eco-cap—the exclusive foil coverlid that protects and preserves the quality of the product—the cans are 100% recyclable.
Let's taste the locally available flavors:
Limonata: Zesty and lemony on the tongue and the palate, with a full pleasant taste. Made with the finest lemons, sun-ripened in the South of Italy, Limonata - a real thirst-quenching beverage - is rich in juice. It has a very pleasant fresh, slightly acid taste, to be enjoyed chilled. The 18% lemon juice is felt in every sip. A subtle sweetness is what makes the difference so you can enjoy this drink in style.
Aranciata Rossa: Perfect for those who love to quench their thirst while enjoying the delightful and intense fragrance of Sicilian blonde and sanguinello oranges (blood oranges). Cool and refreshing, with a distinctive touch, Aranciata Rossa's taste is tangy sweet to sweet and deliciously refreshing - to be enjoyed chilled. 13% blood orange juice adds a strong sweetness to the drink. I believe that it will be everyone's favorite.
Aranciata, the Italian orangeade par excellence, is a product with a unique taste and a long history, having been born in 1932. It has become a status symbol, exported worldwide, distinguished by Italian style. The full taste and the naturalness of Italian oranges characterize this delicious non-alcoholic sparkling soft drink. With its 16% concentration of orange juice, this one is my favorite. It has the most equilibrated taste, is slightly sweet and slightly bitter with a certain unmatched finesse.
In my opinion, you cannot like one more than the other. Each is special in its way. The blood orange is sweet and fresh, the orange is strong with a touch of finesse and bitterness and the lemon is like drinking fresh lemon juice from a can. I've heard that coupled with alcohol, these are wonderful. What you need to know is that the cans have 130-150 calories each. That part intrigued me. 130calories is high for a natural carbonated drink.
I personally loved these drinks and thought I should share them with you. The glass bottle versions will be sold at restaurants, cafes and clubs while the cans will be available in supermarkets around Lebanon.