While my kids grow older searching for places to take them has been a primordial thing every weekend. Where do we take them? What activities are there? Are they good enough? Are they kids friendly? Which restaurant? And so many other questions create a dilemma every time my family and I want to plan a day out. If you're not a parent you'll probably think I am exaggerating. 're definitely not worried about this, or looking for places to take your kids to.
You are right, there are a number of places that are "kids" friendly mushrooming here and there at malls, stand alone like Living Colors, Origami, Planet Discovery and Kidzmondo to name a few... In some cases, some places are advertized as a place to hold birthday parties, but in fact they are actually places where your kids can actually go and spend some time to play. Are they affordable? What's the good and bad in each?
At the end of the day, we are looking for a place to go where both parents and kids will be happy... I am not here to judge or to give criticism, but after my experience with my daughter this past weekend, I decided to write down my timely experience in details and you tell me what you think.
One morning, my wife and I decided to spend a full day with our little one who's two and a half years. I feel that places to take her are limited unfortunately.
Let's see how the day went. It was raining and thought our safest bet is to head down to a mall. I think, like me, many believe that the more convenient choice today is the mall. Today when you think "children", you think malls and for now this is our best more accessible option. Le Mall, ABC, City Centre (BCC) or City Mall are the options to consider each proposing different activities for your kids - but are they worth it.
Let me take you through my day with Enya, my two and half year old daughter....
10:00 am
So, our day started at Zaatar W Zeit Zalka. I thought, well this could be a cool place to take my daughter. A place where a variety of foods that children enjoy are served. I discovered for the first time the new wide menu while dining in-house, which I enjoyed. The menu, the variety, the images on the menu, this place has become more restaurant than just a mankoushe spot. Sadly the place was not a cheerful one. It was like Christmas Scrooge passed by here recently; No music, the staff were grim and down, unwelcoming - not a smile was seen. They saw that a kid was with us, but no reaction. No one even gave her some coloring pencils until I asked for some and ended up with one that included used pencils.
Afterwards was ordering time. A kid, sorry but she doesn't even deserve the title of waitress, approached us for the order. So unpleasant and so unprofessional she was moving her head and mimicking the way spoiled kids talk with their parents. Minutes later, we received the food. I liked and enjoyed the Zaatar light with no oil as well as the turkey and cheese sandwich. On another hand the Lahme Beajine and the cheese and ham were tasteless. It's unacceptable to serve food on chipped plates. The labneh plate is chipped from all sides like in old Lebanese restaurants.
Anyway the food was not the main issue today but the bad service and unwelcoming ambiance and attitude towards kids. More so,the place was dirty. The floor is covered with bread crumbs, hair all over the floor and dirt stuffed in the corners, then left searching for something else that will make Enya smile and maybe a coffee for us since we still didn't have anything to drink.
11:00 am
We decided to visit a mall. We headed down to City Mall in Dora- my least favorite mall in Lebanon. It's the holidays for God's sake and sadly their Christmas decoration is becoming worse each year. It's becoming uglier year after year with nothing to put a smile on their face. Imagine thousands of square meters with not a single place for kids. Oh yes, there's a small horse carousel. That's really shameful. So, if you have kids, City Mall is surely not for you. After buying a pair of shoes for the little one we moved to another mall.
12:00 pm
Le Mall was our next destination hoping to be amazed. I've heard for long about a place for kids called "Up and Away". What a deception! After all the billboards and marketing campaigns that have covered complete buildings, I expected so much more from this place. You walk in and feel like you're going into a haunted house. It's a space for kids, where's the action, the fun.
On the first floor of Le Mall, Up and Away is a place handled by kids themselves who know nothing about handling other kids. A dimmed place with black ceiling. Freaky, to say the least, I think the pictures talk for themselves- this place is everything but a kids' paradise.
Seeing the nice logo, I imagined to discover something, funky, fresh, professional, welcoming and superb for kids. Inside is a dark, small, dusty, calm and scary place and above all "super illogically expensive".
We played while sweating from the heat and left in less than thirty minutes. And by the way, I think the Scrooge passed by here as well.
It's Christmas guys, a smile?
12:30 pm
Half the day has passed and we have toured around the country still Enya has not been entertained. We thought, let's just take her out for lunch somewhere simple that we know and trust.
Downtown was the choice and we enjoyed it as always.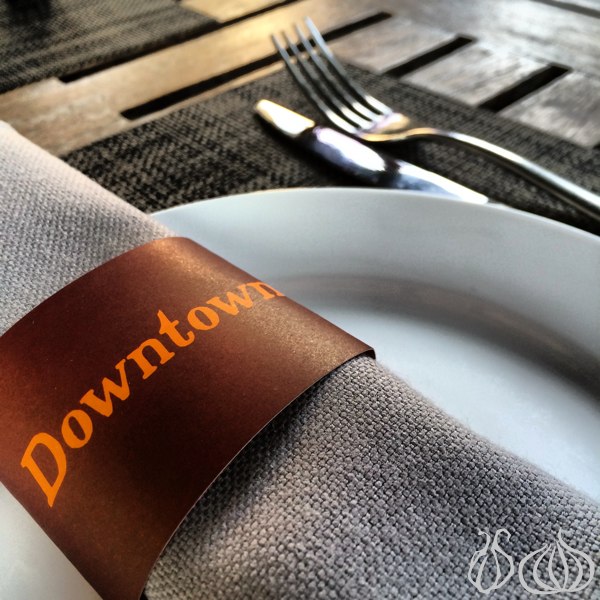 14:00 pm
I've written many reviews about
Downtown
that's still as good as it should be. A restaurant serving its customers for more than thirty years already offering them the same food with the same premium quality since. I don't know anyone who doesn't like this place, specially the Kaslik branch.
Today, we sat outside and were served by Rabih who has been working here for the last ten years. A basket of bread landed on our table with a plate of black olives tapenade and butter. Rabih made sure to start by our daughter's meal while we asked for our favorite plates.
Duo Japonais, Chicken liver, truffles pizza and hamburger were all exquisite. While drinks were served with the usual
carrots and peanuts and popcorn a smile was being drawn on our faces: "I finally met some professional people today," I said to my wife with joy.
Lunch was really perfect on all fronts. The chicken liver was fresh and juicy and extraordinary tasty. The truffle pizza is a piece of wonder as for the burger, it is exactly like it should be or as you expect it to be. Rabih made our lunch memorable, which was then sealed with their mouthwatering Chocolat Mou.
This was my day... A day I am sharing with you... and I thought I would start a new series after every place I go to with my daughter. Let's try to discover the best outings for kids in our country.
I would love to hear your experiences about this hoping one day Lebanon will be a kids friendly on all fronts... Hoping for the best.