The talk of the town is called Stem; from the same owners of Capitol comes a classy restaurant divided into two distinct sections: the bar and the dining area. Stem is casual and upscale, a journey into another world, a long and large sidewalk, where the posh people of Beirut meet.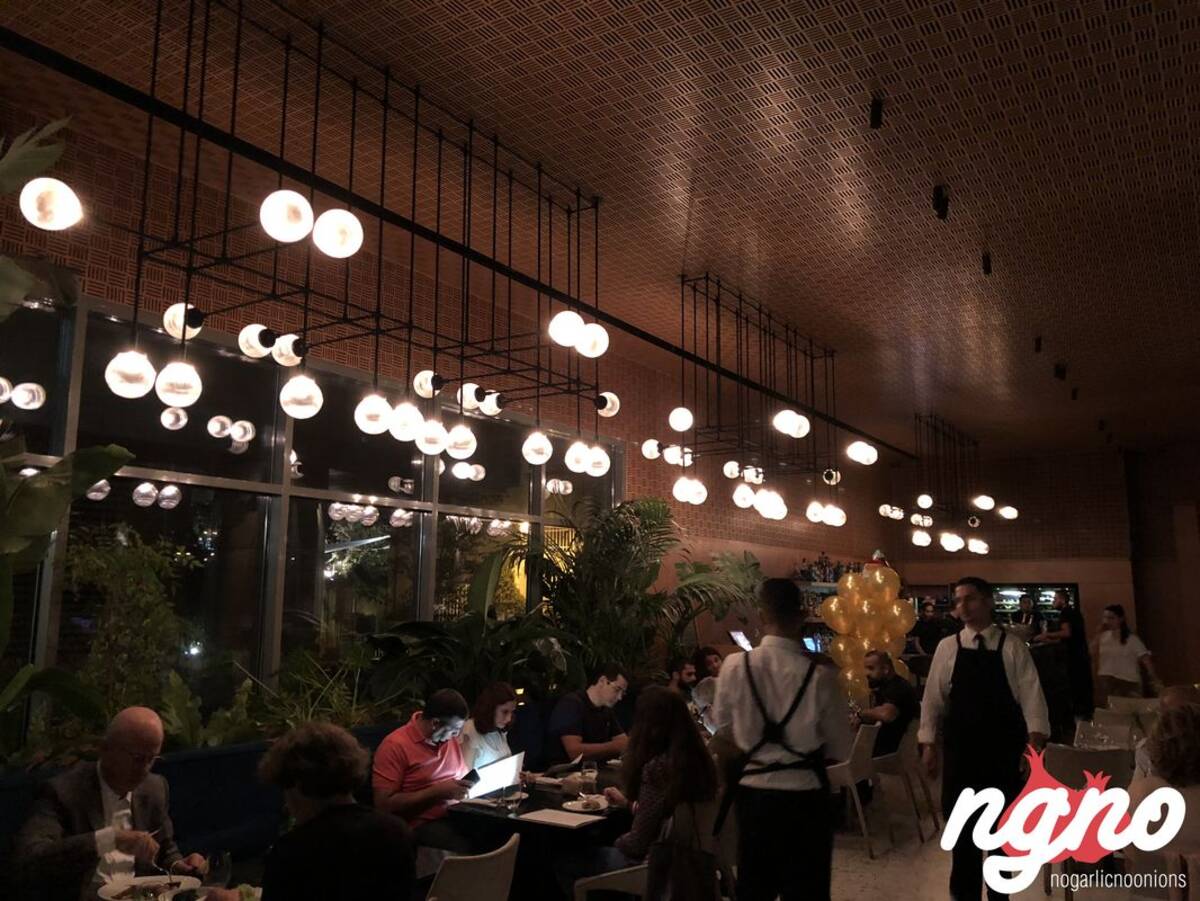 Classy and simple, the restaurant is built from wood and earthy materials: lights pending from the ceiling, metal, carved wood and dimmed lights. It's where simplicity is redefined to create a relaxing space to make you feel good. At the bar, smoke and enjoy the music. At the restaurant smoking is not allowed and music is lower to socialize and talk. The best part is the sidewalk, a wide space hosting a dozen tables.
A classy setup: Black marble, "Chef&Sommier" water glasses, "Spiegelau" wine glasses, a set of cutlery, a tablecloth with a pepper mill, a bottle of olive oil and another of balsamic.
Food is excellent: excellent for the flavors, for the balance, for the intense and equilibrated saltiness, for the zesty notes and blend of all ingredients. Let's eat!
I loved the risotto; leak and Tomme de Savoie cheese: it has a light creamy feel to it, a strong acidic intensity of the cheese and faded crunchy bits of salt. Cooked al dente, that rice is amazing. The shrimp and spinach salad is excellent; lemon and grilled shrimp. The ceviche is a breakthrough in culinary art; beautifully textured shrimp and green jalapeños sauce that gives a kick to your taste buds. Goat cheese with two big pieces of molten cheese, mix greens, pines with colorful cherry tomatoes.
After enjoying each and every one of the appetizers, the main courses landed on our table. While waiting... I was sipping the "Grande Reserve D'Ixir" white wine and enjoying its freshness.
I ordered the carbonara prepared with eggs and a little bit of cream mixed with bits of bacon. Spaghetti cooked al dente, mini bits of chewy bacon and the taste of cream. I added pepper, a bit of salt, trying to bring back the missing taste with no success. It's a creamy spaghetti -too thick for a carbonara- but not the real taste of a majestic carbonara, or at least the one I expected. The cream turns it into something heavy. With all due modesty, people will like it and believe it's a real one when it's not.
Best for last, the dessert: they say it's the best Knefeh in town and yes indeed it is. A thin layer of cheese topped with crumbles and served on a porcelain plate. Eat it with your fork, it looks and feels like a crème brûlée, it's upscale, it's sexy and it's good.
The profiterole is also great, ice cream and dark chocolate, three of them balls ready to tickle your taste buds. OMG... the Chocolat Mou is outstanding! One scoop of ice cream, whipped cream, and a dark chocolate sauce ready to be dipped on top. It's a WTF feeling, a redefinition of simplicity, tastiness at its finest, an incredible taste of awesomeness. The dark chocolate is so good, the ice cream as well... dig in your spoon and enjoy the taste of love. You can't but lick your lips at the end.
Wait: Add the dark chocolate sauce on the Knefeh and enjoy an even more profound and more pronounced orgasmic taste. OMG, Knefeh and dark chocolate is unbelievable. I believe that this plate should be added to the menu.
The things I liked:
Hussein the waiter.
The music choice, level, and quality.
The dessert chef deserves a raise.
I loved the vibes and enjoyed the food; Stem is famous for a reason. I'll be back for another experience soon.