It felt so good to visit Batchig after two long years! I've been here, done that, enjoyed all the menu and still visit with a smile on my face. Batchig is a "kiss hello," a casual eatery created by no other than the famous "Mayrig" Armenian restaurant of Gemmayze. Spread on two floors, Batchig welcomes you for a Lebanese/Armenian lunch filled with joy and happiness.
On the menu, choose from seven salads, three raw plates, seventeen cold mezze choices, sixteen hot mezze, handful choices from the oven, main platters including shrimp, seafood and kabab, from the grill mainly local and Armenian meat creations.
Sit on the ground floor facing the oven and Middle display island, the upper smoking floor or the terrace. Playing on the art of light and shadows, the metallic sieve-like wall scones reflect beautiful artwork on the walls while adding warmth to the ambiance. All the colors of the rainbow are represented inside this space (violet, yellow, green, brown, grey, black, pink, red, orange…) have their moment to shine in different parts of the setup… whether the couches, the pillows, the chairs…
Batchig has been upgraded with a new logo, new placemats, and a new menu. As soon as you arrive, the bread basket lands on the table, order a plate of hummus and start enjoying your experience.
I liked the mini Kebbeh, very crunchy and condensed. They're different from usual Kebbeh I have had before because of their flakiness and biscuit feel. Hummus with minced meat and pines with a touch of pomegranate molasses. Something that looks like raw kebbeh is in fact mashed potato and borghol. Lemony and acidic grapevine the way they should be.
Lunch continued with the famous Batchig fingers: cheese, labneh, and soujok. Interesting "3arayess Halloumi". I enjoyed the crunchiness of the spicy potato cubes; a bit more spiciness would have made it great! Pomegranate Lahme Beajine with thin crunchy borders and a heart loaded with juicy sweet meat. Batchig Tajen served in scoops and topped with crunchy almonds. Chicken liver with pomegranate molasses and fresh pomegranate bits; tender meat, sweet and sour sauce. Keep the most exciting for last; "Mante" mini toasted bites filled with meat and covered with Laban and tomato sauce.
You can't visit an Armenian restaurant without having "Laban & Karaz Kebab." The combination of sweet and sour mixed with juicy meat and creamy Laban is exceptional. The crunchy fried bread makes it perfect.
Best of the best, my favorite plate among all, is simply the grilled baby veal skewers. Super well marinated, extremely tender and perfectly juicy. We ordered two portions of it.
The things I'll change and improve:
We received a plate after the other... like small drops of rain. Lebanese mezze needs to arrive all together, cold then hot for us to enjoy it properly.
There is a temperature issue: many plates are too cold!
Eggplant Fatteh can be better; eggplant can't be served with their thick skin. I believe they need to be peeled or cooked more.
The kitchen needs to quiet! The shop is too small echoing all the noises.
I loved the desserts! Way better than lunch itself. Top of the line ice cream, exceptional "3aysh el Saraya" and mouthwatering kellaj. I loved the kellaj fingers with a crunchy envelope. The ice cream quality and taste are yummy!
Wait; it was not planned to receive a chocolate cake. It ignited in me memories of my childhood days, molten the old fashioned way. Dark chocolate, light bodied, not heavy and loaded with flavors. That piece of cake made my lunch!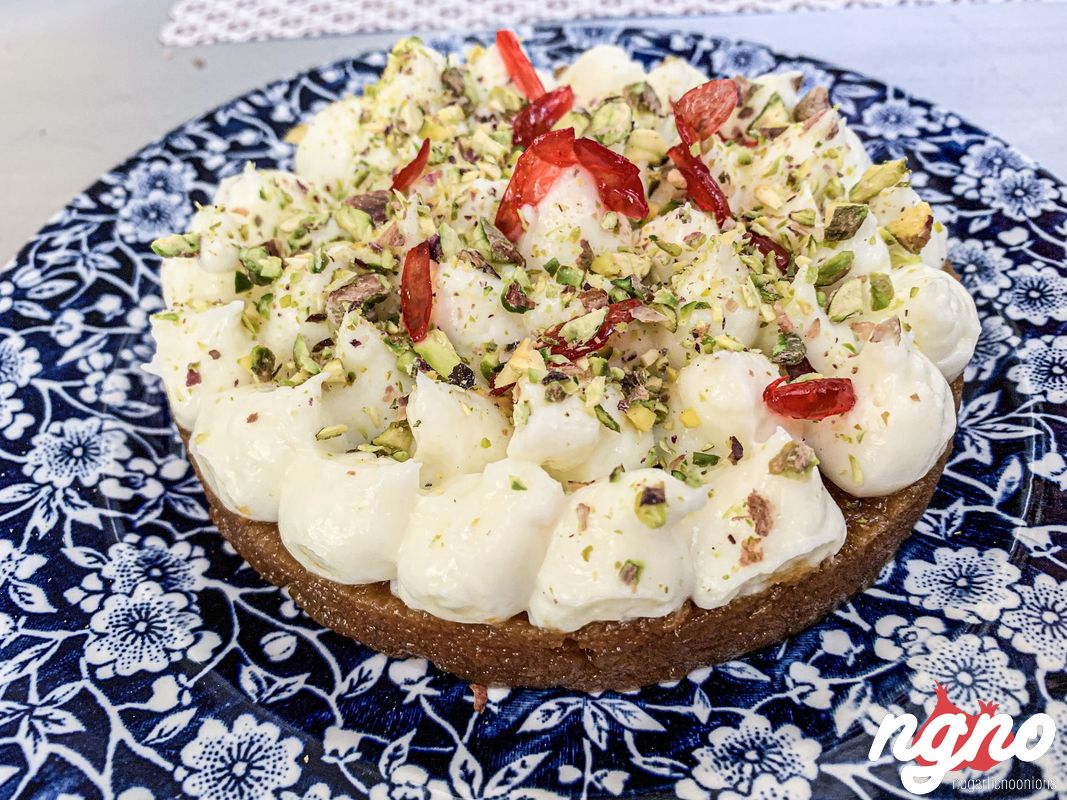 Thank you guys for your professionalism and great attention. Desserts followed then I moved back home for a Sunday afternoon movie.