Batchig is one those places I visit often and enjoy every time. A new idea has been introduced at this Armenian modern hot spot in Antelias. Every Tuesday, the place is changed into a Lebanese night around Arak Karaké, special bites and a one-man show... Head down to Batchig and enjoy an overflow of arak droplets around authentic traditional tunes... accompanied with a special menu tailored to satisfy your taste buds.
Welcome to Batchig, a spacious two-floored restaurant with a terrace. The overall white space is colored with furniture and other details that will keep you looking... Your eyes are in for a treat.
My wife and I arrived before the others. Led to our table, we were warmly welcomed under the mandaloun, surrounded by glass facades with some light released from the chandelier pending from above. While waiting, we were generously offered to taste a selection of bites from the salad bar... to prepare our taste buds.
A long corridor leads you to a very high open space perfectly lit by daylight from the glass rooftop
Facing the entrance, you'll find a stainless steel piece of art covering the wood oven, where a large portion of the menu
The floor, poured with polished concrete, a new age material that adds modernism
A general white ambiance relaxes your senses
White walls and gypsum white ceiling highlight the colorful furniture underneath
Dozens of design porcelain plates decorate the walls
The claustra details add an oriental feel to the place and connects the architecture to its surrounding
Two floors to choose from, depending on your mood are open one on the other
One of the walls on the upper floor is covered with a beautiful wallpaper filled with little flowers
Two bars, one on the upper floor and the other outside prepare the drinks
Outside seating is distributed between the upper floor and the large terrace on ground level
Two individual spaces inside, host large tables for intimate groups
The three arcades, signature design of Mayrig, are reproduced in a modernized way
Uncountable design ideas and materials all blend in perfectly together without making the space look like an art gallery
On the upper floor, a single glass chandelier is the main art piece decorating the space
My favorite design item: Playing on the art of light and shadows, the metallic sieve like wall scones reflect beautiful art work on the walls while adding warmth to the ambiance.
The permanent buffet:
Hindbeh, Raheb, Beetroot, Boulghour Abour, Plaki, potato salad, basterma and egg quail, tuna tajen, Shanklish, Mousaka, rakakat potato, stuffed cabbage leaves, manakish, fried eggs, fried cauliflower, grilled zucchini, vegetables and pickles.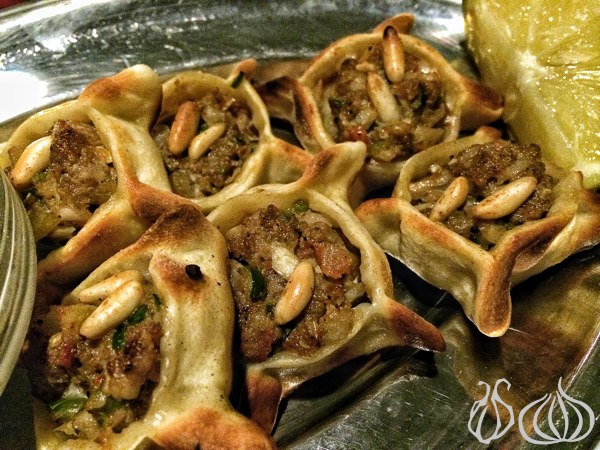 Karaké formula, $45 TTC per person:
Tabboule
Lentil salad
Hummus
Moutabbal
Stuffed vineleaves
Mouhammara
Blata naye (kafta, sawda, Ftilé, habra, kebbe armaniyeh)
Spicy potato
Sfiha
Wings
Mayrig lahme beajine
Eggplant pot
Mixed grill
Dessert (3aysh el saraya, cheese esmalliyeh, meghle)
Dinner was good as always as
Batchig
. The formula - more of a Lebanese mezze- is exactly what you need to enjoy Arak night; although I still prefer coming here for their Armenian specialties.
Tabboule was tasty, lentil salad was excellent, eggplant fatteh was exquisite, hommos was very good and eggplant batenjen was good as always... But the grilled meat was not as good as what we are normally used to having at Batchig.
After dinner, nothing other than Batchig's famous Ararat ice cream mountain to put a smile on your face. Ice cream balls mixed with cotton candy. Cheese esmalliyeh followed; a crunchy circular shaped esmalliyeh filled with melting cheese and topped with sugar syrup. I'm in love with Batchig's
desserts
.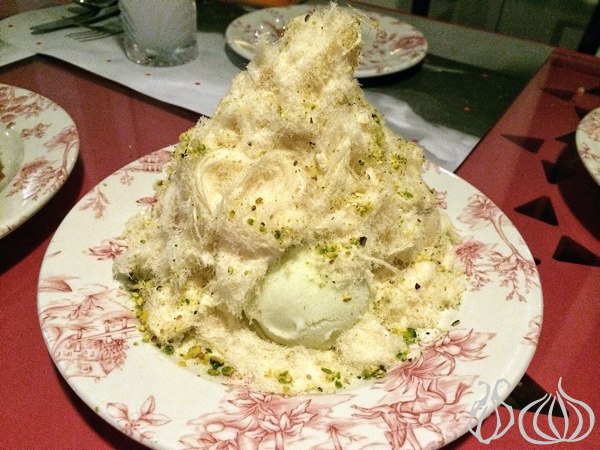 You don't have to go up to villages to enjoy some of Lebanon's most renowned traditions; you can enjoy a taste of it every Tuesday at Batchig. If you have friends coming from abroad and want to show them the finest of Lebanon's traditions, Batchig is a good idea to consider.