After my last review on Sushi Mooda, I got invited to another lunch there that I happily accepted. I wanted to go another time and maybe give them the benefit of the doubt and check on their progress. My first review was written during the first month of it's opening. So I said why not try it again and see what has happened since then...
It was unacceptable. Nothing is working at Sushi Mooda.
Food quality:
1- Food quality is getting worse. The taste that I once liked has gotten worse to an extent that they were inedible.
2- The Teriaki black sauce that was previously bitter and has gotten even more bitter. How can that even happen? Don't they taste their ingredients?
3- Some of the pieces were too sweet. Just like you are eating dessert.
Service: 1- Is there something called service at Sushi Mooda? Filipino girls throwing food on the table, not even cleaning plates, not even removing additional unused knives and forks, not even knowing that ashtrays should be emptied.
2- The same girls never show up at the table, since they are the ones preparing the orders in the kitchen. It seems that the strategy of less employees, more profit is implemented around here.
3- Stickers are still on the plates, as if they have not been washed before.
Restaurant:
1- The lights were off at all time, obviously to economize on electricity, so we had to eat around a dark ambiance.
2- Toilets are not taken care off at all. Horrible!
3- They don't have a credit card machine, so we had to dig into our pockets to find the right amount of cash. It was really embarrassing try to find change to cover the bill.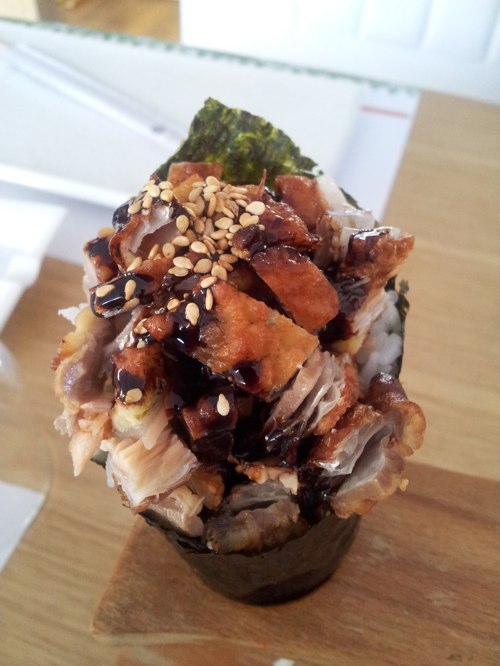 I won't say more, pictures are worth a thousand words. Be sure that this will be the last review about this place since I won't be visiting them anytime soon.
PS: They are opening a new branch in Jounieh. Yes one more after Achrafieh and Rabieh. With two, and the quality is below average, how would it be with an additional one?