Following on the footsteps of Hard Rock Cafe, T.G.I. is closing in Lebanon. T.G.I. will be missed especially its Jack Daniel's Tennessee sauce, which I managed to find at some of the better grocery stores. I missed having their juicy burger or pork chops, so we decided to remember the old days by visiting the Festival City branch, in Dubai.
Americana Group introduced international casual dining restaurants to the Middle East in 1996 with the first T.G.I. Friday outlet opening in the UAE. Since then, the brand quickly found favor among Middle Eastern diners, not just for its globally trusted cuisine and generous portions, but also for the relaxed casual dining experience created by T.G.I.'s cheerful stewards in their distinctive red-and-white striped outfits. Americana Group's T.G.I. network now includes 45 restaurants in Kuwait, Egypt, Saudi Arabia, the UAE, Bahrain, Qatar, Oman and Jordan.
We were welcomed by a happy staff of professionals who did everything they could to ensure that our lunch was memorable. We were first welcomed and invited to choose a table. After that the section manager offer us drinks and some appetizers while we waiting for the waitress. Every day, T.G.I. offers up a choice of soups which are trending in the Gulf. California soup and French onion soup were on the menu today. No soups for us on such a hot day, so we went for one appetizer, a salad and a sandwich accompanied by a draft Pepsi.
The place is funky and fresh:
One wall has games, electronic devices and casino boards
One wall has sports stuff
Another has movie posters
Money from around the world is pinned on a wooden boat
A Crayola giant crayon is suspended from one wall
New York taxi door is on display
An American car's front end sits behind the bar
Orange square tiles liven up the place
Blue league sofas or wooden chairs sit around square tables
Red and white balloons decorate the place making it look childish and fun
Waitresses wear red and white outfits with black pants and cover their head with red hats
The menu:
Chicken Sensations: a choice of five new dishes
Starters and Starters to Share
Surf and Turf
Salads and Soups
Burgers
Sandwiches
Chicken
Pasta
Ribs and More
Steaks
Seafood
TexMex
Desserts
Let's Eat
Veggie Platter: A vegetarian selection of loaded potato skins, spicy fire bites, fried green beans, broccoli and mushrooms, served with hot cheese sauce, cucumber wasabi and ranch dressing. Battered broccoli deeply fried, battered red pepper, potato chips, fried shrimp and two sauces, a tomato and lemon. A good starter, though I recommend to changing up the simple French fries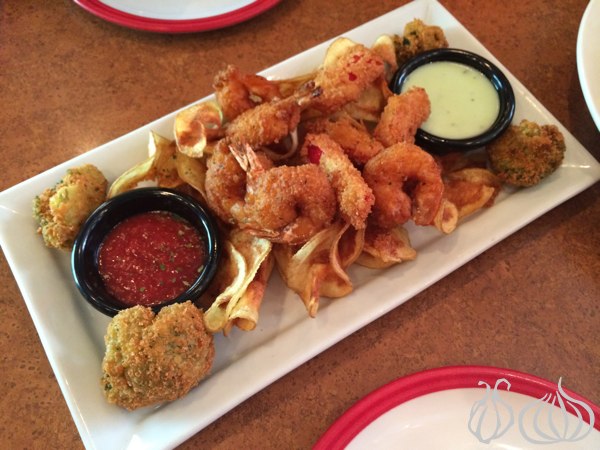 Calypso Calamari Salad: Crisp, golden fried calamari served over mixed fresh greens and mint, tossed with cilantro-lime dressing and topped with tomato and pineapple.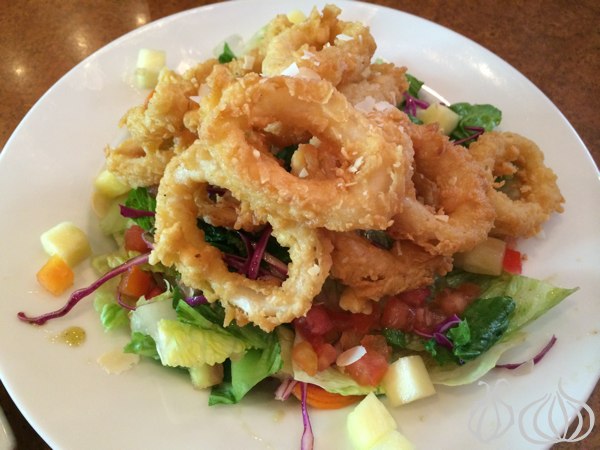 Tennessee Barbecue Rib Sandwich: Slowly cooked, tender short ribs tossed with a homemade Tennessee barbecue sauce and topped with Cajun spicy onion strings served in a brioche bun. I loved it. The juiciness of the meat filling followed by the softness of the fresh bun, while the sauces take effect to blend all together was exquisite. When you think that things have ended, some crispy perfectly cooked onions add a touch of style. Yum! I loved this sandwich.
 Lunch at T.G.I. was really nice. Tasty food, good service, acceptable prices and a fun ambiance, I definitely left happy