A whole year has passed since I last visited Tavolina. When this Italian restaurant opened it was the talk of the town. I went there with high expectations, only to have them lowered after my experience... I am back again. But this time I have experienced a big change. Tavolina has improved drastically. What I experienced today was unbelievable! Good service in a well lit space; serving delicious food and exquisite pizzas.
Although last year's experience was not great, but I felt that Tavolina could reach high. I mentioned that the lights should be stronger, waiters should be better trained, food should be more fine tuned... but I left mesmerized after tonight's experience. I like this place, simple and soothing, located on a calm street of Mar Mikhael - where eating on the side walk is a pleasant experience. The place described:
Yellow dimmed lighting
Outside, water bags pending from the ceiling which repent the flies away
A table in the center of the restaurant is referred to as "Dalla", which is used to prepare some of the signature dishes (parmigiana, slicing charcuterie etc) relating to the name of the place
Wooden square tables decorated with read and white placemats
White wood and glass facade
A bar and pizza oven behind to your right as you enter
A blackboard divides the restaurant in half and where the day's special
A mirror makes the place look twice as big with a long bench under it
White space with lamps pending from the ceiling
Black and white Damier tiles cover the floor
Wooden chairs and tables add the Italian feel to the place with a modern touch expressed by the big metallic pizza oven
The menu sections:
Antipasti (15 choices)
Dalla Tavolina (this is prepared from the Dalla table, which also serves the dish of the day with products of the season) 2 choices
Primi Piatti (14 choices)
Pizze (16 different choices)
Carne (4 different choices)
Contorni (4 different choices)
Dolci (4 different choices)
Notes on the menu that I liked:
Kindly ask your waiter for our daily special
Gluten free pasta is available
Some recipes contain garlic, nuts and gluten
The food is tasty, beautifully presented and the portions generous:
Artichoke Farcili: Soft artichoke with a slight crunch filled with warm goat cheese inside. Some rocket leaves and balsamic vinegar add the required touch which makes this plate tasty and delicious
Bruschetta Pomodoro e Basilico: A crunch, juiciness, acidity and a cocktail of aromas and flavors explode in every bite. After all, it's a simple creation, tomatoes on a toasted bread. But this one is just good! Olive oil covering some cherry tomatoes, crunchy, juicy and cut in half.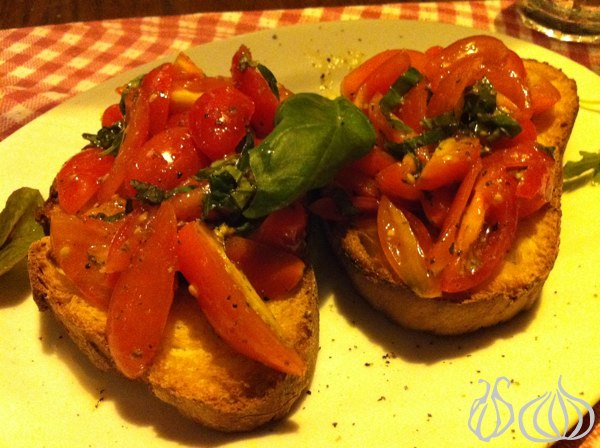 Foca-Tina (Foccacia, tomato, Burrata): A thin dough surrounded by crunchy borders. The border alone is extraordinary, crunchy on the outside and fluffy on the inside. A generous filling makes this pizza remarkable: Cherry tomatoes, tasty cheese, olive oil, tomato paste and mozzarella with rocket leaves on top covered with balsamic vinegar. Superb!
Siciliana Pizza: Tomato, cheese, goat cheese and sundried tomatoes. Simply extraordinary. Every single inch of this round dough is unique.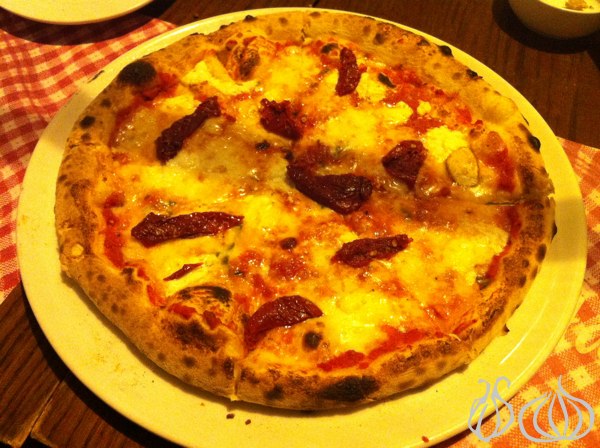 Spaghettini alle Vongole Veraci: Good cooking time, aldente, lightly spicy and filled with olive oil. Simple and delicious. No sophistication whatsoever.
Raviolini ai Funghi Porcini Truffles: I liked that... a lot. Slightly crunchy pasta filled with soft mushrooms and seasoned with truffle oil. A mix of different flavors and aromas all together make of it a nice plate that transports you on a discovery trip around Italy.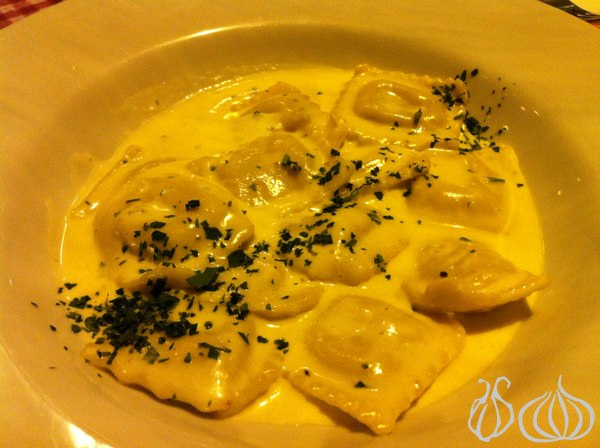 Risotto Artichoke: Good filling, bad rice.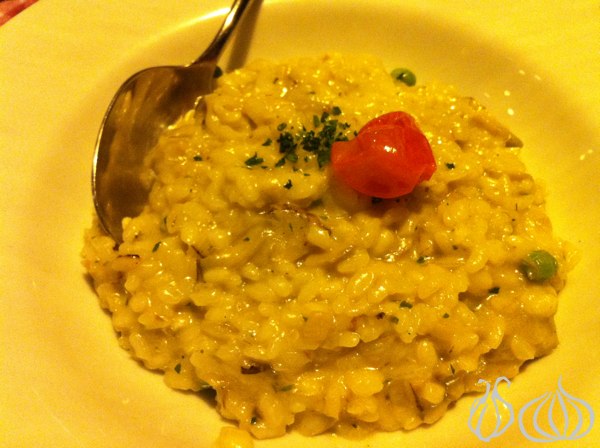 Risotto Funghi: This is my least favorite dish. The Risotto quality is not great. Spongy and big, they stick to one another. Something has to be improved here considering that the sauce is very tasty.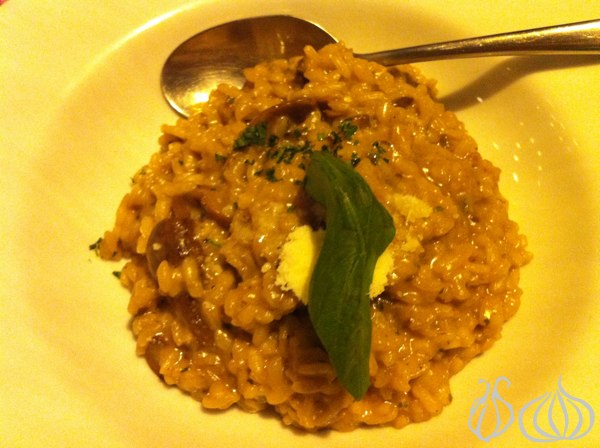 The pluses:
Even though the place was full, the service was very quick: Bravo
All plates are fresh and generous
The food is really tasty
Waiters are friendly and professional
Tavolina's Pizza is worth talking about:
Two thumbs up for their pizza. I can honestly say that today I've tasted one of the best not to say the best Italian pizza ever tasted in Lebanon. A 30cm perfectly round pizza with thin non chewy dough and generous filling. Amazingly well decorated, the ingredients are fresh and tasty. Surrounding these ingredient is a thick round border, crunchy on the outside and spongy on the inside that you really enjoy eating with an after effect of YUM! If you like Marguerita's pizza, you will love Tavolina's. Dear Pizzaiolo, you deserve a round of applause.
We all enjoyed our time so much that we decided to come back for more next week. During dinner, my wife and I couldn't stop looking at each other saying: "They have improved a lot!" Today, I enjoyed good Italian and delicious food, an awesome Pizza - all set in a nice atmosphere. Tavolina is a place I recommend.