Tawaheen El Hawa is your typical Lebanese-Jordanian restaurant in Amman serving a large variety of mezze and *Mansaf.
You enter through a castle like door where two big posters stuck on the door making sure you are familiar with the fact that the restaurant has a 4.5/5 rating on TripAdvisor. A Saj lady welcomes you before entering the external courtyard filled with tables around the waterfall. Tawaheen el Hawa is a casual Mediterranean restaurant where low, wood and leather seats surround the heavy wooden tables. Every large square table comes with a round beautifully designed copper tray placed in the middle where food is served on. It's nice as your plate and drinks are the only thing placed on the table while the food is concentrated on the tray, yet at a handy distance. We arrived early and were offered a mix vegetable platter that was removed when dishes started coming.
The pluses:
Arabic coffee made on charcoal is offered at the exit.
Long bread baked in house with sesame seeds comes hot and tasty
Their Saj is brown and much tastier than the local Lebanese one
A choice between Pespi and Coca-Cola. I love this detail
The minuses:
Waiters give orders to each other which makes customers' requests attended to very slowly. If you ask for something expect it to take some time.
Food is served very quickly and removed very quickly giving you the feeling that you must eat quickly and leave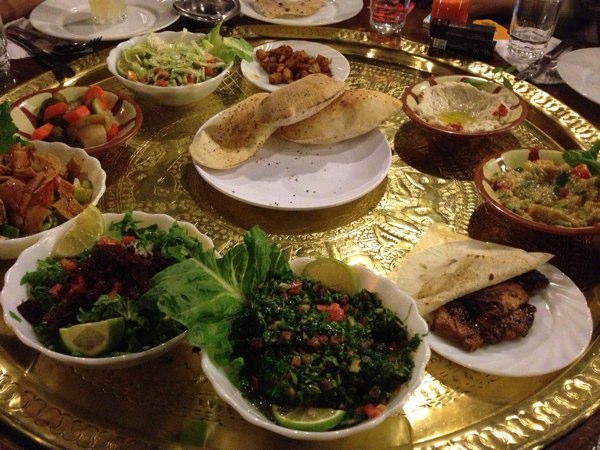 We had for dinner:
Hummus
Tabbouleh, Fattouch and a mixed salad
Moutabbal
Pickles
Spicy potato cubes
Labneh with garlic
Batenjen moutabbal
Chicken wings
Two rounds of kebbe and fried cheese squares served by the waiter in each plate
A huge mixed grill platter (I didn't like the meat)
Aych el Saraya and Asmalliye for dessert
The experience was very different that that at Kabab-ji where we felt more at ease ordering and eating and not rushed. Kabab-ji in Jordan has become a fine Lebanese diner/restaurant with refined service. *Mansaf is a traditional Jordanian and Palestinian dish made of lamb cooked in a sauce of fermented dried yogurt and served with rice or burgul. It is the national dish of Jordan. To a lesser degree it is also found in parts of Iraq, Syria, and Saudi Arabia. The name of the dish comes from the term "large tray" or "large dish".