Forget the gloomy weather this morning, we're in a full summery mood today... to top the thrill of the season further you've finally received this month's BOX. The anticipation of the first Wednesday of each month... the wait for the door bell to ring and deliver a whole new BOX with a whole new adventure inside.
May's Box's is fresh... Let's make some healthy refreshing drinks with the tasty syrups and crunch on some healthy, organic and tasty bites for you and your little ones, as well as sip on the country's finest wines and much more. Not to mention a little something for the ladies prepared by local artisans...

The choices are endless... Discover what's inside the BOX. We hope you enjoy it as much as we did putting it together.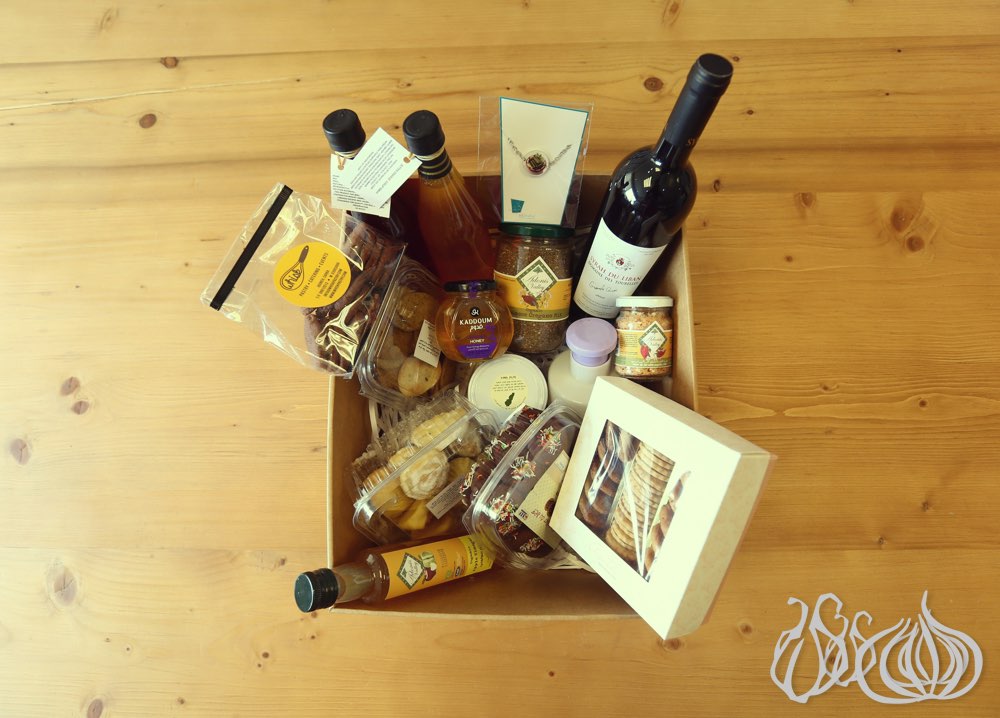 1- Bitter orange syrup: (Rural Delights Cooperative) LBP9,000: Syrup made from the freshest fruits. Just dilute with water for a refreshing fruit drink or mix it in your fruit salad. Why not use it with pancakes as well? Straight from the villages of Lebanon, this traditional syrup should always be at hand in your kitchen.
2- Rose syrup drink (Rural Delights Cooperative) LBP 9,000: Made from Distilled Rose Water which is extracted from natural rose petals. The rose syrup from Kfardebian Cooperative has its own soft pink hue from carcade/roselle which adds to it a special delicate taste.
3- Citrus marmalade (Rural Delights Cooperative) LBP5,500: Handpicked by the ladies from the cooperatives of Lebanon, this is not like any marmalade you have had from supermarkets. Made with freshly-picked fruits, it's a delicious breakfast jam, enjoyably and used with desserts or added as a topping for cakes.
4- Meza Jewelry (Tchenshol) LBP15,000: Tchenshol is all about funky statement jewelry. It's a handmade line that focuses mainly on our everyday Lebanese life by which Tchenshol tries to find extraordinary ways transforming them into necklaces, bracelets, rings, keychains and more. Jewelry doesn't have to be so serious, and humor can be very stylish! In the "Meza collection" the beauty of the Lebanese food is translated, the shape, the colors and all the experience into some jewelry items. It is made from printed plexi, and the silver colored chains can be adjustable. Wearing them is not about following a certain fashion trend it's about expressing originality and uniqueness.
5- Agathe Mixed Box of Cookies (Agathe) LBP15,000: Since moving to Beirut in 1985, Agathe began baking and hasn't stopped since. What started as a hobby is now her passion. Equipped with a handful of old family recipes, Agathe experiments with local ingredients. This resulted in some seriously delicious cookie combinations that have earned her the reputation for quality and sophistication; paper-thin toasted Almond Bread, crisp Gingerbread Thins and decadent Snicker doodles are still some of Agathe's most popular flavors to date!
6- Yum Yum Chocolate Cookies (SEF) LBP16,000: With this box of crunchy rich chocolate cookies, you are making a difference in a child's and mother's life. They look and taste good as well. Service de l'Enfant au Foyer's mission is to host and accompany children and mothers in danger, regardless their social, religious or political affiliation. It offers them a stable and secure place while helping in the building of a mother-child relationship through the mobilization of parental potentials. It allows them access to their rights and the means to do so. It accompanies the construction of a family project along with individual projects aiming at autonomy through economic and social insertion.
7- Apple Vinegar (Adonis Valley) LBP6,500: Only fine mature apples are picked from the organic orchards of the high Lebanese Mountain at 1600m altitudes. The crushed apples are fermented naturally by using a German technology, which preserves very well the medicinal benefits of the vinegar. No sugar neither synthetic chemicals are added. This vinegar is aged for at least one year then it is bottled to be served on your salad and in your cuisine.
8- Organic Zaatar (Adonis Valley) LBP11,000: It is a tuned mix of Lebanese wild oregano with wild sumac and whole organic sesame grains. This special tasty species of oregano grows and even it is colonizing Adonis valley. When collected in August from the valley along with the sumac, it is carefully dried and then mixed with whole organic sesame grain to form our unique traditional blend. When serving add olive oil.
9- Organic Fleur de Sel (Adonis Valley) LBP5,500: It is a flake salt formed once a year during fall in the traditional salt marches. While harvesting salt, only the top layer is taken, which has fine crystallization and pronounced taste, adding to that it is very rich in iodine. This salt is carefully mixed with the typical herbs of our valley: oregano, sage, thyme, sumac and laurel leaves. Highly appreciated by the food aficionados this aromatic salt enhances the flavor of salads as well as any kind of grilled meats.
10- Syrah du Liban (Domaine des Tourelles) LBP60,000: Syrah is a typical grape of the Mediterranean region. Lebanon's "terroir" gives it remarkable dimension. This wine, spicy in character, creates a real firework in mouth before ending with a note that is elegant, flowery and balanced. When Frenchman François-Eugène Brun laid the foundation stone of Domaine des Tourelles in Chtaura back in 1868, he couldn't have known that he had just begun to write the story of a marvelous Lebanese wine. Honoring this great heritage of artisan know-how and quality, Domaine des Tourelles produces today a good wine, a famous arak and liqueur. The prestigious Property is classified among the finest boutique wineries of the Middle-East, described in the Financial Times as "the most seductive winery" in Lebanon. Domaine des Tourelles' bottles have ever then conquered admirers all around the world with more than 10 countries proposing its labels.
11- Cookies from (Whisk Pastry) LBP5,000: Whisk Pastry is a custom bakery that specializes in imaginative and tailor made cakes and sweets that must be seen and tasted to be believed! We are proud of having Whisk with us at Souk el Akel serving one of the country's finest Choux a la Creme stuffed with innovative flavors. For this Box, Whisk sent us fresh crunchy biscuits straight from their kitchen and we're happy they did so. Enjoy them and join Souk el Akel for more from Whisk.
12- Mixed Savory Cookies (Rural Delights Cooperative) LBP12,000: I fell in love with these cookies the minute I took one bite. These hard and crunchy cookies are filled with traditional flavors from our lands. Trust me you have never tasted anything like this before. Zaatar, Sumac and much more… Nibble on them during the day or enjoy with a drink before moving on to dinner.
13- Maamoul (Rural Delights Cooperative) LBP18,000: Small in shape, enjoyed in two quick bites. A flaky dough that crumbles under the teeth dissipating like sand while the filling adds the sweetness you need. Traditional Maamoul prepared by local housewives, recipes learned from their mothers, enjoy them this month of Easter as we wait for more next year.
14- Home Kitchen Burger Mold (Les Maitres Du Desordre) LBP20,000: Especially imported from Italy for The Box, this special kitchen gadget spotted at exhibitions and shops around Europe have made to your home. Make a perfect quarter pounder with this convenient gadget! Use it for making chicken, sausage, beef, or veggie burgers, as well as for crab cakes. Makes perfect patties every time!
15- Spring Honey (Kaddoum Honey) LBP7,500: From Orange Blossoms, Honeybees gather nectar from sage, orange blossom and spring flowers, giving this honey its distinctive amber color. An excellent quality and constant advancement are what matter the most for Kaddoum Honey. Each batch of honey harvested from its beehives or collected from local beekeepers is tested in Kaddoum's specialized laboratories to ensure all necessary control. The quality, taste, color, liquidity and clarity of the honey are examined before Kaddoum Honey reaches the market's shelves.
Enjoy the 15th Box while we carefully handpick and prepare our next edition.
Total Market Value: LBP 215,000