The cheesiest pizza in the world – Guardian Australia review: A 99-cheese pizza sounds disgusting but one Melbourne chef has found a way to make it work.
Johanna Leggatt. theguardian.com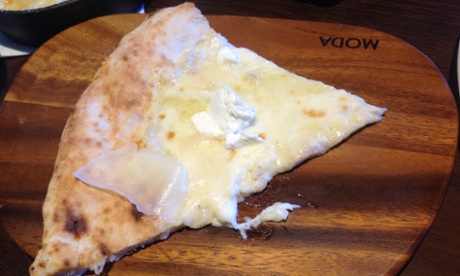 It must be difficult finding new culinary Everests to climb when you are the world's best pizza chef.
But the pizza legend Johnny di Francesco — of Melbourne's 400 Gradi fame — may just have outdone himself with his latest pizza topping, if you could even call it that.
Di Francesco calls it the super cheese: a blend of 94 cheeses he has carefully selected to form the base for his 99-cheese pizza.
Five cheeses are added on top of the super cheese base — fior di latte, buffalo mozzarella, goat cheese, ricotta and shaved raspadura— to take the cheese count to just under 100.
So how does a 99-cheese pizza come about?
Di Francesco, who this year took out first place at the pizza world championships in Italy, said: "No one has done this before. So I thought I would give it a go."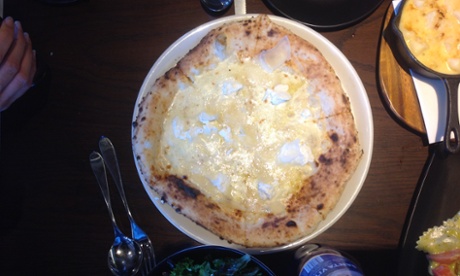 He experimented with six recipes before hitting the jackpot. "I woke up one morning and I just knew I had it," he says.
The super cheese is created by melting down the 94 cheeses in a large pot and then blast chilling them so they form a solid block of cheese.
It takes between 45 minutes and an hour to do this, which is why di Francesco chose to serve his 99-cheese pizza for a limited two-hour block during lunchtime service at his Gradi restaurant in the Crown casino complex on Saturday.
The $23 pizza is labour intensive, and Di Francesco looks visibly overwhelmed at the thought of it becoming a regular on the Gradi menu.
"We will see how it goes, if people really, really want it then we will do it," he says.
So how does it taste?
Fantastic. Di Francesco has created a balanced and surprisingly nuanced pizza. It sounds like a supersized hot mess, the kind of novelty cuisine you might see on a menu at a suburban pizza and ribs joint, but it is anything but.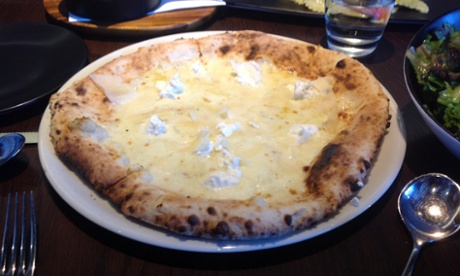 Di Francesco sourced cheeses from Australia and all over the world to create a just-right flavour combination, and each cheese has a role to play. There is a mixture of soft and hard cheeses in the super cheese base — taleggio, aged cheddar, double cream brie, pecorino and gorgonzola among them — but little mozzarella as it does not melt down well.
Some cheeses have little flavour but are used chiefly to offset the sharpness of other cheeses, to provide a creamy counterpoint or sometimes just texture.
But Di Francesco proves that good-quality cheeses are varied enough to create a series of balanced flavours rather than one generic, cheesy taste.
Crucially, I didn't walk away from Gradi feeling as though I had just eaten 99 cheeses. The topping is generous without being excessive and because the super cheese is so concentrated little is actually needed. And the bases are delectably light. Di Francesco comes from the Neapolitan school of pizza making that does not aspire to overly crispy bases: his pizzas are foldable and pliable with a soft, light dough.