Twenty-one years ago, only three years after the Lebanese Civil War ended, a woman had an idea... There was a need in Lebanon for some high-end quality French bread, when Mrs. Rita Hoayek went searching for the finest French bakers around the world... Until she established one of the most renowned bakeries in town.
On my way to school everyday, and I am taking you back to 1994, I remember passing in front of a bakery the doors of which were always closed. I'm not sure why, but those facades used to intrigue me, and I hoped for a chance of a sneak peek one day. Decades have passed until last year, when the name "French Bakery" appeared again...
Having lunch at
Cafe Diem
, I remember eating a sumptuous baguette that transported me far away beyond the borders of Lebanon. A baguette, that reminded me of Paris and its many bakeries, a baguette that crunched in style, like music to my ears while its aromatic spells enchanted all my five senses. A few months after, dinner at
Le Bistro de Michel
and here was the same smell, the same crunch, the same magic...It was a sign and yes I had discovered one of Beirut's finest bread producers.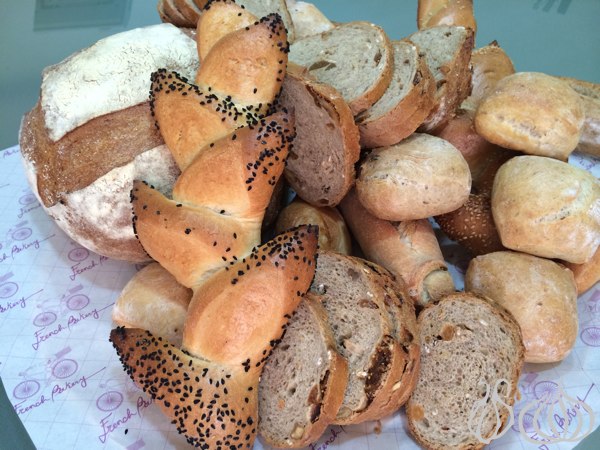 Nestled up in Fanar, on the main road leading to the Mont La Salle school, a few meters before the church, is The French Bakery, a 300sqm facility producing a large selection of bread-related products all day, all week. Don't expect to see a welcoming shop or sales women or even a display, the French Bakery caters to restaurants, hotels and for connoisseurs and bread aficionados who can call for any order that will be delivered right to their doorstep.
The French Bakery is proudly Lebanese, a local company, determined to provide fine quality baked, half baked and frozen bread to restaurants and hotels. Customers, on the other hand, can place an order from a list of 80 different varieties of bread, cookies and cakes. Mrs. Hoayek went searching for the best. Meilleur Ouvrier de France and jury president of Saint Ethienne Mondial du Pain, the consultant baker visits more then twice a year to check on the quality of The French Bakery products...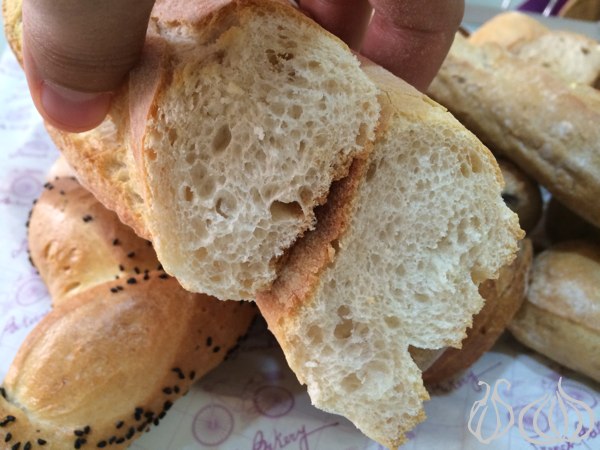 2014 is going to be the year of change, Mrs. Hoayek tells me, "People have the right to enjoy their bread at home, so we decided to open our retail shop that will be coming before the end of the year. Bread Passion sal is the name of the new company."
"How do you do it?" I ask. "The recipe is simple, inside all our bread is a French savoir-faire, using French techniques developed over centuries by French bakers, who made it to our ateliers in Lebanon. We use levain (sourdough), lots of it mixed with premium flour bought locally, salt and water. It's very important to understand your ingredients and create your own mixes before taking your time to create bread with love," she says.
I tasted a largeselection of items and tested the finest of The French Bakery's goods. My journey started with the mini croissants, cheese and turkey croissant, which brings forward the ingredients flavors, labneh and black olives, which had a rich taste and were high in acidity, along with the crunch of the olives all wrapped in a fine, thin dough; next was the chocolate croissant and its fine taste as well as pistachio and date varieties. Yes, a date, or tamer, croissant, which I found excellent. The French Bakery has more choices of croissants of which feta cheese and oregano, almonds, hotdog and cheddar andZaatar are but a few. All the croissants have a very interestingsaltiness that stays around for some time. Even the chocolate croissant is something that will leave you thinking; A rich, dark chocolate, a premium dough and a salty aftertaste that's just awesome. Prepare to lick your lips secretly after every bite.
After that was the almond croissant's turn. Not just any croissant and not just any filling, but a fine creamy croissant topped with powdered sugar. The croissant is first baked then filled with a rich almond cream. A superb crunch and sweetness await.
Now wasbread time, I have come here for the bread after all. I started with the baguette and the baguetterustique. A rich aroma caresses your nostrils as you bring it to your mouth. I grabbed it with both hands and broke it in half while a musical sound put a smile on my face: A crunchyenvelop and a condensed heart. Another variety uses whole wheat mixed with nuts or dried fruits. I love it how the bread core is moist, how the air bubbles are found throughout it and howwell formed it was. The taste was really, well, French...
The best seller is something that looks like Pain de Campagne and called "Tourte Meule": Rye and white flour mixed together with liquid sourdough... and lots of it. The buns require 24 hours to prepare in order to get their real shape and lightness with enough time for the dough to relax before going in the oven.
Now I know the secrets behind the success and richness of The French Bakery's breads, which are available in prepacked bags in some supermarkets around Lebanon. For some fresh baguettes, feel free to contact them on +9611680584.