Walking the streets and by pure coincidence I looked up a building to discover a sign written in English: "The Lamb Kitchen". The place looked nice, the people behind the windows were smiling, so we took the stairs up to the first floor.
Serious people dining around here, some wearing jackets or looking like they're here for a meeting. A square space with an open kitchen, lamb specialties and the usual suction tubes coming over every table.
The restaurant's name is in English but the menu isn't; seems like tourists are not the norm. Thankfully the waiter could speak a couple of words so he helped with the order.
Rectangular tables surround the space with a view of the street and another long one occupies the heart of the restaurant. A fire is lit at the center of every table, a combination of gas and flamed charcoal. Wooden tables, benches, designer wooden blocks, a low ceiling and some music playing in the background. The place really looks nice and feels warm and inviting.
The table setup: Two plates covered with sesame leaves, a plate of spicy chili pepper, a plate of kimchi and pickled anchovies.
We had the lamb chops and a plate of minced meat that looked and tasted like lamb burgers served with vegetables and yogurt dip. Kimchi is served in chunks, not sliced and the yogurt tastes close to our Laban.
I loved the finesse this place has. The waiters were running to cook the meat while cutting the lamb chops with scissors. A paper apron is distributed to everyone for easier eating.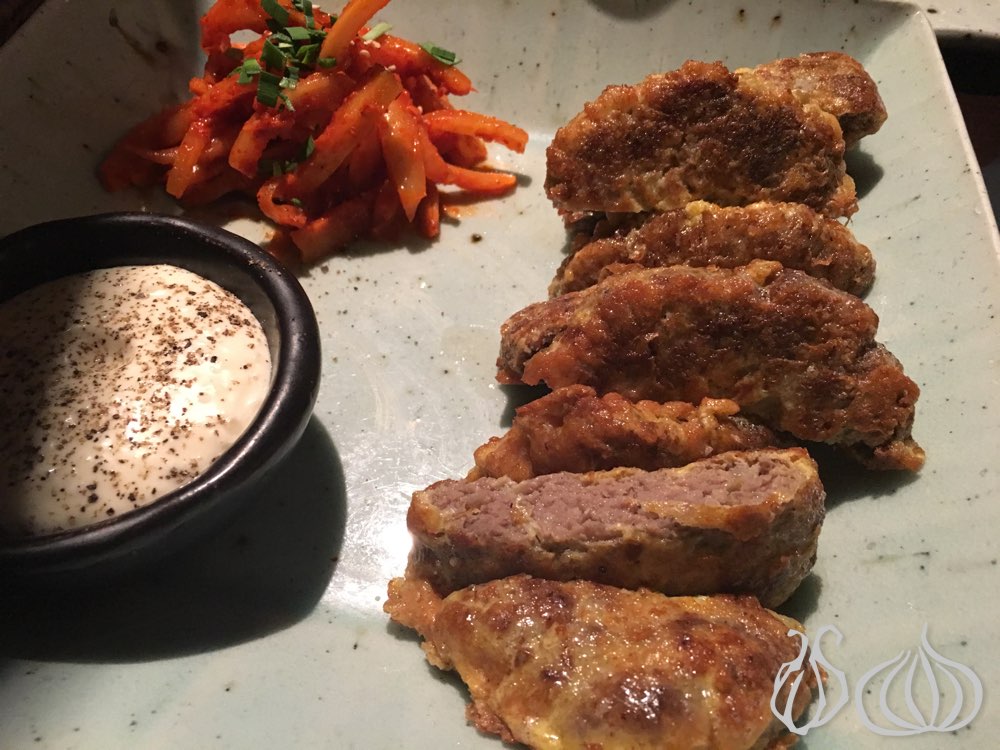 The lamb burger-like patties are delicious. Simply minced meat, juicy and rich. Tender meat that only needs dipping in yogurt to make its flavors balanced.

The lamb chops were well done. It's about that super juicy and extremely fatty meat that melts under your palate exploding all its flavors. Not something for the faint hearted. And then I understood what those sesame leaves were for; Take one, put a chunk of meat in, add the chili pepper and enjoy. The sesame leaf adds a kind of sweetness making a simple bite memorable.

Dinner ended with bibimbap. A bowl of rice and shredded greens, with Korean kimchi and a red spicy sauce on the side to be mixed in. That spiciness that tickles your nostrils, warm rice... I felt like I was eating my grandma's spinach with rice. I officially like Korean food.
Finally! I'd found something that left me amazed. Professional waiters and a clean service. This is the restaurant I'll recommend to my friends visiting Seoul. An enjoyable night.