To celebrate our second year wedding anniversary, my husband and I, together with our baby son, went on a trip to Istanbul. We stayed at the Movenpick Hotel, where we were really pampered...
About the hotel:
Voted "Europe's Leading Business Hotel" by World Travel Awards in 2011, the Mövenpick Hotel Istanbul combines contemporary style with flawless service. Experience unique gastronomic highlights and the latest technology created for the discerning traveler in mind. Discover this exceptional hotel in Istanbul's most exciting spot. In the heart of Istanbul's modern business and chic shopping district, the Mövenpick Hotel Istanbul provides you with easy access to Taksim Square. A range of fashionable shopping malls are within walking distance.
My husband and I stayed at Movenpick Istanbul for four nights, where we enjoyed a beautiful panoramic city view from the 16th floor.
Things we liked:
The rooms are very nice, clean and well-equipped, great lighting, sufficient outlets with attention to details and extra amenities such as magnifying mirror and a phone in the bathroom...
The room we stayed in is very spacious and so is the bathroom.
The internet worked fairly well in the room.
The breakfast was a good mixture of continental varieties and Turkish specialties.
Since we were accompanied with our 9 month old baby, we requested a small park for him. In less than 5 minutes the park was there, covered with balloons, small teddy bears and a collection of baby shower gel, shampoo…This is not to forget the baby sitter service which was available and cost 10 Euros/hour.
Gym center is not bad, but the only indoor swimming pool is small.
The hotel has two elevators which are very fast; we were on the 16th floor and it only took seconds to reach.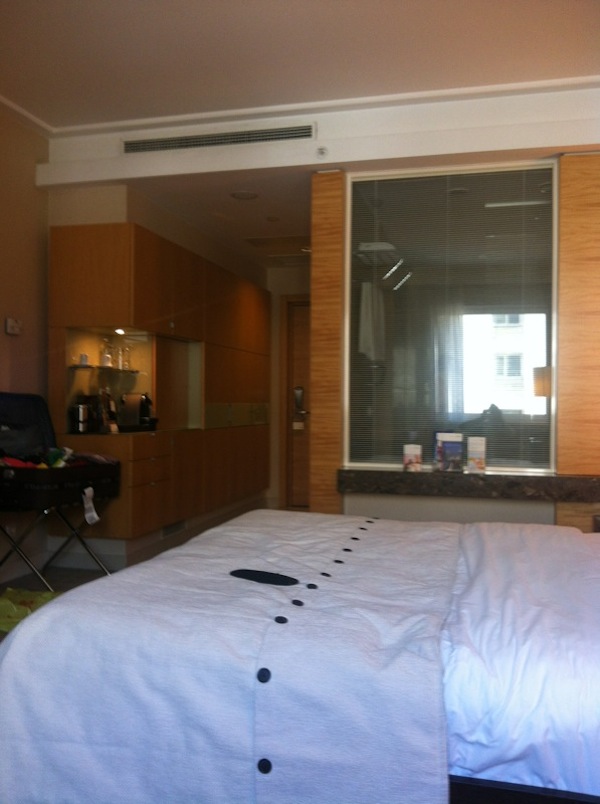 We used the shuttle bus booked through the concierge who were extremely helpful. They made us feel that nothing was too much trouble for them. The shuttle bus is an excellent service, but I advise you to book ahead of time as they get fully booked quickly. To celebrate our second anniversary, my husband called the reception desk and booked a table for two at the Skyline Club Lounge, located on the 20th floor of the hotel overlooking the impressive skyline of modern Istanbul. We enjoyed a great view, a welcoming atmosphere, dinner and drinks … after which we went back to the room to see the room decorated with red roses, champagne, cake and fruits and a letter from the Marketing manager wishing us a Happy Anniversary stating that this is a gift from the hotel! There is a Metro station right next to the hotel. We took it straight to Taksim Square & Istiklal Street (a very lively area).
I also liked the fact that it was very close to shopping malls: Sapphire is just a 1 minute walk from the hotel, Kanyon & Metrocity is at walking distance or just 5 minutes away by taxi, and Ekmerkez & Istinye Park is just 10 minutes away by taxi. I liked this hotel a lot. It is beautiful, clean and in order. It is sleek with a super friendly and helpful staff. I recommend it!