SUD is one of those places I go to every now and then when I feel the need to escape the city's bustle. It's a monthly getaway for me. Coming here is like taking a small trip out of town, only it's on Mar Mikhael street just a few steps up from the busy streets. You walk into a beautiful courtyard and to your left is SUD. With a fine winter setup and a newly redesigned menu, it was exciting to update my taste buds with what SUD has to offer in the new year.
In the heart of Mar Mikhael, SUD welcomes you around soothing music, warm lights and a positive ambiance. A great place to be after a long day at work, SUD is "the" address that will make you drain out work's stress.
SUD (South in English), a restaurant that blends together dishes from Spain, Italy and the South of France in an idyllic setting. As you walk up the stairs into the courtyard of
La Cour Saint Michel
, look to your left. That's where SUD stands. Look closer and you will notice a gentleman walking around the busy tables asking if everything is fine… His name is Chawki Yazbeck, owner of SUD, a generous and humble character with a plan to give "lungs" to Beirut, through the creation of a fresh, innovative open space… SUD certainly achieves this…
A beautiful yet simple architecture I love:
SUD boasts three seating area, indoors, outdoors and an upstairs terrace
Outside is a wide terrace filled with marble tables, metallic and wood chairs covered in beige and blue fabrics
Timeless design, a unique one, which appeals to people of different ages
The lower level houses SUD's kitchen and is home to the restaurant and bar element
With an open show kitchen, guests can watch the chef and his team at work, as they create a collection of European dishes
Inside, one big space with a bar on the left and the seating area on the right
A feel of wood and black steel metal decorates the interior
10 brown wood tables on a black metallic structure
Facing the entrance are two long wine coolers behind eight pending light bulbs
On one wall is a big black and white picture of a World War II plane
Other black and white photos decorate the walls as well as pending metallic lamps
The bar is beautiful and clear: a simple steel fence bar revealing the background of natural stone
The floor is covered with old Lebanese tiles
Separating the restrooms door from the restaurant is a library of design and photography books, including B. Lebanon
Chairs inside stand out in a variety of colors are different from the ones outside: light blue, light grey while some come in yellow patterns
Three pending black lanterns light the table underneath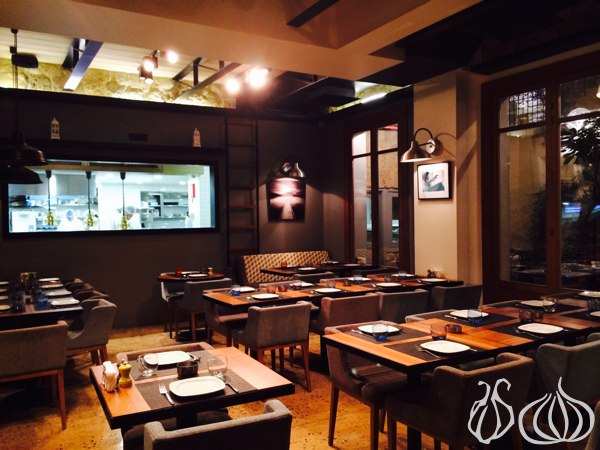 The menu is still the same, hosting a very wide choice of items to please everyone:
Tapas
Starters
Soups
Pasta and risotto
A la plancha
Pizza
Desserts
The newly added items:
Cornet de saumon marine
Brusquette de thon frais mi-cuit
Roulé de parme
Brusquet t'es de chèvre aux petits légumes
Brusquettes inerties olives
Tartine de mozzarelle de Buffala
Tartares de mérou et saumon
Foie gras maison
Salade d'artichauts et calamars
Spaghetti Alfredo
Ravioli à la crème de truffe noire et champignons
Brochettes de veau
Filet de saumon grille
Pavé de mérou
Éclair au chocolat façon sud
Criminel de poire
Crème brûlée à la minute
Cheese cake aux fruits rouges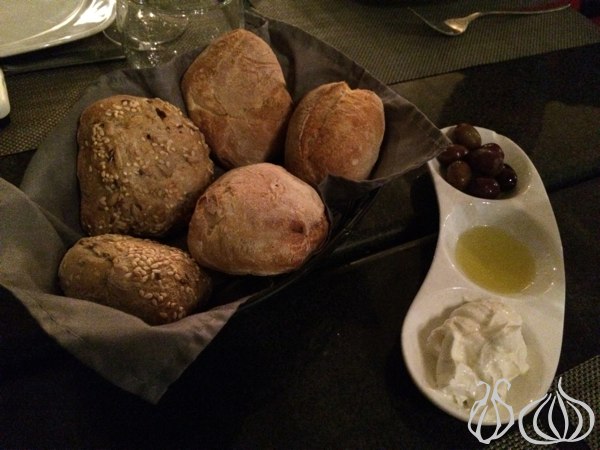 Dinner started with the usual basket of bread served fresh, warm and crunchy with labneh, olive oil and black olives. A great first impression that eagerly makes you want more.
Let's enjoy some tasty food:
Tartine de mozzarella di Bufala 28,000L.L: (Buffalo mozzarella, fresh tomatoes, eggplant caviar, basil, toasted french sourdough) Simple and clear: On a slice of brown bread expect to experience some fine mozzarella, fresh tomatoes and an eggplant caviar that adds all the needed finesse and style. Lovely!
Roule de par me 14,000L.L: (Parma ham roll with smoked mozzarella and vegetable stuffing) Thick parma slices rolled around crunchy filling of fresh vegetables and smoked mozzarella that add some finesse. Tasty and innovative.
Brusquetta de chevres aux petits legumes 12,000L.L: (Goat cheese and vegetable bruschetta, olive tapenade) The look of it is so mouthwatering. A colorful creation, shredded vegetables lay majestically on a crunchy bread topped with warm goat cheese that melts in your mouth like butter. Different textures that are interesting and enjoyable
Cornet de saumon marine 16,000L.L: (Dill marinated salmon, cream cheese, lemon, brick, pastry sheet cornet) I will be coming back to SUD just for this innovative creation. A thin non oily and crunchy puff pastry cone filled with cream cheese topped with cubes of marinated salmon. Crunchy, soft, finesse and a rich are a few words to describe the taste. A superb invention: Bravo!
Foie Gras Maison 32,000L.L: (Home-made foie gras, quince chutney, small green salad, fig bread) Cut a slice of fig bread with a bit of foie gras and cover it with the needed hint of sweetness provided by the concentrated chutney to obtain a sumptuous bite. Lovely!
Brusquette de thin frays mi-cuit 14,000L.L: (Seared fresh tuna bruschetta, Parmesan, Caesar dressing) WOW an intense flavor is hidden here. Even though I liked it, I would personally have used a bread less that is crunchy and sauce with less flavor so as not to cover the rest of the flavors. The garlic in it is way too much for the tuna. Such a prime fish needs to be brought up forward not covered by a Caesar dressing!
Tartares de merou et saumon 24,000L.L: (Grouper and salmon tartars, dill, chives, spring onions, lemon zest, espelette pepper, thin pineapple slice, small green salad) How intense is it! The different textures, the juiciness and lemon zest. Awesome. Served in one of the biggest plates around
Crevettes terre-mer 14,000L.L: (Shrimps and chorizo, fresh herbs, toasted baguette) Served on a black board, a bowl richly filled with shrimps and chorizo slices accompanied with two wood sticks and toasted French bread. The richness and softness of the marinated shrimps coupled to the strong flavor of the chorizo make of this plate a distinct creation.
Moving from the starters to some serious stuff a white cylinder caught my attention. In the table's center, a Parmesan shredder produced by Peugeot was a premiere for me. By the way I like the Peugeot salt and pepper shakers used at SUD and now this new invention I would buy for home.
Spaghetti Alfredo 22,000L.L: (White mushroom, rosemary, creme fraiche, white wine) Even tastier than many Italian restaurants around. A perfect pasta size, cooked al dente to perfection and marinated in a tasty sauce. Bravo! will say it all
Ravioli a la creme de truffe noire et champignons 28,000L.L: (Black truffle cream and mushroom ravioli, pistachios, Parmesan) Beautifully presented, fine black truffles on top and a rich flavor in the bottom. The creamy mix is a bit too thick for my taste but believe me it's worth trying
Burger Maison 200g 23,000L.L: (Tomato, onion, iceberg, white mushrooms, cheddar, house sauce, served with iceberg coleslaw and French fries) Bizarrely too dry tonight! Dry bun, dry meat and a sauce served on the side: why? A burger should be served ready to indulge. It's sad to see such premium ingredients prepared inadequately. The meat should be more fatty, the sauce spread on the upper bread and the bun toasted with some butter. We need to feel the juiciness and moisture: It's a burger after all and not a well done piece of steak. I loved the fries and the coleslaw salad though
Brochettes de beau 39,000L.L: (Herb marinated veal filet skewers, potato gratin mushroom garnish) Tender and soft served in two squeezers and a premium gratin in the side. A fine dining creation
Pave de Merou 34,000L.L: (Grouper steak, sautéed vegetables, fried potatoes, lemon confit, fresh thyme sauce) A certain finesse and sweetness that make you want to lick your lips accompanying a tender moist fish
Filet de saumon grille 35,000L.L: (Grilled salmon filet, baby vegetables, crispy leeks, chive butter sauce) Yummy! A really nice creation especially with the fried onions on top. Bravo, bravo, bravo
Wow! the experience was so perfect so far and I was preparing myself for even better. Don't the pictures speak for themselves? Fine creations, up to the standard of a fine dining restaurant served at affordable prices in a relaxed brasserie.
SUD has also introduced a new selection of desserts; Let's discover...
Dessert:
Cheese Cake aux fruits rouges 16,000L.L: A combination of a tart and a cheese cake where a crunching fresh dough hosts fresh cream topped with generous red fruits couli. Majestic indeed!
Creme Brûlée a la Minute 14,000L.L: Served warm, this salty creme brûlée and its crunchy top is enjoyable. I think it's better served cold
Eclair au Chocolat falcon sud 16,000L.L: (Creme patisserie with chocolate praline, served with malagasy vanilla ice cream) Prepare yourself for an upscale version of the average eclair. Two chocolate filled pastry dough with tasty dark chocolate and topped with shredded chocolate. Grab one like a sandwich, dip it in the sauce and bite into it to discover its interesting textures and flavors. Mmmm...
Mangue Rotie et fruits frais 16,000L.L: (Roasted mango and fresh fruits, orange wafer, filled with Malagasy vanilla pannacotta) Impressive! I didn't expect to eat something with such finesse in a French bistro. A thick piece of mango, slightly roasted to extract all the flavors, is covered with a fruit salad of fine little cubes and served with a cylinder wafer filled with pannacotta that explodes with premium vanilla flavors. The sauce adds the required juiciness you would expect from this dessert to be just perfect.
The details I loved
Green and grey Peugeot salt and pepper mills decorate all the tables
The placemats are simple and classy
The water glasses come in several colors adding joy to the tables
The plates decoration is simple yet innovative
The waiters and service is improving with time
The wine bucket standing at the table's side frees some space around the passages and leaves the bottle cold and handy
The things I'll improve:
Tablecloth napkins are a must
The burger should be revisited
I simply love this place, and everything that is in it. I would like to personally give a round of applause to the chef, Georges Yaacoub and the owner's daughter Rita Yazbeck a chef herself, who spends all her days in the kitchen improving the little details that add up to present the fine culinary creations.
SUD, which is always packed, offers a unique dining experience at a reasonable check of $40 per person. I'll be coming for more soon.