The tent has been removed, the nylon covers have been wrapped up... Welcome the summer vibes of La Cour Saint Michel. Located right at the beginning of the hippest collection of bars in Beirut and through a small stairway La Cour Saint Michel is wonderful. Set around a courtyard, and inspired by old Lebanese architecture, this hot spot is a perfect hideaway which hosts a number of restaurants and unique concepts that you definitely should look out for.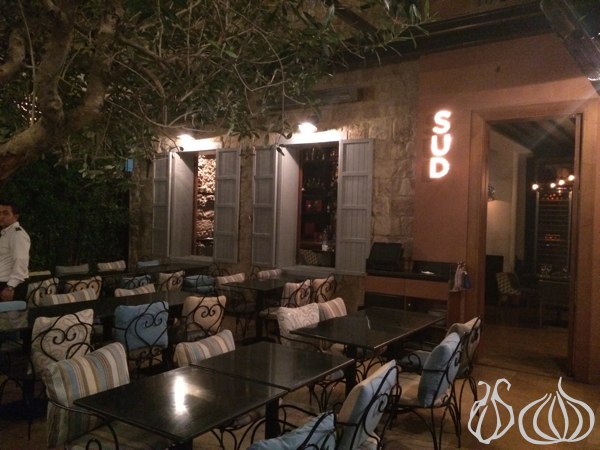 Every six months, visiting SUD has become a tradition. I usually search for guarantees and enjoying a good meal is confirmed around here. Unfortunately for summer, it's a bit hot but you'll manage between the air-conditioning inside and the fans outside. The positive vibes will transport you out of the capital's chaotic ambiance and into a special haven.
A beautiful ambiance decorated with summer's finest colors, La Cour Saint Michel welcomes you for lunch and dinner. Orange, yellow, blue, beige in a garden of trees and stones. A lovely environment which acts as a perfect escape from the hustle and bustle of the city – just a few steps away from the road.
The new menu has the logo imprinted on with four letters: R for restaurant, B for bar, T for terrace and R for rooftop:
Tapas
Entrées
Soupes
Pâtes et risotto
À la plancha
Le Four
Desserts
Boissons
Dinner started with the usual labneh and black olives served with a bread basket from Prunelle. Afterwards, I decided to try some of the items I rarely look at. We're all familiar with the Crevettes Terre-mer (shrimp and chorizo with fresh herbs with a toasted baguette) or the Brusquettes Aubergine-Olive (eggplant caviar and black olive salad, bruschetta and a pomegranate molasses), innovations which made SUD famous, but tonight I wanted to try something new.
Dinner was excellent:
Olives Farcies LBP8,000: (Crunchy olives stuffed with goat cheese and tomato sauce.) Served in a cup filled with back balls made of slices of olives mixed in a soft goat cheese mix. An enjoyable, crunchy border that explodes with aromas and flavors when bitten into. A tomato sauce is served on the side.
Cornet de saumon marine 16,000L.L: (Dill marinated salmon, cream cheese, lemon, brick, pastry sheet cornet). I will be coming back to SUD even more often just for this innovative creation. A thin oil-free and crunchy puff pastry cone filled with cream cheese topped with cubes of marinated salmon. Crunchy, soft and rich are a few words to describe the taste. A superb invention.
Salade d'artichauts et de calamar LBP23,000: (Grilled calamari, artichoke hearts, porcini mushrooms, chickpeas, spring onions, tomato confit, black olives, lemon oil dressing). Fresh and simple, this salad was far from being average. Different textures and flavors combined into an innovative mix of wonders. Who would have imagined calamari with chickpeas, or artichokes with mushrooms all together in a simple lemon sauce? I do recommend it
Salade de crevettes aux agrumes et avocat LBP22,000: (Mesclun salad, shrimps, pink grapefruit, avocado, coriander, citrus dressing). Tasty, simple and fresh. Perfect for people on a diet
Burger Maison 200g 23,000L.L: (Tomato, onion, iceberg, white mushrooms, cheddar, house sauce, served with iceberg coleslaw and French fries). It's clearly not working. Last time the burger was too dry, this time it was too soggy and the meat was not one I want to eat again. I surely think, with all the innovative and tasty things SUD offers, that's an item I'd remove from the menu. I've tried it four times already with no improvement or consistency.
Carpaccio de boeuf LBP24,000: (Australian beef carpaccio, artichoke petals, Parmesan, tomato confit, basil). Simply wow. If you feel that carpaccios are too much "meat", this one's nothing like your past experiences. A kind of salad where meat adds the positive flavor. The carpaccio is served with homemade loaves of bread covered with olive oil. That's a plate like you've never seen it before
Pave de Merou LBP38,000: (Grouper steak, sautéed vegetables, fried potatoes, lemon confit, fresh thyme sauce) I've had this plate before and I remember tasting something unique, so why not repeat the experience? On a round plate a piece of grouper fish is laid majestically, covered with sliced onions. The fish, rich and juicy, is topped with caramelized onions that will make you lick your lips after every bite. The mix comes with a lemon sauce on the side adding a touch of the Mediterranean, but honestly I didn't use it. I was so happy with the flavors of the fish and its sweet after notes that I forgot about the sauce, the potatoes and the bed of steamed greenery
Bar en Croute de Sel LBP34,000: (Salt-crusted whole sea bass, new potatoes, sautéed white mushrooms, garlic confit and sauce vierge.) I had this plate when SUD just opened... back then I had wished that it was removed from the menu. Today's salted fish is bigger, juicier and definitely tastier. The ritual of opening the salt crust to discover a moist and well-cooked fish underneath is fun. Light and tasty at the same time.
Dinner was excellent as always. It's not a secret if I tell you that I'm a fan of the chef Georges Yaacoub and Rita Yazbeck (the owner's daughter) who both handle the kitchen in style.
No meal is complete without a mouthwatering dessert:
Pain Perdu Caramélisé LBP14,000: (Caramelized French toast served with Malagasy vanilla ice cream.) A big improvement; I can now say that SUD's pain perdu is worth trying. The changes are clear. What looks like a burger bun, is soaked in milk and sugar than toasted from the outside making it soft and juicy as well and slightly crunching around the borders
Cheese Cake aux fruits rouges LBP16,000: A combination of a tart and a cheese cake where a crunching fresh dough hosts fresh cream topped with generous red fruits coulis. Majestic indeed!
Creme Brûlée a la Minute LBP14,000: Served warm, this generous cream and caramelized crunchy top is enjoyable. Slightly warm, it will make creme brûlée lovers happy .
Eclair au Chocolat falcon sud LBP16,000: (Creme patisserie with chocolate praline, served with Malagasy vanilla ice cream.) Prepare yourself for an upscale version of the average éclair. Two chocolate filled pastry dough with tasty dark chocolate and topped with shredded chocolate. Grab one like a sandwich, dip it in the sauce and bite into it to discover its interesting textures and flavors. Mmmm
The queen of the night:
Moelleux au chocolat coeur caramel au beurre sale LBP14,000: (Chocolate fudge with a salted butter caramel center served with a mango sorbet). Looking like a cannele, this molded chocolate cake is soft and sticky on the outside like any well done cake but wait until you reach the core. A salted caramel body that will make you moan from joy. Dark chocolate on the outside, salted finesse on the inside...heavenly creation
Always great moments spent at SUD... This place is one of my coup de coeur where good food is served with a pleasant ambiance, in a vibrant place full of positive echoes