It was truly love at first sight, the minute I laid eyes on SUD. A restaurant that's really special in so many ways is the same that has set a name for itself this summer in Lebanon... A place that's fully booked every day, no matter what the situation. This stands for something - good food, good ambiance, nice set up, original flavours and more importantly passionate people behind a unique concept that has gained success in Lebanon's culinary scene.
Located right at the beginning of the hippest collection of bars in Beirut and through a small stairway La Cour Saint Michel is perfectly nestled. Set around a courtyard, and inspired by old Lebanese architecture, this hot spot is a perfect hideaway which hosts a number of restaurants and unique concepts that you definitely need to try if you haven't yet.
La Cour Saint Michel adds a special touch to Mar Mikhael
, an area that has become known for is Soho-esque traits with it's number of unique bars as well as art galleries, creative restaurants and now with this new project, add a touch of the Southern part of Europe to its list of characteristics.
Like a little village, the courtyard entices you through its small stairway that walks you into a huge terrace garden. Three individual Lebanese houses each operating separately even though their terraces blend together. La Cour Saint Michel hosts
Bar Tartine, a French bistro
,
SUD serves a rich combination of Mediterranean
cuisine and Studio 43 a casual Lebanese restaurant. What I love the most is the simplicity of the architecture all executed in the finest way with the simplest of details.
I previously tried SUD for lunch, and now was time, as promised to pass by at night.
A beautiful yet simple architecture I fell in love with:
SUD boasts three seating areas, indoors, outdoors and an upstairs terrace
Outside is a wide terrace filled with marble tables, metallic and wood chairs covered in beige and blue fabrics
Timeless design, a unique one, which appeals to people of different ages
The lower level houses SUD's kitchen and is home to the restaurant and bar element
With an open show kitchen, guests can watch the chef and his team at work, as they create a collection of European dishes
Inside, one big space with a bar on the left and the seating area on the right
A feel of wood and black steel metal decorates the interior
10 brown wood tables on a black metallic structure
Facing the entrance are two long wine coolers behind eight pending light bulbs
On one wall is a big black and white picture of a World War II plane
Other black and white photos decorate the walls as well as pending metallic lamps
The bar is beautiful and clear: a simple steel fence bar revealing the background of natural stone
The floor is covered with old Lebanese tiles
Separating the restrooms door from the restaurant is a library of design and photography books
Chair boast a variety of colors are different from the ones outside: light blue, light grey while some come in yellow patterns
Three pending black lanterns light the table underneath
The menu of wide choices:
Tapas
Entrées
Soupes
Pâtes et risotto
À la plancha
Le Four
Desserts
Boissons
Dinner started with a covered basket of crunchy warm French bread accompanied with a three-compartment plate which includes labneh, olive oil and olives. A fresh start and good first impression as the bread is warm, crunchy and tasty at the same time.
The culinary experience:
Brusquettes Aubergine-Olive: Eggplant caviar and black olive salad bruschetta, pomegranate molasses.
The pieces of brusquetta are awesome! Five simple pieces on a rectangular plate. A toasted slice of bread, soft and tender eggplant, smooth black olives and a sweetness aftertaste that makes all the difference. This is one of my favorite plates at SUD.
Crevettes Terre-mer: Shrimps and chorizo with fresh herbs toasted baguette.
Served on a black board, a bowl richly filled with shrimps and chorizo slices accompanied with two wood sticks and toasted French bread. The richness and softness of the marinated shrimps coupled to the strong flavor of the chorizo make of this plate a distinct creation.
Goujonnettes de Poulet: Cornflakes crusted chicken strips, sauce vierge.
This is finger licking good. A generosity like no other expressed by the dozen of chicken fingers, tender on the inside and crunchy on the outside. The cornflakes add a hint of sweetness to each and every bite and even though deep-fried, the sticks are non oily. Dip in the spicy sauce of pine nuts, tomatoes and olive oil to complete the experience.
Brusquettes Chorizo-Ricotta: Chorizo bruschetta, ricotte, cherry tomatoes, wild rocket, walnuts.
With this plate, simplicity is key. A beautifuly-decorated plate combines green, red, white, brown and burgundy into, where each bite of come with different textures and flavors.
Poivron Farci au Chevre: Roasted bell pepper rolls stuffed with goat cheese and basil.
For you fine gourmets, this is a plate not to be missed. Five fingers of roasted bell peppers, stuffed with goat cheese and seasoned with balsamic vinegar and basil slices. It's really a plate worth offering in a fine dining restaurant.
La Rioja Pizza: Chorizo, ricotta, black olives, basil, tomato confit.
The pizza looks nice and appetizing as it lands on the table. Before even tasting it, it looks and smells great. Covered with cut black olives, chorizo, green slices of basil and a strong taste of dried tomatoes. The huge difference is created by the pronounced flavors of cheese. I would have preferred the dough to be a bit thicker and the borders crunchier. For a French restaurant, the Pizza is even better than many Italian pizzerias around town.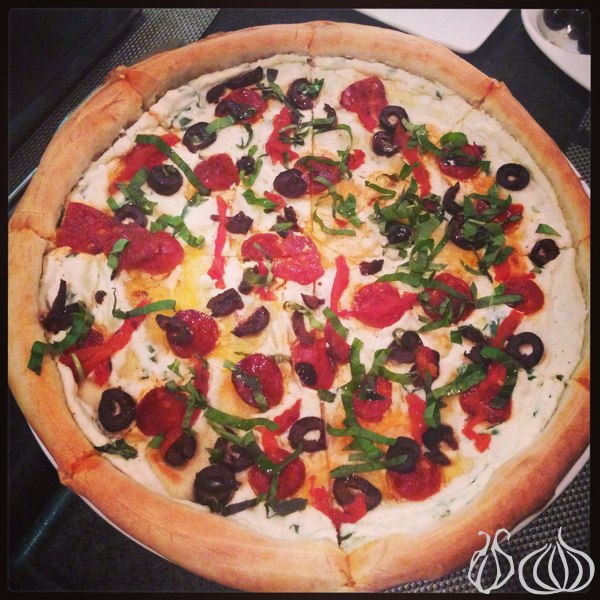 Burger Maison: 200g patty, tomato, onion, iceberg, white mushrooms, cheddar, house sauce.
Served with iceberg coleslaw and French fries. A premium non frozen meat with a rich selection of vegetables laying one on top of the other inside a brioche bun. Even though I found it too peppery, my wife who ordered the burger, loved it so much
Filet de Thon Rouge a la Nicoise: Seared tuna steak, cherry tomaotes, black olives, capers, pine nuts, and anchovy-lemon sauce.
Served over a ratatouille with chickpeas. This is what I call creative and tasty. Yummy!
Pain Perdu Caramélisé: Caramelized French toast served with vanilla ice cream.
A big improvement. I can now say that SUD's pain perdu is worth trying. The changes are clear. What looks like a burger bun, is soaked in milk and sugar than toasted from the outside making it soft and juicy as well and slightly crunching around the borders. This is a good dessert: Bravo.
Mangue rotie et fruits frais: Roasted mango and fresh fruits. Orange wafer, filed with Malagasy vanilla pannacotta.
Impressive! I didn't expect to eat something with such finesse in a French bistro. A thick piece of mango, slightly roasted to extract all the flavors, is covered with a fruit salad of fine little cubes and served with a cylinder wafer filled with pannacotta that explodes with premium vanilla flavors. The sauce adds the required juiciness you would expect from this dessert to be just perfect.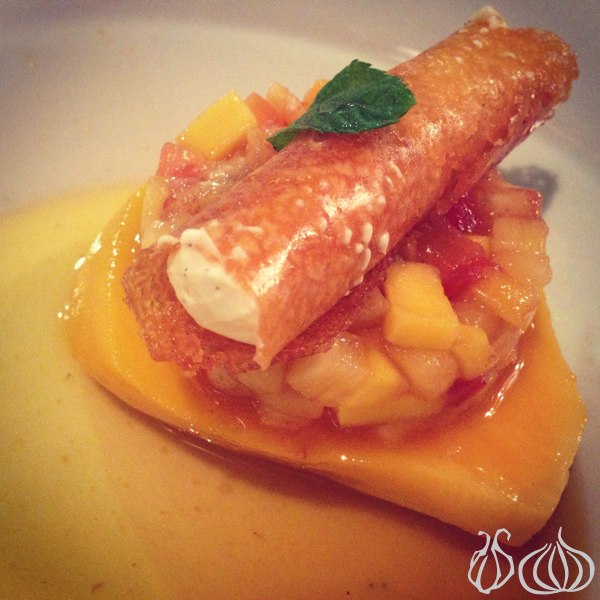 Rondin Rouge, farci aux epinards. Croutes de chorizo et emulsion de citron et menthe. A premiere, coming on the menu soon. Simply fantastic! Bravo chef!
The details I loved
Green and grey Peugeot salt and pepper mills decorate all the tables
The placemats are simple and classy
The water glasses come in several colors adding joy to the tables
The plates decoration is simple yet innovative
The waiters and service is improving
As soon as I lit my cigar, a design ashtray landed in style on the table
The wine bucket standing at the table's side frees some space around the passages and leaves the bottle handy
Before reaching the dessert part, Mr. Chawki Yazbek, the owner of SUD, a person I truly appreciate and respect, suggested we do a comparison of two wines. He was confident and sure that our local wine can compete with some of the best abroad... And he was right. Chateau Khoury, Pinot Gris 2011 vs Pinot Grigio, Delle Venezie, IGT. I like both equally with even a richer fruitiness in the Chateau Khoury.
Chateau Khoury, Pinot Gris 2011: The nose is a bit shy but eventually mild citrus notes evolve. In the mouth, there is good acidity and body with apple, citrus and hints of summer flowers. The finish is rounded and sustained
Pinot Grigio, Delle Venezie, IGT: From its beautiful pale straw color to its amazing crisp and lively taste of lemons, limes, peaches and melons, this light, dry wine is infinitely satisfying
The needed fixes:
We need table napkins! It is really unpleasant to use dozens of paper napkins throughout the meal. Please!
Some added attention to the cooking time of the pizza to make it less crunchy in the middle and less spongy on the sides
Just take a few steps up from the MarMikhael's street to discover SUD and its beautiful ambiance decorated with summer's finest colors that welcomes you for lunch and dinner. Orange, yellow, blue and beige in a garden of trees and stones. A lovely environment which acts as a perfect escape from the hustle and bustle of the city...