You won't understand why I am describing the new Royal Jordanian Business lounge, Crown Lounge, as 'breathtaking' unless you've actually experienced the old Jordanian airport. What you'll see now is something extraordinary, something I personally never expected to see at Queen Alia International Airport. Nestled on the first floor of the large terminal, the Royal Jordanian lounge with a nice view of the terminal, entices you to spend hours in its premises... Dozens of colors and sofa designs, tables, flowers, lanterns, TVs, food choices and bars will please any demanding traveler.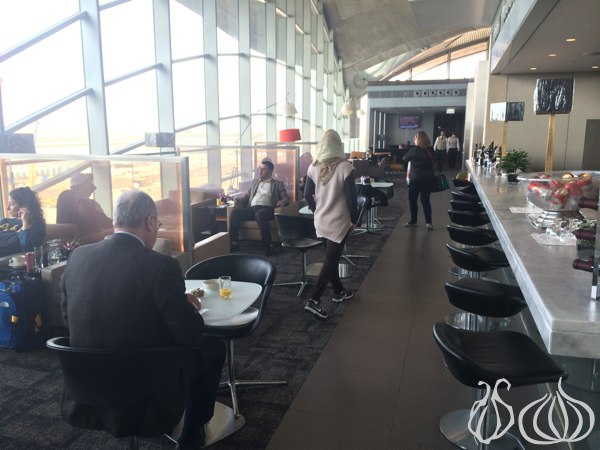 Whether you are looking to get some work done, grab a bite to eat, or simply sit back and relax, the lounge puts you in a great place both mentally and physically as you prepare to board. Take the elevator to the fourth floor to access the Crown Lounge immediately. To the left is the reception area - with a wall where many clocks are installed. Continue your way to the left where a fresh drinks station offers a selection of minted lemonade, grapefruit and orange juice. Here you'll find a relaxing heaven where only two coffee machines as well as a wine bar is available to serve guests.
Since its spacious you will also be able to enjoy showers, beds or children arenas on the left wing. The action on this side is less. I hear you saying, but where is the food... don't fret, food is served but on the other side of the lounge.
Pass the bridge and enter the right wing that welcomes you with its large and wide screen displaying a Royal Jordanian plane. Inside are more sofas and more intimate spaces as well as a long counter of food; tasty and fresh food.
Crown Lounge offers a wonderful, round-the-clock buffet serving the day's three main meals, an abundant supply of snacks, fruit, and desserts. Meals include options to suit each passenger's palate, Offering an assortment of hot and cold foods, and vegetable or meat dishes. All meals prepared for the lounge are healthy and nutritional, helping you feel good while you travel. Beverages include hot drinks such as specialty coffees and teas, and cold drinks such as mineral water and sodas. There is also a fully stocked bar staffed by a professional bartender available.
On the same side, you can watch TV privately in the many rooms designed to welcome one guest at a time.
Throughout Crown Lounge you can enjoy a trendy setting of chairs and loungers, and televisions broadcasting news and sports. Individual viewing stations equipped with TVs offering satellite channels and individual headsets are available for personal or small group use. The classy unit with a full selection of local and international magazines and newspapers is complimentary to all passengers in the lounge. I really enjoyed this place's little details:
The metallic and stainless walls that mixes glass and transparency
The beautiful table that welcomes you with floral declarations
While you walk through the lounge, you will enjoy the flowers
Violet, beige, brown, black, blue... The colors of the sofas are endless
The design of the sofas and chairs oozes a feel of an art gallery. There's a comfortable seating area for everyone - the business person , the sleepy person, the person with a backache...
The many corners constituting the space are separated by tinted glass
Two bars, one one each side, offer a large selection of wines and other alcohol beverages. The leather high stools and marble top makes you feel like you're lounging at a bar
All along the space, a thick carpet relaxes your feet
I was really impressed and I still am... An airport like this one with such a refined lounge will surely make me consider passing through it more often, especially during long distance flights.