The second World Food Safety Day (WFSD) is celebrated on 7 June 2020 to draw attention and inspire action to help prevent, detect and manage foodborne risks, contributing to food security, human health, economic prosperity, agriculture, market access, tourism and sustainable development. The United Nations has mandated two of its specialized agencies to lead efforts to improve food safety around the world, namely the Food and Agriculture Organization of the United Nations (FAO) and the World Health Organisation, which founded a the Codex Alimentarius. The Codex Alimentarius is a collection of internationally adopted food standards and related texts presented uniformly. These food standards and related texts aim at protecting consumers' health and ensuring fair practices in the food trade.
This year's theme of the World Food Safety day is "Food safety, everyone's business". This day is an opportunity to raise awareness and urge action by highlighting what everyone can do to ensure food safety (whether they grow, process, transport, store, distribute, sell, prepare, serve or consume food).!
For the second observance of WFSD, all stakeholders are invited to raise awareness about food safety and to highlight that everyone involved in food systems has a part to play. To combat ongoing changes in climate, global food production and supply systems that affect consumers, industry and the planet itself, everyone needs to consider food safety now and in the future. On this occasion, FAO and WHO have prepared an infographic highlighting the five steps everyone can take to keeping food safe.
Lebanon and Food safety
Lebanon has a multi-authority food safety system. Several years ago, the issue of food safety was on top of national priorities. Organized and systematic inspection and supervision began at all stages of food production from the field to the consumer. In the last ten years, there has been a qualitative shift in the various agricultural and food facilities in terms of adherence to international standards. To coordinate positions between all concerned, a National Committee for the Codex Alimentarius and a National Committee for Follow up on Food Safety Issues was formed, and in 2015 the Food Safety Law was issued.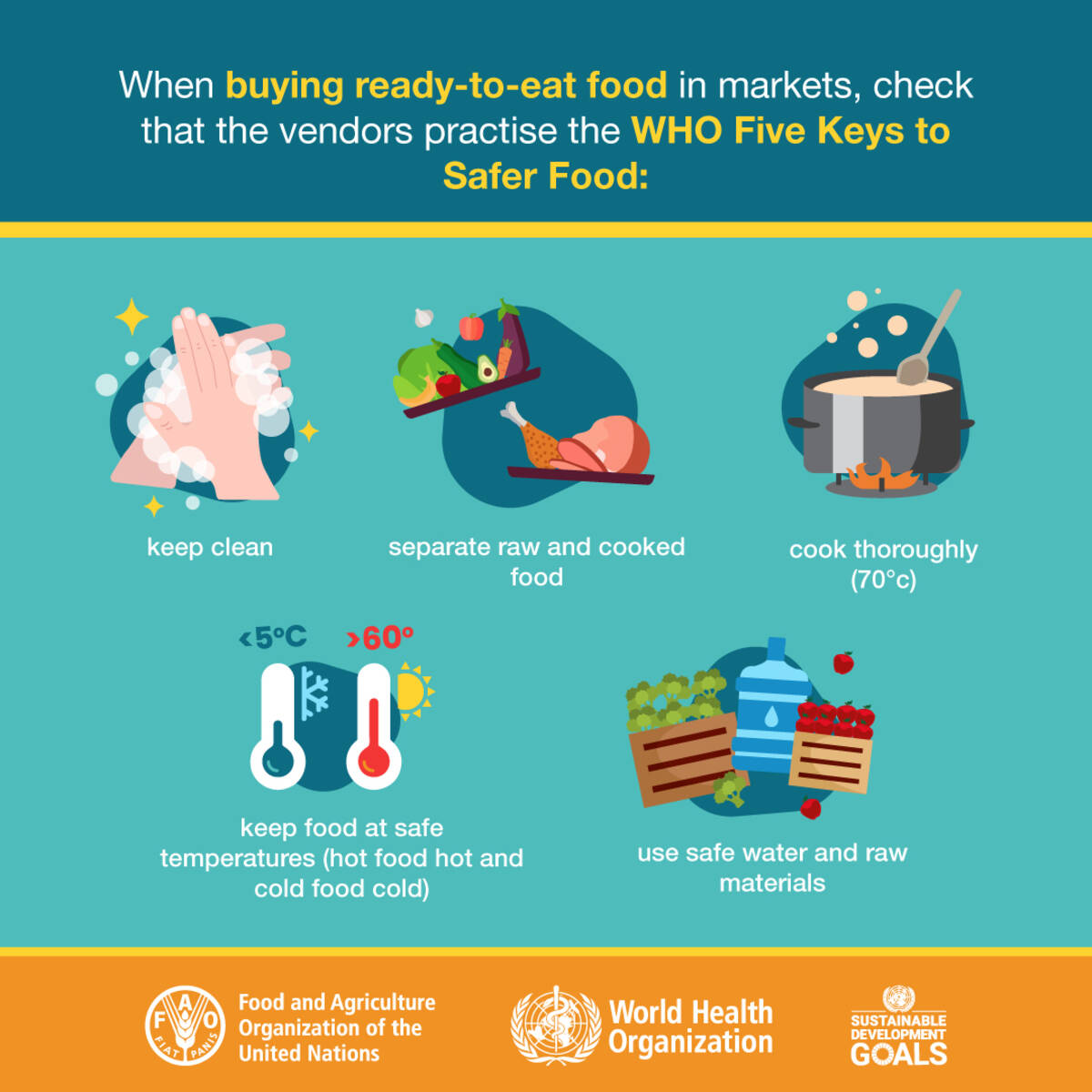 Also, Lebanon has been active in international and regional forums concerned with food safety and contributed to making its decisions.
Because food safety is a shared responsibility, communication between all stakeholders from the public sector, the private sector, and consumers is essential. Raising awareness requires efforts to make a difference in practices and to enhance confidence in national production and encourage its consumption.The World Food Safety Day is an opportunity to express appreciation to everyone who contributes to ensuring the safety of food, especially in light of the challenges the world is facing because of globalization and open markets, in addition to the repercussions of the Covid-19 pandemic.