The W, is a brand I love, a hotel I first visited five years ago when traveling to Istanbul. I love the colors and the vibes, the perfection of things and attention to details. Purple and pink neon lights, the W letter used as a decorative item, the colorful carpets, and innovative rooms. I'll be putting the W on my to-do list, trying to discover as many of their hotels around the world; they are scheduled to open 75 new hotels in 2018.
Upon the 28th is where I spent the night. The suite has a large circular bed, cupboards, a bar, a saloon, an ample bathroom with a relaxing bathtub, a working desk, large television and surely a view up from one hundred meters above sea level. Loaded with amenities, the room has it all! Mini bar and drinks, a coffee machine, all kinds of bathroom needs, a music station and a relaxing bed that can fit up to four persons.
Dinner on the 7th floor: Metal utensils dropping from the ceiling surrounded by individual lights, leather sofas set around square tables, two bars for drinks and live cooking with an open kitchen. I'm honestly not sure why the "W" would choose to have a Turkish restaurant on its main dining floor; hungry after a long day at work, I stopped for a bite.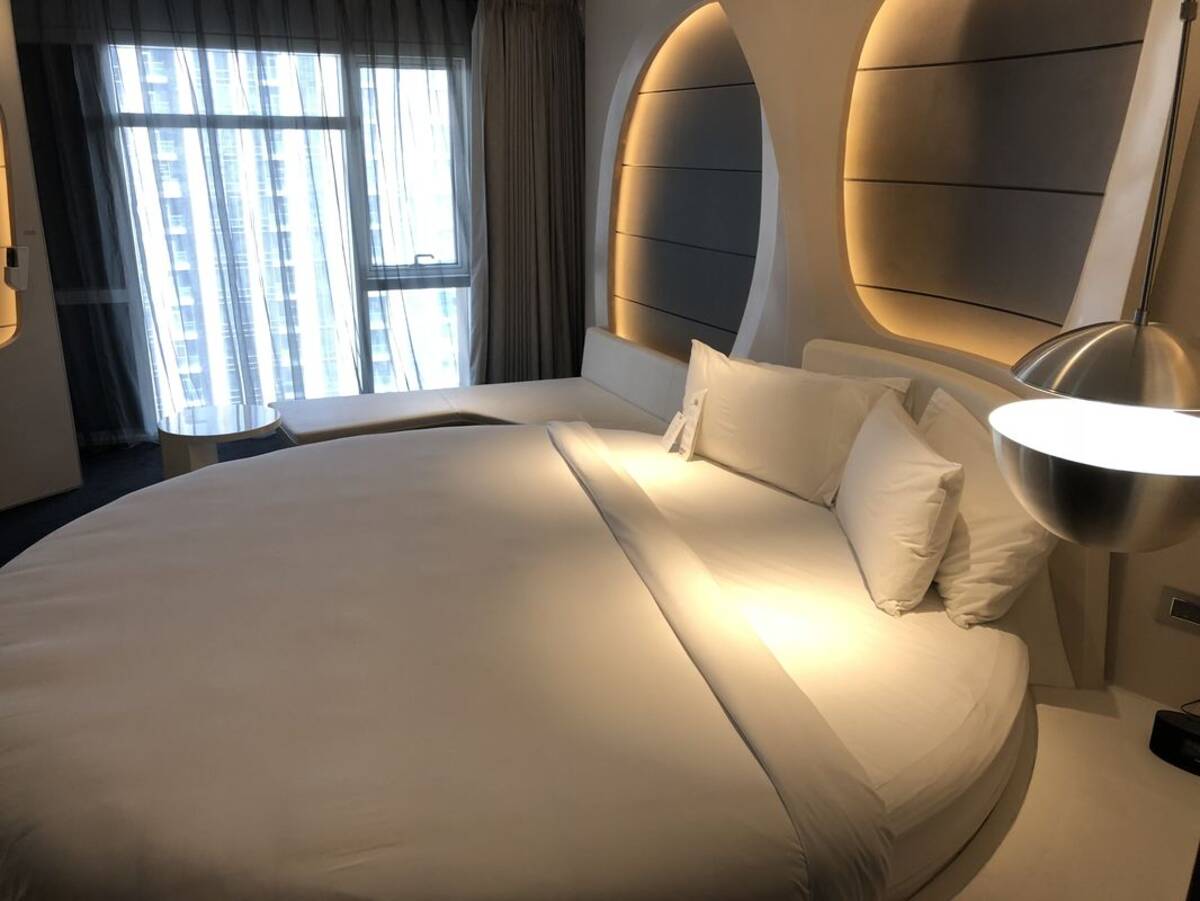 Buyu: The Turkish restaurant up on the 7th floor welcomes you for lunch and dinner. It's where breakfast is served, the restaurant transforms into something more dimmed, the music yet is loud, and the open kitchens are pumping action. Buyu opened last week, so the idea is to ask customers for a logo, write it, draw it and hope that you will win.
The menu is basic; four cold mezze, for hot mezze, two salads, two items from the oven and three desserts. Nothing grabbed my attention except the salads. Dinner starts with a complimentary tea and bread basket.
Diced tomatoes and cucumbers mixed with crunchy walnuts, peppers and pomegranate bits mixed in a sour pomegranate sauce. The other salad is simply made of lettuce, Arugula and mixed greens in a lemon sauce. The salads are tasty, made with love which is felt in every bite, but lacks a bit of creativity -in my opinion. For a restaurant proposing only two salads, I expected more innovation and surely a more significant portion.
I loved this hotel and adored the suite I was spending the night in; I didn't even want to leave! It feels so good around here! Check out the photos and probably book your next stay.