I can actually hear you saying, "ok here he goes again bashing MEA." Sorry to burst your bubble, and actually my bubble was burst, because the experience this time round was shockingly good. For the first time in a really long time, I travel to and from Paris, on board MEA business class with no complaints. The food, the service, the presentation, the neatness, the politeness... was I really on an MEA flight... Yes the hostesses were super sweet and gentle... Yes, believe it or not...
Last week, on my way to Paris, I had the chance to spend half the flight time in the cockpit and enjoyed a truly good breakfast and on my way back, the whole experience was terrific, close to perfect to be honest. I had 14 articles to write on my way back to Lebanon after a long week in Paris that involved a lot of food discoveries. I honestly couldn't but stop what I had scheduled to write, to actually share my positive experience on board MEA.
Flying to Paris on board MEA's business class, the breakfast prepared by the Lebanese kitchen was excellent. A tasty knefe, which is one of my favorites, delicious eggs and a large variety of cheese, tasty labneh, ending the experience with a double Nespresso. The staff was calm, smiling and professional. I was amazed to an extent I thought, let me not get too carried away, it's probably a coincidence.
As I'm writing this article, we're almost half way to Beirut and the details of this flight are bizarrely perfect. I ordered the marinated shrimps with mango followed by the panfried beef filet with mustard sauce served with wild rice. Both were exquisite. The shrimps are perfectly presented with a tasty sweet dressing. As for the main dish, a juicy soft meat served with aldente rice and steamed moist vegetables. Honestly: WOW!
I was seated on the last raw in business class so unfortunately the salmon choice for lunch were finished when my turn came. The hostess, with a smile, approached me and said: "I'm sorry for the inconvenience sir, we only have shrimps left, please let me know which main dish you would like to have so I secure a portion for you. You don't deserve to be saddened twice". Unbelievable! Am I hearing properly? Am I really on board MEA?
With the meat plate, Amora mustard was served on the side like they do in fine dining restaurants.
To accompany my meal, a choice of two white wines and two red wines were suggested, I chose Karam's winery Cloud9 which is one of my favorite whites from Lebanon.
A movie, a pleasant cabin temperature, a clean pillow and most importantly a cashmere feel blanket ... mixed with professional service and tasty food is all you need to make your flight positively memorable.
The improvements are incredibly obvious. Everything I used to nag about has been fixed and the hostesses seem to be fully trained like you would expect them to be. Bravo.
It was now time for what comes after lunch. We had a choice of coffee, dessert, ice cream sorbet or cheese. I wish I could order them all but I was embarrassed to. My choice fell on dessert, a coffee mousse cake that looks mouthwatering and actually tastes great as well. My wife who ordered the cheese enjoyed its freshness served with crackers or fresh bread. Yes, believe me, the bread is fresh and tender.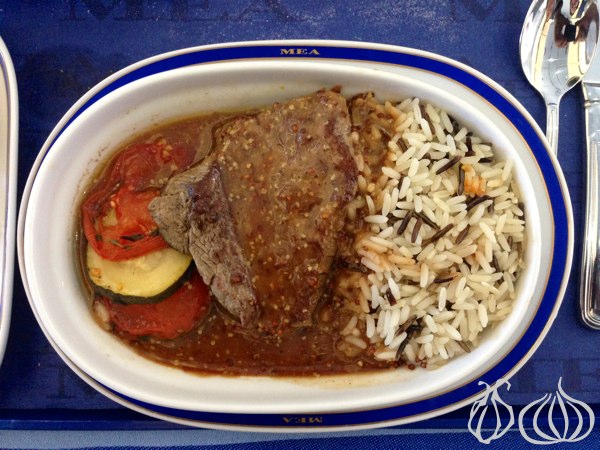 After dessert, it was sorbet time. Raspberry and milk. Delicious! Followed by a nice, hot and tasty cup of Nespresso.
But I still stick to my guards when I say please change the horrendous uniforms the hostesses wear.
I enjoyed my time to the maximum. We should be proud...