Some say the food experience and taste vary between Tsunami in Antelias and Tsunami in Achrafieh, to those I say, I had the same experience at both locations - same food, same quality, same freshness and same generosity. It was excellent. Should I try the Kaslik branch as well to confirm Tsunami's good food quality?
The place described:
Tsunami is a a small cozy place nestled in the heart of Achrafieh, just a few meters away from ABC
There's a general relaxing feel of the place with the use of light wood and light blue colors
The ceiling is half decorated with wood poles and the other is painted in white
The walls are covered with the same light wood:

Japanese faces and portraits decorate them

In the middle of the restaurant is the main bar where pieces are rolled in front of the customer. A dozen of high stools surround it
Paper placemats on all tables are nice with wave images printed on them, as well as a description about Tsunami
Porcelain plates with two glasses are set in front of each guest along ashtrays and a set of soy sauce
The secret to their success is generosity: Dinner started with generously filled glasses of ice while we waited for the salads. Yes, I'm simply mentioning the ice hear cause almost all restaurants in town have started offering two cubes with a minuscule slice of lemon. Everything is generous, the portions, the sizes, the fish quantity... We ordered the same salads we tried in Antelias and enjoyed them to the last piece.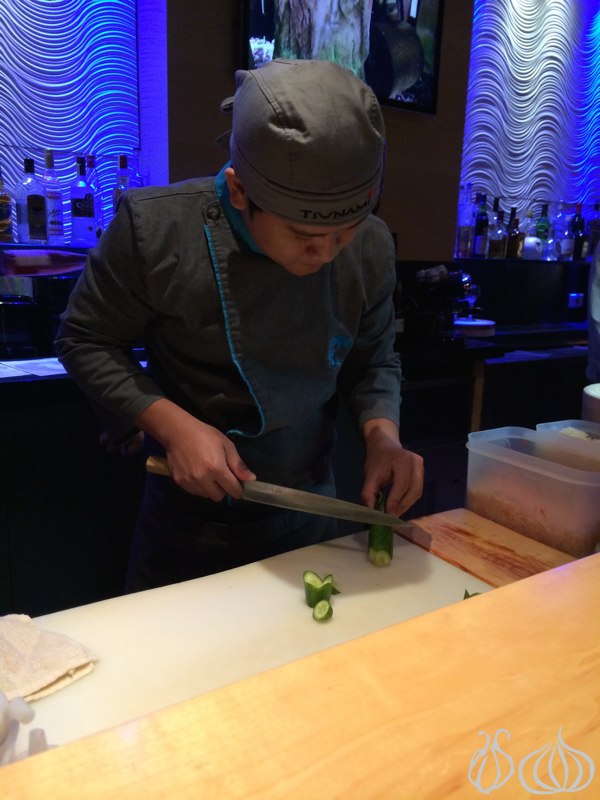 Food offerings at Tsunami include standards sushi rolls, nigiri, sashimi, fresh Japanese tempura, and teriaki dishes, Tsunami also offers delicious Asian-inspired specials every day of the week, ranging from chicken to beef to shrimp. A bowl full of taste, starting with the bottom part with crab sticks, topped with a generous portion of salmon cubes mixed with light mayo sauce blended with fresh crisps. No cabbage, no lettuce just fish served at perfect temperature. Excellent!
The second salad, my wife's favorite, is a mix of vegetables topped with crab sticks. Simple, fresh and tasty... As for the rolls, all were great: The shrimps and bananas served warm are an innovative and exquisite creation. We also enjoyed the beef sushi rolls; Premium tender meat rolled with crispy vegetables. It is interesting to try. We enjoyed many pieces which all included perfectly cooked rice, premium ingredients, tasty fish, crispy crisps... large rolls that were all tasty.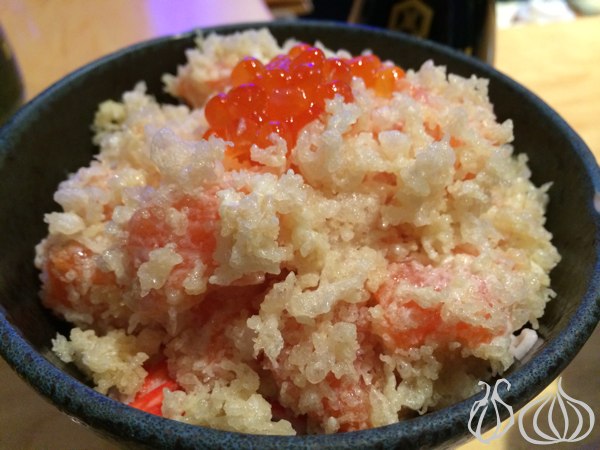 I love the Temakis at Tsunami.
How nice it is to sit at the bar and watch the sushi masters create beautiful pieces of rolls. Every piece was meticulously prepared according to client's orders and finished like an art sculpture. What caught my attention is the fruits covered makis. Banana and strawberries, which add an interesting touch of sweetness to the rolls; Innovative and tasty.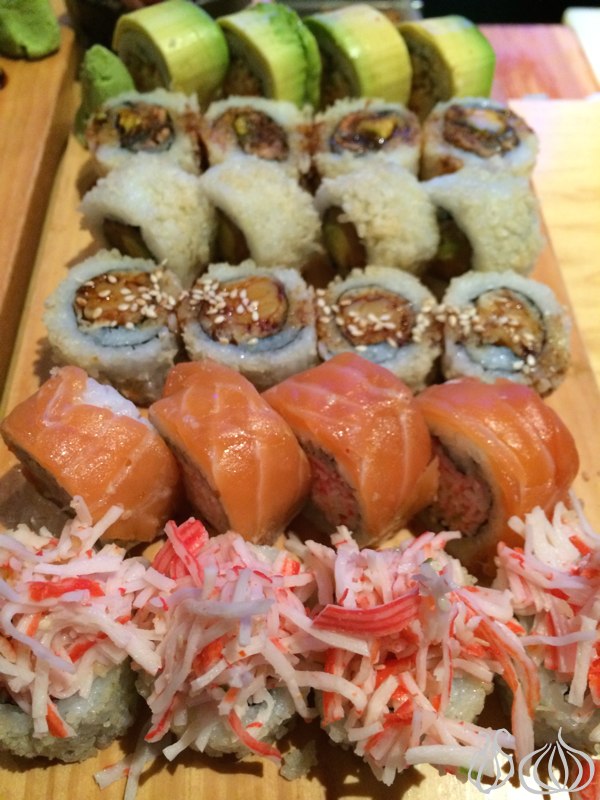 I'll improve to make the place perfect:
Eliminate the green plastic leaves from the plates
The loud music mixed with the place's ambiance is too much to absorb. Change or get rid of the music
The staff should learn to smile more
Take into consideration the AC's at the bar. You need to find a solution or else guests will leave with a migraine and back/shoulder pain for sure
For $100, my wife and I enjoyed a fulfilling and tasty dinner and agreed to repeat it at least once a month. Thank you for your generosity and professionalism.