Two years have passed since I last published my TOP10 Japanese restaurants in Lebanon and Tsunami was not part of it. To tell you the truth, I have avoided Tsunami for some time now; I encountered two disastrous delivery experiences. After finally taking the step into this Japanese hot spot, I apologize for taking the time to do so. I enjoyed a unique experience of fresh and tasty Japanese food that is much needed in the region.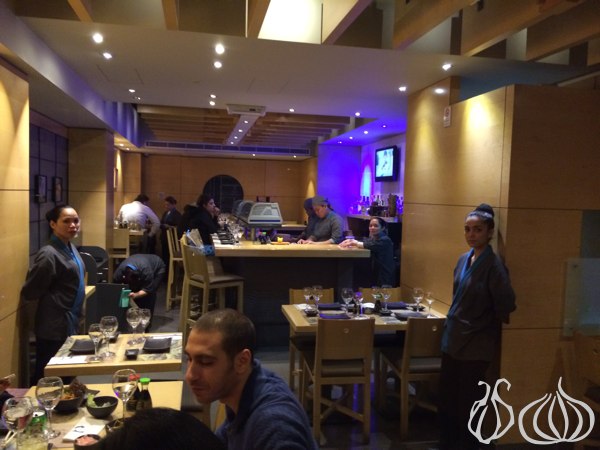 It was 8:30pm when my wife and I reached Tsunami Antelias, where we were welcomed to sit wherever we wanted. Despite the fact that the manager was playing some war games on the accounting PC, the staff was welcoming and attentive.
Tsunami
fisrt opened in 2002 in Kfardebian, followed by 3 other locations across the Lebanese coast. The secret of the expansion lies behind a simple fact: good food quality, great taste at reasonable prices.
Food offerings at Tsunami include standards sushi rolls, nigiri, sashimi, fresh Japanese tempura, and teriaki dishes, Tsunami also offers delicious Asian-inspired specials every day of the week, ranging from chicken to beef to shrimp.
The place described:
Tsunami is a a small cozy place nestled in the heart of Antelias, just a few meters away from O&C
There's a general relaxing feel of the place with the use of light wood and light blue colors
The ceiling is half decorated with wood poles and the other is painted in white
The walls are covered with the same light wood as well as grey tiles
Japanese faces and portraits decorate the walls
In the middle of the restaurant is the main bar where pieces are rolled in front of the customer. A dozen of high stools surround it
Choose to sit on the low tables or the high ones that can host two guests
Paper placemats on all tables are nice with wave images printed on them, as well as a description about Tsunami
Porcelain plates with two glasses are set in front of each guest along ashtrays and a set of soy sauce
On the menu:
Soup
Side Orders
Hot Food
Salads
Sashimi
Sushi
Hoso Maki
Futo Maki
Gunkan
Ura Maki
Temaki
Set Menus
Drinks, Wines and Spirits
We enjoyed a superb dinner:
I started with the Ocean Dream salad: A generous portion of salmon, crisps and crab sticks filled to top. No cabbage and no lettuce just a rich portion of fish full of taste and flavors. A great first impression. My wife, on another hand, tried the Pacific Storm with crab sticks mixed with cucumbers and carrots. This is a meal of its own. I don't recommend that you order one salad per person although they are superb. Share and leave some space for the main course. Two addictive salads, I couldn't but finish.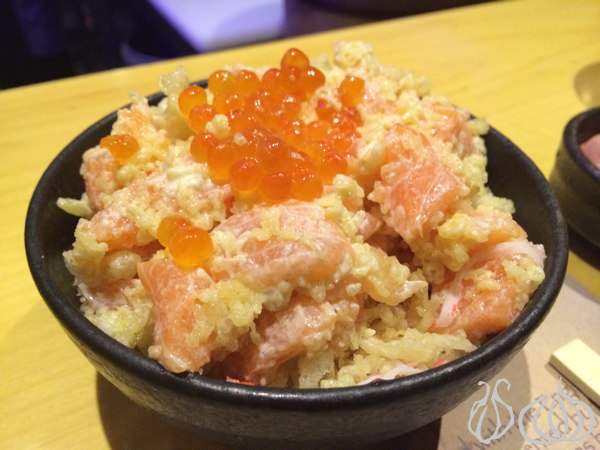 Rainbow Temaki followed. It was the first time I eat temaki wrapped in a pink envelop. Soya beans paper wrapped around a generous portion of spicy salmon. Just add a hint of soy sauce and enjoy. Exceptional!
Afterwards, I went for the Squid Temaki. A slight enjoyable chewiness of the fine filling after crunching the fresh nori. Every ingredient is mastered to perfection. Bravo, bravo, bravo.
As for the pieces ordered, without going into too many details, the fish is fresh, the crisps are crispy and the nori crunchy. As for the rice, premium quality is cooked to perfection.
I can't but tell you about the Tasty Shrimp. As the name suggests, tasty it is. A large piece served warm, covered with fine sauce and decorated with cashew nuts. Mango, cucumbers, crab sticks and a shrimp cover. Exceptional!
The Salmon Skin is served with crispy bits and sweet sauce... Outstanding!
The pluses:
Everything I had was pure. Pure and rich flavors which I enjoyed without soy sauce.
The rice used is exceptional
The prices are affordable and reasonable
The minuses:
I think that the restaurant is overstaffed: They all stand and stare at you while you eat in peace. It's uncomfortable to say the least
I personally loved and enjoyed my experience at Tsunami. We paid $55 per person and left fulfilled with joy and enjoyable ingredients. I will be trying the Achrafieh and Kaslik branches soon to make sure all locations serve the same premium quality and tasty food.