We just won the Best Blog About Beirut! This is the indeed the best Christmas gift one could ask for. I'm overwhelmed with joy - knowing that people out there love, read and have voted for NGNO as the Best Blog About Beirut in a people's choice award on Time Out's Beirut's Best of 2013. It truly means the world to me. You can't imagine how emotional I got when "nogarlicnoonions" was called out as the winner. I thank you, each and every one of you who took the time to vote for NGNO. I can't thank you enough...
Without your on going support, messages and feedback we would not have reached where we are today.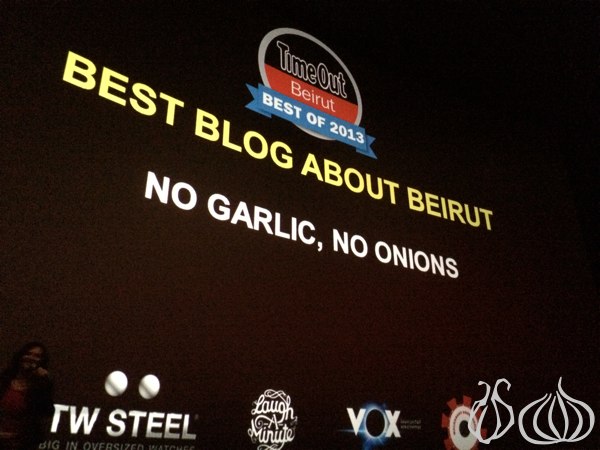 A new year is around the corner and with it comes bigger plans and more surprises and this award gives me that extra boost. 2014 is going to be an outstanding year... Congratulations to all the nominees and all the winners in different categories. Thank you Time Out Beirut for this wonderful opportunity… Keep up the great work.
The finalists:
Winners:
Best Art Space: Beirut Art Center
Best Gym: Fitness Zone
Best Coffee Spot: Dunkin' Donuts
Best Blog About Beirut: NoGarlicNoOnions
Best Cinema: Vox Cinemas
Best Nightlife Street: Uruguay Street
Best Super Store: Spinneys
Best Family Hangout: KidzMondo
Best Green Initiative: Beirut Green Project
Best Drive Time Radio: Virgin Radio
Official Sponsors:
VOX Cinemas
Laugh a Minute Photography
TW Steel Watches
Walkabout Drum Circle