I am happy every time I see a bottle of Zejd Olive Oil being used at a restaurant. If you read my reviews, you will notice that I always mention this brand whenever I see it. Zejd Olive Oil recently opened their first shop in Ashrafieh. Grabbing my camera, I decided to check out what's hidden behind the metallic grey and glass facade and wanted to learn more about the details that go into the manufacturing details...
I was welcomed by Youssef Fares, the man behind this great brand. For those of you who don't know Zejd Olive Oil, it's actually the only or one of the few Extra Virgin Olive Oils in Lebanon produced in a real authentic way with no additives. Zejd actually means olive oil in ancient Phoenician language. A name highlights the rich historical background of olive oil on our lands. In the past, Fares's great grandparents started the business of olive oil. But the family tradition did not continue. "If they had, I would be the fifth generation of olive oil producers today. So, taking the initiative to bring back this old tradition to the family, I decided to travel abroad and learn the real meaning of "Green Gold", Youssef explains.
A developed machine now replaces the stone mills; vestiges from the family and this business that started back in 1922.
And this is how the story all began...
After graduating as an Agriculture Engineer from the University of Kaslik, Youssef traveled to France to continue his studies followed by a trip to Italy to acquire new machines. He discovered over there that things are much more complicated than he had anticipated. He moved from one region to another, a long journey was beginning until he stopped in Florence one of the most developed regions in that field. In June of 2004, the first machine was installed in Beaino, Aakar, Lebanon, the natal region of the Fares family where the production started in October of the same year. Where the machine is today, a large piece of stone which used to be pushed by donkeys was discovered. Vestiges from the family and this business that started back in 1922. In 2004, Youssef started selling oil in bulk to companies before even creating the brand or the name. 2005 was the big year, the year of expansion. Restaurants started to buy Youssef's oil in aluminum containers and showed appreciation for its content. The difference in taste was clear. In 2006 the brand Zejd was created. "Inspired by France and their wines, we wanted to create a name that reflects a high-end product with an additional plus, not found before in Lebanon. I wanted a name that reflects the knowhow and the prestige of our produces," Youssef proudly tells me. Although the brand was in its early days, Youssef pursued his travels to Italy where he got a diploma in olive oil tasting in 2008 and another in Head of Panel in 2009.
Good to know: "Olive oil" is cheap and needs a lot of cleaning and chemical additives before it becomes edible. "Extra virgin" is the needed plus to make the olive oil edible. How is Extra virgin olive oil produced:
The countdown starts the minute the olives are handpicked, and handpicked only
Never beat the tree as it will splash the olives. Cracking the olives open is very bad. It starts the fermentation process
Oxygen should not enter the olives
Technically it means that the olives should be handpicked, cleaned, put in boxes (not in bags), and immediately taken to the press (within 30 minutes)
Cold pressed on the spot with stainless steel press using the minimal quantity of water
Oil is kept in stainless steel containers
These steps should all be respected
Interesting to know:
Never use bags to transport olives. They become more vulnerable to crushing
Never crush olives or use crushed olives for the production of olive oil
Oxygen should not enter the olive as fermentation starts. It will reduce quality and taste
Stored olives should be far from humidity
Don't use steel to avoid oxidation
Using too much water will remove the beneficial antioxidants
If you have good olives, you will make good olive oil but you can never turn something bad into good...
How much does oil last in the bottle: No answer can be given here. Good oil preserved adequately can last a long time; bad oil on the other hand won't last for more than few months.
Zejd oil is sold at the same price as the competition on the market with better quality. The world green gold can be applied. Few of the Shops selling Zejd:
Aziz
Black Pepper
Organic shops around town
Olive Tree
Some of the Restaurants that serve Zejd: Cafe Diem, Casper & Gambini's, Le Gray, Guilt, The Gathering, Tawlet, KitchenLab, Le Maillon, Talleyrand, La Table Fin and many others as well as the most famous catering companies in Lebanon Did you know: All olives are green, maturation turns them into black "Zeintoun 7add" its a better product produced with green olives before they turn black.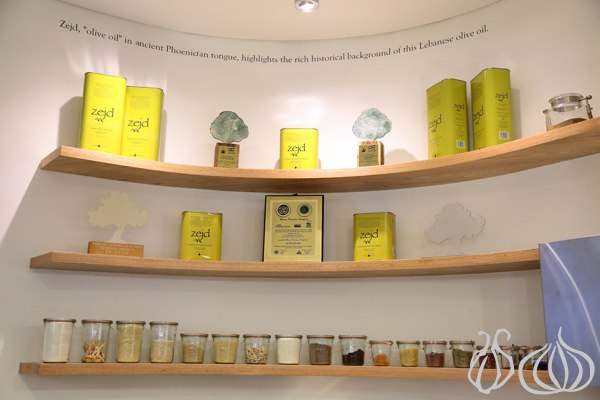 How do you recognize extra virgin olive oil: "Smell and taste only"
Color is never criteria. TO avoid prejudgements, taste your oil in a colored cup
Color, texture includes water or not are psychological criteria but not good to look at the quality
Recognize the smell you have in oil, freshness, forest. Good smells
You don't want a smell of rotten eggs, moisture, fermentation, alcohol, blue cheese
If you don't smell anything negative, you are half way there
Taste it, put it on the tongue and find if its bitter or not. It should be bitter
Should pick the throat (poliphenol)
Take air from the mouth and exhale from the nose
The acidity should be less than 0.8
The peroxide less than 20
Olive Oil is different from wine. It should be freshly produced and freshly consumed
Hours have passed discussing the interesting details of olive oil. The new store created by Tania Bou Raad, Youssef's girlfriend, is something worth highlighting...
The place described:
The place is filled with handpicked design items - each item has meaning related to olive oil
Before entering, the Olive Trade logo, the mother company is carved on the door's handle
Grey tiles and white ceiling cover all the space
Light green, white, grey and light wooden are all the colors used around here
In the middle of the shop, high tables of olive wood veneer are imported from Spain
Grey metal adds purity to the original dark coloring of the bottles
Water base paint is used everywhere to the be the closest to an eco friendly shop
A beautiful display all around the place in a relaxing ambiance
The idea was to create a contemporary feel by artisan people coming down from the village keeping this authentic feeling
The display shelves were inspired from straw cupboards (namliyye)
Led lights, consume less electricity
Four glass chandeliers that were originally flee traps decorate the glass facade and three others light the olive bar
If you flip the tables you'll discover boxes
Five square modular tables where olive oil soaps are displayed
An old olive oil barrel welcomes you before entering the shop
The wall is the base of the shop where artisanal metal rings hold the bottles to the wall
Bottles hung on a white wall, simplicity where all the products are shown in a simple way for everyone to understand
Grip free cupboards making things look minimalistic
A mini developed kitchen welcomes guests for tastings
Live stock is displayed everywhere
An olive bar sells the varieties available around town with others imported from italy
An oil filing station to the right with four stainless steel containers and another three that can be bought to preserve olive oil at home
A TV on the wall facing the entrance behind the kitchen
Zejd is divided into four distinct lines: Premium, Bio, Apero, Fusion What does the shop sell:
Paired products (tapenade, olives, oils with additional ingredients)
Olive derivative products (pitted olives, stuffed olives, tapenade, olive oil, infused oils, organic products, cold produced soap, fusion products that can be paired with olives, gift boxes, accessories from Berard and Prepara, books and ecological friendly wood)
Desserts: Pitted olives, caramelized, wrapped in chocolate
The different infused oil choices:
Oregano infused oil
Rosemary infused oil
Mint infused oil
Sage infused oil
Basil infused oil
Lavender infused oil
Balsamic infused oil
Chili infused oil
Pomegranate infused oil
Lemon infused oil
Orange infused oil
Garlic infused oil
Vanilla infused oil
The Zejd factory is ecological friendly factory with zero waste. Water is treated to irrigate and husk is dried and compacted into olive wood logs
Different olives sold at the olive bar:
Kalamata (black)
Picholine (green)
Ascolana (green)
Grossa D'espagna (green)
Manzanila (green)
The local variety (green)
Now you know a thing or two about olive oil... Be aware that not all olive oil in Lebanon are even comestible. All you have to do is head down to Zejd store to taste and understand the reality of things for yourself.