It's a beautiful day out there… Let's start enjoying it early with a delicious bite somewhere around town… where to go?
Scouting the country from North to South … From Beirut city to the Metn area and way beyond… I have tasted and enjoyed dozens of breakfast spots.
Come join me for a hefty breakfast…
The Breakfast Buffet at Al Mandaloun Dbayeh

How amazing it is to start your day on a positive note. Fresh vibes with some jazz music playing in the background will guarantee a smile on your face. The Mandaloun cafe, nestled in Dbayeh's internal road is a restaurant I like. Breakfast is served on a daily basis, from 8am until 11am. A reasonably priced formula that offers a large selection of continental items from the oriental and occidental regions.
At the buffet, you'll find a generous choice of Bread, Ham, Cheese, Labneh, light Labneh, Olives, Cold Cuts, Croissants, Viennoiseries, Chocolat muffins, White muffins, Chocolat sticks, Raisin rolls, Cereals, Mini manakich, Mini cheese loaf, Nutella, Salami cheese sandwich, Turkey cheese sandwich, Labneh sandwich, Cheese crackers, Honey, Strawberry jam, Apricot jam, Cinnamon rolls, Cakes, Babybel cheese, butter, Vegetables, Goat cheese, Exotic fruits. Four different stations hosting bread on one, coffee and tea on the second, desserts on the third and cereals on the fourth all organized around the main island… and more and with that a choice of scrambled eggs or omelet at no additional cost.
Baguette&Co: A Recommended Breakfast in Metn
This morning we came for breakfast. The new menu is a leather book with a couple of pages illustrated with mouthwatering photos of food. Open the first page to see a page of white and blue stripes, a touch of America in Lebanon.
Benedictine: Two pain de campagne, Kaye's one on the other and stuffed with sautéed spinach and an egg, topped with béchamel sauce and a slice of salmon. A delicious breakfast I would come back for again and again. A poached egg spilling its yolk around the place in a sandwich that has a crunchy border and a warm, tender heart. A light crunch, juiciness and the spinach extravaganza. I enjoyed the egg, quality of the salmon, the tenderness of the spinach and the sauce, the was mix well peppered and salted.
The Food Dealer: A New Tasty Experience in Lebanon
We can enjoy the Deli experience in Lebanon… walk with me into the Food Dealer…
Sunny Side Up eggs served on toasted pain de champagne. Fresh, aromatic and covered with salt and pepper. Very tasty but what was even better and worth talking about are their super crispy like slices of bacon slices. The Turkey Sandwich is a load of freshly cut turkey, a toasted bun that's so crispy and a generous portion of melted cheddar. That's so good and even better with the mustard that comes with it. Two slices of dried tomatoes add a touch of finesse. The Bacon Quiche: Enjoy a crispy crunchy border that is like a cookie, with rich filling of superb goat Labneh served with a hint of olive oil, slices of tomatoes and Zaatar, authentic Zaatar. The Labneh has a feeling of lightness. Served with slices of toasted bread, this Labneh made my day. This is the Labneh from Jezzine. The presentation is superb. Portions are served on wood cutting boards with salad, olives or sauces. Food is great.
Fresh... and Healthy for a Guilt-Free Morning
Welcome to the world of Fresh. White, light green and colorful posters take over this well lit space, which is fitted with four squared tables and a wooden bar overlooking the main street. On the menu, displayed on four screens, are the wraps, panini and salads, the life smoothies, squeezes and 100% pure juices, crepes and espresso, as well as the healthy breakfast selection; behind the bar, three employees wearing hair nets, prepare the orders.
A journey of taste... Guilt-free: The Good Morning crepe. A triangular-shaped crepe filled with eggs, cheddar cheese, green peppers and mushrooms. Before even tasting it, its look and aromatic freshness open up your appetite. A thick, yet crunchy dough, slightly and adequately sweet, loaded with melting cheese that adds a bit of oiliness, moist scrambled eggs and a crunch, provided by the pepper.
The Early Bird is even better than the crepe! A green wrap, rolled around eggs, turkey bacon, mozzarella cheese, tomatoes, spinach and fat-free mayo. Yummy! The wrap is thin and not chewy, with just enough mayonnaise for a juicy heart, the crunch of the spinach, beautiful leaves of fresh spinach, and the core where the eggs and tomatoes lay one on top of one another in style.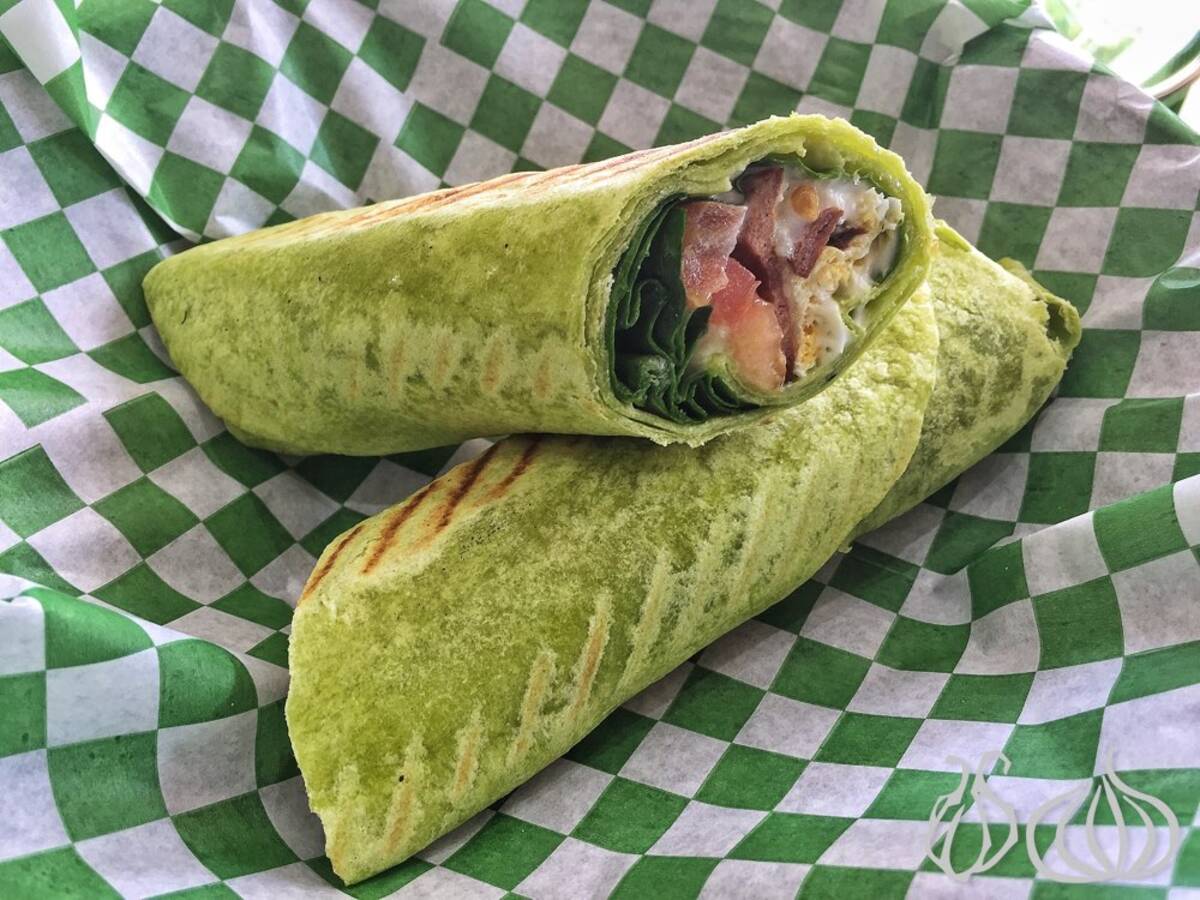 Al Falamanki: One of Beirut's Wealthiest Local Breakfasts
When you talk about good food, a pleasant ambiance, a garden in the heart of the capital and innovative creations…Al Falamanki will come to mind.
Dreaming of a hefty, rich and fulfilling Lebanese breakfast, Al Falamanki was the perfect choice. Welcomed by a professional staff that has been working here since the day they opened, I went directly to my favorite corner, the one under the TV along the main wall. Labneh, halloum and a choice of manakish accompanied by a cup of mint tea. As we ordered, a basket of bread landed on our table containing a bag of Lebanese bread and another of the thick brown markouk that I simply adore; with Labneh, it's the perfect combination. With that, a bottle of olive oil, salt- and peppershakers and a sugar dispenser I last saw at our friends up the mountains. You can't but appreciate the ambiance. A fresh air-conditioned space, a light breeze dancing around the trees, sunny spells caressing the tables, a rustic anterior lacking any pretense around a spirit of relaxation, where you feel the country waking up slowly and smoothly.
My favorite is the Grilled halloum or halloumi steak: This dish consists of a round piece of cheese, grilled to perfection and served with two whole jammed figs with their sugar syrup fig-flavored sauce. Imagine the saltiness of the white cheese mixed with the sweetness of the figs all coming together in one bite wrapped in that wonderful bread.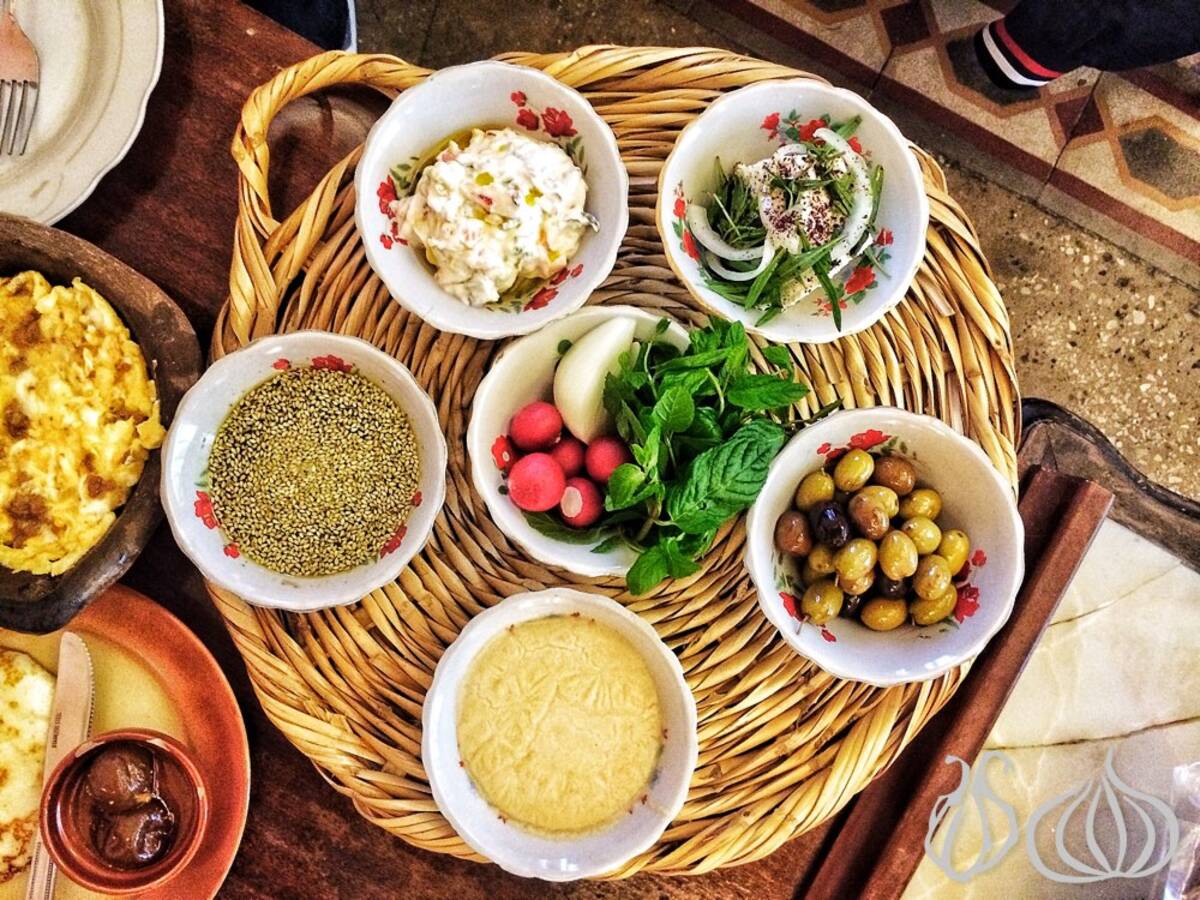 If you're driving on the Zalka highway, on your way to Jounieh, you can't but notice Crepico. In blue and bright colors, Crepico has taken the highway by storm. Although it looks a bit commercial, this dessert parlor is not what you would expect...
With a new funky approach, a French touch, and a light blue wood facade, Crepico welcomes you in. Inside is a blend of new and old, modern and fresh with green old style tiles, white brick walls and windows that might overlook the streets of Paris. Very bright and relaxing, the ambiance makes you want to order everything. Smooth music plays in the background under a brightly lit ceiling. The right wall is beige, the left houses the windows, with light wooden stairs to the upper floor. I can't get enough of the decor. The wooden alley, the bar overlooking the highway, the ice cream parlor, the cake fridge, the plants, the street style lanterns... I'm a fan.
The pancakes are the finest I've had in Lebanon to date. Amazing, thick pancakes cooked in a mold, pancakes without borders, fluffy like a sponge, airy and tender. Two thick pancakes stacked one on top of the other filled with a layer of melted marshmallows in the middle and decorated with more marshmallows on top before they add the homemade Callebaut chocolate. Amazing, really amazing. Melted marshmallows, fluffy pancakes and some decent chocolate creating a colorful explosion of happiness. Impressed, I was!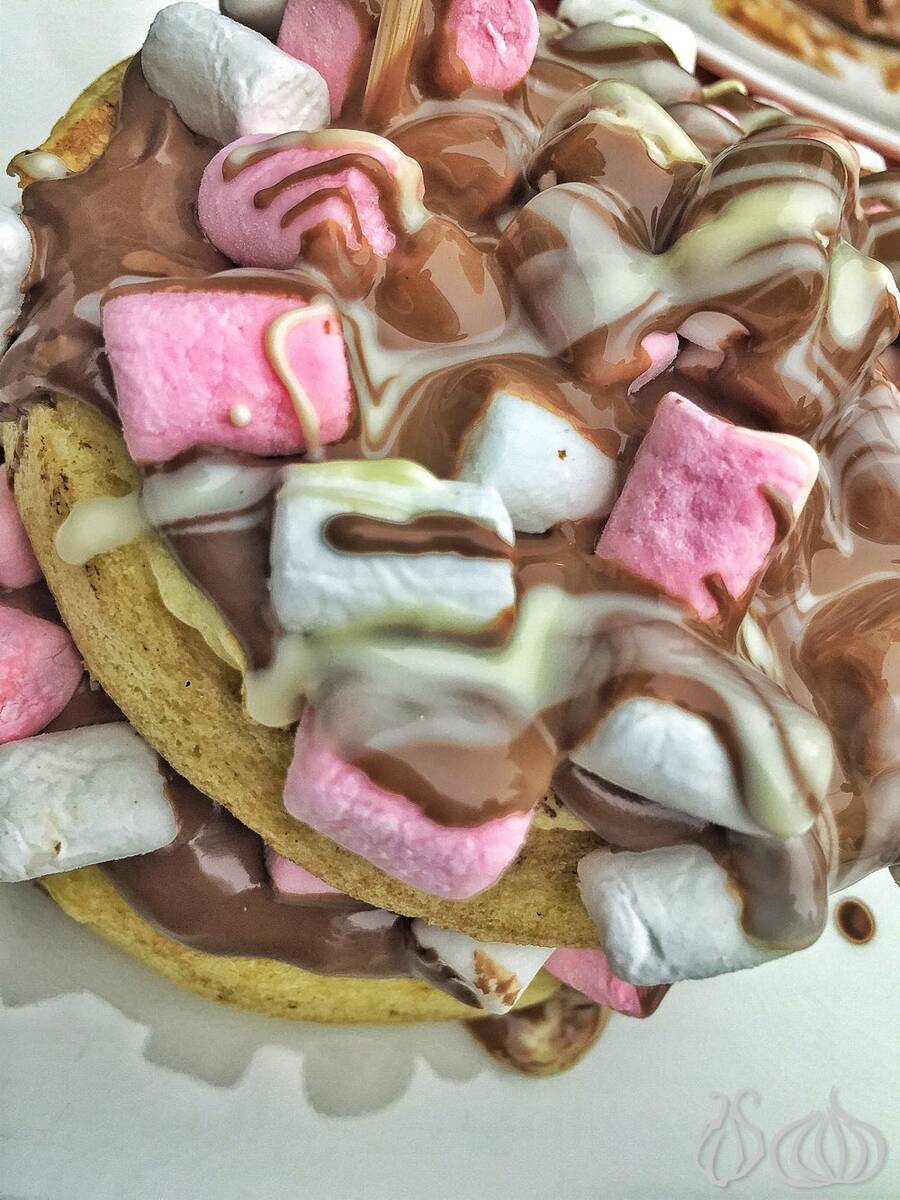 The Beazbee: A Flavorful, Cozy Breakfast
The white purity, the red fabrics, the champagne bottles, the imprinted logos, the light breeze of air, the sunny spells... The English spirit. Welcome to Beazbee. Walk into the small café enjoy little knickknacks are placed around - cookies, cigars, and chocolate boxes and champagne among other things. A prominent glass fridge displays mouthwatering creations including bagels, cakes, sandwiches, cookies and freshly squeezed drinks.
It was one of the few times where I am left confused with the menu, a dozen choices which I wished I could try. I stood, speechless, asking myself if it would be better to try the sweet choices, the eggs or the sandwiches, or maybe the healthy part, or let's say the viennoiseries?
Sunny side up Croque Monsieur served on a square plate. Square bread with ham and cheese in the middle topped with more yellow cheese and decorated with a sunny side up egg. Thin slices of bread, slightly toasted, and filled with melted Emmental and good quality ham as well as an egg. I loved the juiciness of this sandwich that offers a light faded sweetness with rich ingredients. Next to that are sautéed mushrooms and cherry tomatoes, perfectly mixed with salt and pepper that tickles your taste buds. Fresh greens and potato wedges, each ingredient is mastered to perfection. The potato wedges look different and taste great. Bravo!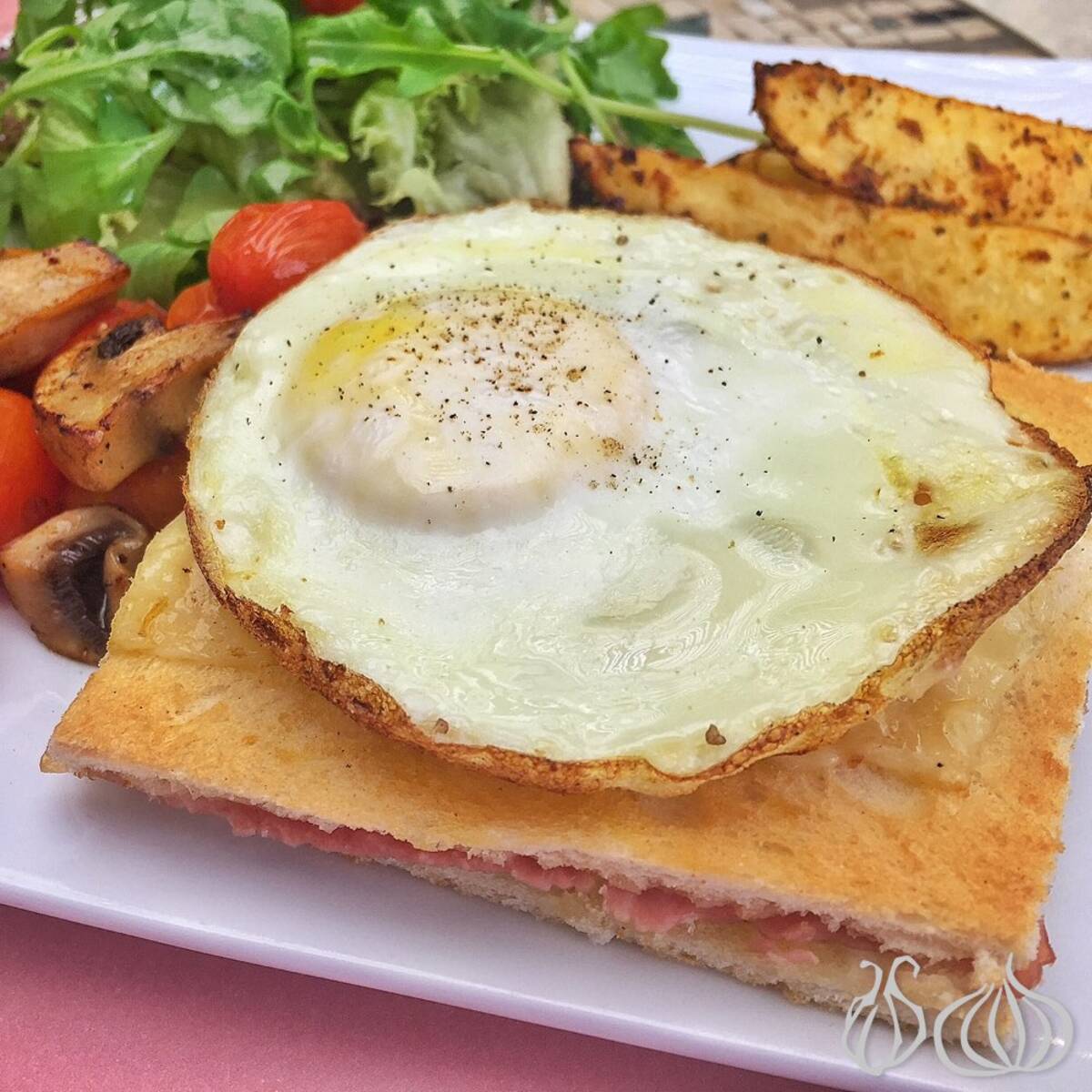 Urbanista: Let's Enjoy Some Urban Bliss
I always enjoy Urbanista's vibes and good food. Try their Bliss location and enjoy the students' buzz.
Here are a few things I think you should try. Pancakes served with strawberry coulis, Nutella and maple syrup: Though thinner than I expected, these pancakes are tasty as well as the sauces that come with them. Scrambled eggs with mushrooms, parsley and tomatoes: A thick layer of eggs mixed with vegetables and well cooked. Salted and peppered in style, they are enjoyable, served with plates of fresh vegetables. It's not as easy as you think to create perfect eggs. Those should be moist without being undercooked, well seasoned without an overdose and shiny without being dried out. Urbanista manages to offer a fine quality.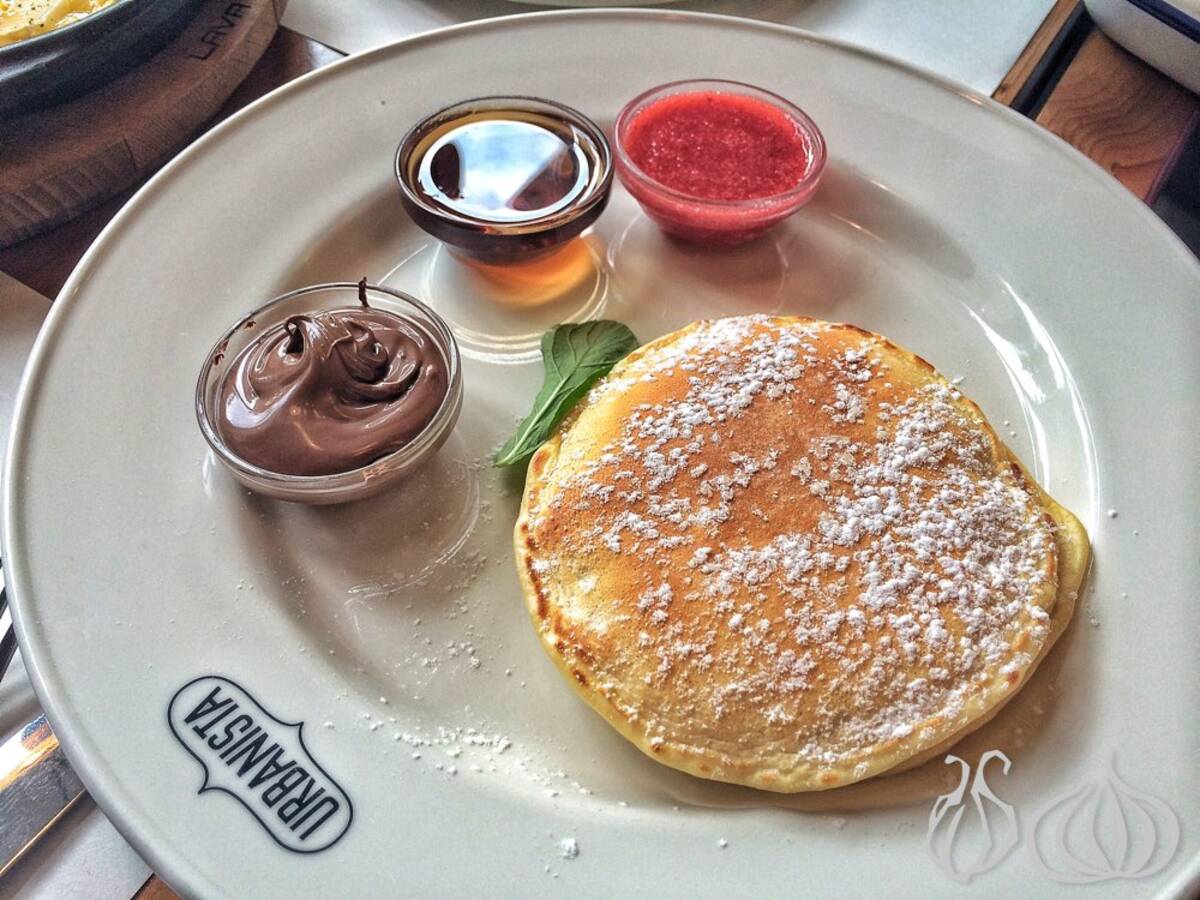 The Four Seasons: The Best Breakfast You Can Have in Lebanon
The breakfast formula includes a different set of starters that land on your table as you sit, followed by your choice of freshly squeezed juice… while the buffet is filled more delicious and endless choices including more fruits and more pastry items…
Enjoy their perfectly prepared dough topped with cheese and zaatar as well as wrapped around spinach fatayer and kechek. Try their halloumi fingers with sesame topping; their selection of labneh balls, brie, mshallaleh cheese and emmental; a mouthwatering plate of mouhammara and much more; all enjoyed with a basket of mini Lebanese bread that melts under your teeth.
If you're into something more heaving for breakfast, try their Steak and eggs where 120g Premium thin sliced American prime beef topped with two sunny side up eggs, served with hash brown potato with Parmesan and a bowl of fried mushrooms. It's very rich in flavor.
Galler: The Chocolate Coffee Shop
Located on Zalka highway you'll find an orange-facade store facing Yared steel warehouse. It's a chocolate and coffee shop in one. With a view of the highway, this luxurious spot is a guaranteed space for enjoyment and fun. Old style tiles featuring the company colors cover the floor; a large chocolate vitrine decorates the main wall facing the entrance while a bar is used to prepare the drinks. Close to the window, four sofas are perfect for a business meeting or a quick hot chocolate in the afternoon.
I enjoyed a 0% Galler chocolate crepe served with mixed berries, garnished with white chocolate and ice cream. Although small in portion, it offers a guaranteed cocktail of enjoyment. Thin piece of crepe, carefully toasted and filled with dark chocolate cream, which is so smooth. On the side there's a pure mixed berry sorbet, which didn't want to melt. Not your regular ice cream for sure. Add some crushed walnuts more texture and enjoy.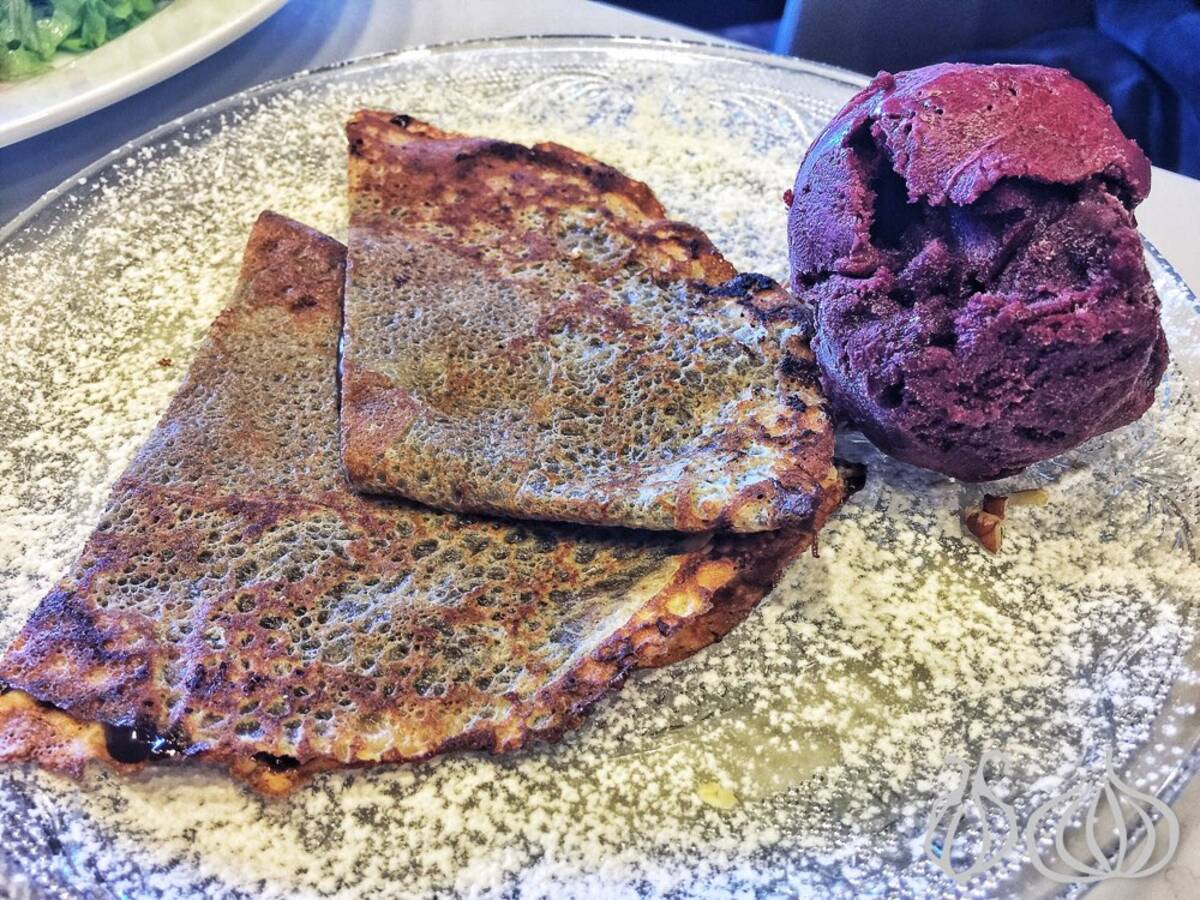 Breakfast at Byblos Sur Mer Hotel, Jbeil
With an open view of the beautiful Mediterranean, I sat for breakfast... I ended up leaving at 3pm. The vibes activate all your senses, the air conditioning cooling down the room on one side while rays of sunshine warm up the other side. Relaxing sofas, a professional staff... I think I've discovered a new favorite spot.
A la carte or buffet, choose either of the two options, the buffet goes for LBP33,000.