It's Christmas, indulgence is allowed...Bûche de Noel? Let's do it. The more the merrier! Here comes yet another comparative review where I order the same item from three to four different places for a constructive comparison... This time its Bûche!
This morning, I decided to order one "Bûche de Noel" from five prestigious pastry shops in Beirut. La Mie Dorée, Pâte a Choux, Cannelle, Noura and Les Gourmandises du Bristol. Unfortunately, La Mie Dorée ran out of Bûche after Christmas Eve. So I settled with what I found and dived in to taste them...
Size: Noura, Pâte a Choux and Les Gourmandises are exactly the same... while Cannelle's is ridiculously small in comparison.
Price:
Noura $50

Cannelle $28 (remember it is smaller yet the price is still not justified)

Pâte a Choux $50

Les Gourmandises $63 (Same size as the other two priced at $50 yet more expensive!)
Presentation: /10
Noura 6/10: Light brown in color, this Bûche looks buttery and complicated - not very appetizing. It seems heavy even before tasting it.
Cannelle 7/10: The classiest of all but not the Bûche I expected. It's more sophisticated, more design oriented, more of a cake than your average Bûche. However, the cake's finish is not neat; not what I would expect from Cannelle.
Pâte a Choux 9/10: Surely a winner, a beautiful looking Bûche with a fine finish and classy lines. It is stylish whilst preserving the authenticity and tradition of what a Bûche should look like. It's finely done and makes your mouth water.
Les Gourmandises 4/10: Splashed with chocolate and lacking finesse, unfortunately this Bûche is unrefined and unappetizing to look at.
Christmas Decoration: /10
Noura 7/10
Cannelle 5/10
Pâte a Choux 8/10
Les Gourmandises 8/10
Taste: /50
Noura 30/50: Soft sponge, sugar sweet finish, subtly moist but not markedly so, this Bûche has a bland taste. Honestly, disappointing for a creation by "Noura".
Cannelle 33/50: I like this one! A moist cake, soft in texture in the sponge and decoration, the flavor of dark chocolate sings out, and a touch of alcohol comes as a finish. Soft sponge and balanced flavors. Cannelle's "cake" surely wins but unfortunately this is not a Bûche you would expect to eat on this special night. For a Bûche comparison, this mini dome is complicated and not a winner in its category.
Pâte a Choux 37/50: Balanced flavors are created by the thick sponge and thin cream filling. However, the cream itself is too buttery for my taste and leaves a sweet end note. This excess sweetness masks the real chocolate flavors which makes the Bûche feel milky.
Les Gourmandises 25/50: This cake is extremely buttery, it has a cocoa flavor - not chocolate - with a long lasting after note. The cake itself is too thick compared to the cream, dry and spongy. I'm honestly giving it a 25/50 out of respect only.
Equilibrium of textures and flavors: /10
Noura 4/10
Cannelle 7/10
Pâte a Choux 8/10
Les Gourmandises 4/10
Value: /20
Noura 12/20
Cannelle 9/20
Pâte a Choux 14/20
Les Gourmandises 6/20
Total: /100
Noura 59/100
Cannelle 61/100
Pâte a Choux 76/100
Les Gourmandises 45/100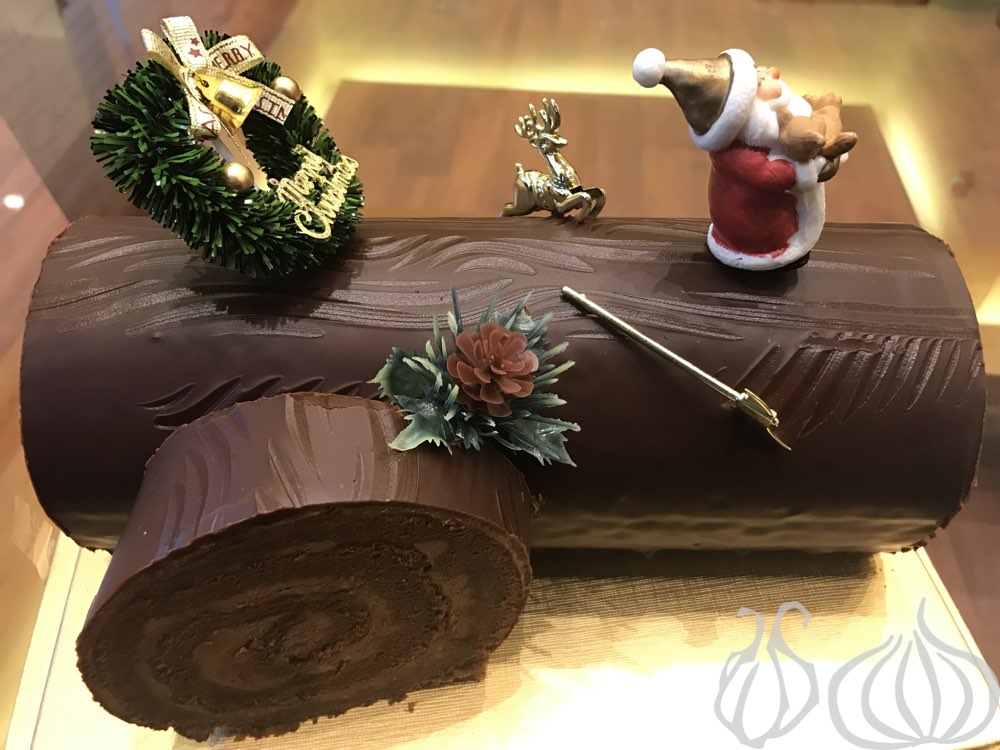 Pâte à Choux wins this year!