Twenty five minutes have passed and I'm still waiting for someone to approach me to ask me if I want a drink or simply by now the main order... located on the rooftop of ABC Dbayeh, Leila is the mall's famous Lebanese restaurant which has been here for as long as I can remember. With a terrace and an indoor dining space, the restaurant feels fresh, colorful and relaxing. The decor uses mainly purple and violet accents.
I was planning lunch at Leila on this beautiful Friday afternoon. Creative Lebanese flavors served in a casual restaurant offering a selection of cold mezze salads, hot mezze, grills, platters, fattet and beverages. People come here for the arguileh mainly as well as the food which has a good reputation... I was here to try it too!
I was here more then 18 months ago now and remembered the food to be average...but today I left impressed!
Service was a bit slow, the waiters were not smiley and the mood was not welcoming until I started taking pictures. It's like this place knows that ABC gets the customers in so taking care of the dining clientele is not a major priority.
Lunch starts when a basket of bread lands on the table. Two zaatar buns, toasted bread and a bag of lebanese flatbread served in a metallic basket with a small plate of olives in the side. Fresh and soft bread, rich and ripe olives, a great way to start your meal.
I loved the new decor. "Leyla men Loubnan" is the tag line, three flowers decorate the bar and others decorate the floor, there are black and white frames on the walls, a large metallic lamp makes the heart of the ceiling, there are light wooden tables and colorful chairs with metal details here and there adding a touch of luxury. One wall is made of mirrors and has a large television on it.
Now that they have noticed my photos and my notes, the service changed, the waiter smiled and the attention doubled... the manager visited our table, every plate has been asked about, I felt like a king.
The first impression:
The plates have been changed from highly designed and colorful plates with flowers to simple white ones - homey plates with a subtle flower.
The dishes look good and appetizing.
I like the placemats made of fabric and not paper.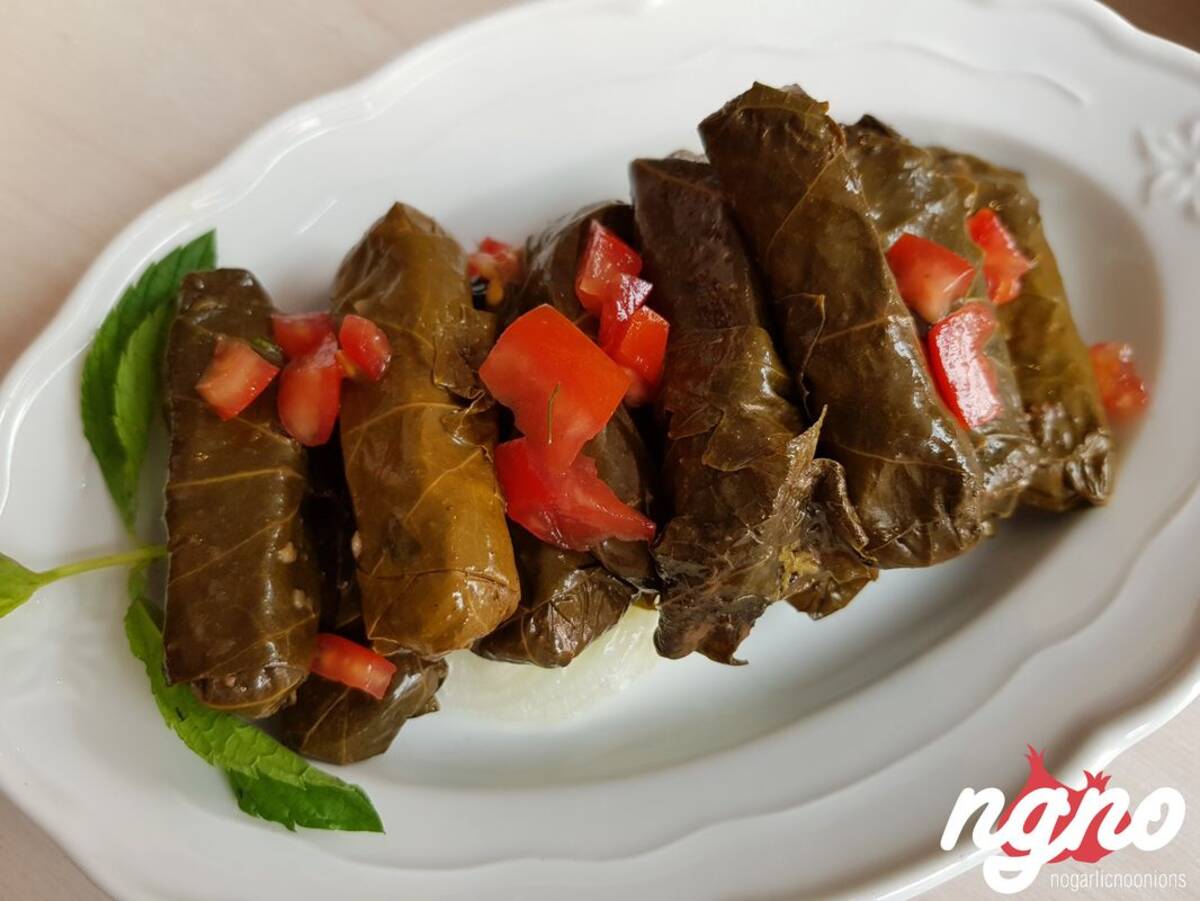 Let's have lunch:
The hummus looks appetizing and tastes great. A smooth and creamy hummus decorated with chickpeas in the middle and drizzled with olive oil on the side. The hummus is excellent!
Stuffed grapevine leaves made of a very soft leaf stuffed generously with rice and offering a light lemony finish. The flavor lingers around the mouth for a long time. It's spot on!
The pomegranate eggplant moutabbal has a bizarre brown color that is not too appetizing. The pomegranate adds an overdose of sweetness and erases the pleasant taste of fire grilled eggplant. It's not bad but not as good as the hummus.
The fattouch is fresh and made with capsicum chunks, lettuce, purslane, parsley, tomato and radish and without onion. Lemony and sweet at the same time, I liked it.
The cheese rolls feel like a savory baklava, not oily, stuffed with a salty mix of cheese and mint, a subtle crunch, a molten heart - great flavors.
Rass Asfour in cherry sauce and pines. Super tender meat, tasty sauce.
Did you know that you can order the potato with coriander cubes without garlic prepared a la minute? I liked it.
The chicken esmalliyeh with fries and garlic on the side is nothing to write home about. It felt like KFC food. With cheddar cheese it would have been excellent but not at Leila.
Juicy kafta, very tender meat and light textured chicken... bravo!
Dessert:
A frozen Halawat el Jeben, prepared in advance and rolled around ice cream. It's clear that it was removed from the freezer just now. A hard envelop, a very hard ice cream and whipped cream on top. I expected better - thinner Halawa, a lighter ice cream, a better texture to enjoy the mix better.
The esmalliyet Layla is made of pistachio ice cream and rose ice cream served like a sandwich between two layers of esmalliyeh. The esmalliyeh is not as crunchy as it should be, a bit sticky and oily, clearly outsourced. The ice cream is good enough.
Because we didn't like the Chicken Esmaliyyeh it was removed from the menu; bravo for the attention and professionalism.
Enjoyed the experience, the waiter's attitude, the manager's attention and the food quality which has drastically improved. A pleasant lunch I'll repeat.